HOGS given no chance vs. Bama; notes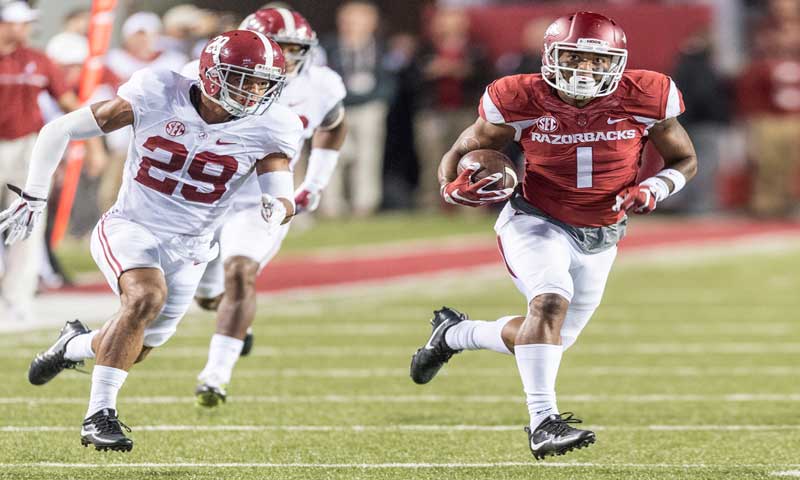 FAYETTEVILLE - In a green jersey limiting all contact as he reportedly recovers from strep throat, Arkansas tight end Cheyenne O'Grady practiced Wednesday and should be ready for Saturday's SEC game against No. 1 and reigning national Alabama.
Kickoff is set for 11 a.m. at Reynolds Razorback Stadium. ESPN will televise the game.
O'Grady caught three passes last week for 77 yards a 24-17 SEC loss to Texas A&M, but the junior from Fayetteville missed Tuesday's practice. His presence seems needed with junior tight end Austin Cantrell and sophomore tight end Grayson Gunter because senior tight end Jeremy Patton had surgery this week on the ankle he injured against Texas A&M.
"We expect C.J. to be  full speed," Morris said. "We're excited about his progress and how he's come on, especially last week, and will continue to come on."
OUT THIS WEEK
Patton and backup defensive tackle Briston Guidry, arthroscopic knee surgery this week and on crutches, won't play Saturday, but Morris said he expects both to return by the season's end.
Running back Devwah Whaley, still recovering from a concussion two weeks against Auburn, is "doubtful," Morris said.
Morris said third-year sophomore Dylan Hays, the first-team center ending spring's drill but idled since August by an ailing back, will apply for a medical hardship.
Cornerback Britto Tutt is deemed game ready after missing the Texas A&M game after an injury at Auburn.
IGNORING LONG ODDS
Nick Saban's Tide, rolling 51-14, 57-7, 62-7, 45-23 and 56-14 over Louisville, Arkansas State, Ole Miss, Texas A&M and Louisiana-Lafayette, is a 35-point favorite over the Hogs (1-4, and 0-2 in the SEC).
Morris respects Alabama but publicly ignores odds and expectations and said this entire week is devoted to improving Arkansas.
"Another opportunity to come out here today and get better," Morris said. "These guys continue to respond, absolutely locked in ready to go. We've got a great opportunity in front of us.  There's no doubt about that. We embrace the opportunity and look forward to the challenge ahead of us."
CHIZIK ON HOGS
Gene Chizik, the former national champion coach at Auburn and current ESPN college football analyst, said first-year coach   Morris' Razorbacks improved in their SEC losses to Auburn and  Texas A&M over the "anomaly" of the 44-10 home loss to North Texas.
"Turn it over six times with a pick six and give up a punt return touchdown, and nobody's going to win doing that," Chizik aid Wednesday while addressing the Northwest Arkansas Touchdown Club.

Chizik said he anticipates the Razorbacks continuing improvement but as for it reflecting in Saturday's score: "Not this week."
TOO MUCH TUA
Saban has won five national championships at Alabama, but this Tide team beats them all, Chizik explained because of quarterback Tua Tagovailoa.
Saban's previous national champion teams had good QBs, including 2015 national champion QB Jalen Hurts now No. 2, complementing  Alabama's NFL talent within a framework, Chizik said.

Tagovailoa has completed 66 for 88 passes for 1,161 yards and 14 touchdowns with zero interceptions, and he's averaged 5.8 yards per carry with two TD. The sophomore QB stars while complementing receivers like no other Alabama QB of the Saban era, Chizik said.
"The thing he does that's different than what Alabama has had, he puts the ball in places that give his wide receivers the chance to make plays with the ball in their hands," Chizik said. "It's one thing when a guy reaches behind him to make the catch. It's another to catch the ball on the run full stride. He really gives them an opportunity to make yards after the catch and that's what you are seeing right now. He's accurate. He's got poise and if he gets hurt they've got another really good one right behind him."
ENOS RIDES HIGH TIDE
Dan Enos, Arkansas' play-calling offensive coordinator/QB coach from 2015-2017 under former coach Bret Bielema, coaches Tagovailoa and Hurts.
"I think Dan has done a really good job with our guys," Saban said on Wednesday. "The quarterbacks have a very defined read. They don't predetermine before the snap. They develop confidence going through that progression so you are getting the ball in the right place at the right time. I think Dan has helped them understand exactly what the expectation is on every play."
Enos can supply Alabama's coaching staff a first-hand evaluation of most of Arkansas' roster.
"He'll know your personnel and there are probably some things and some relationships they've built from the guys he knew well," Morris said. "I'm sure that those discussions will happen."