Hogs: WR Jared Cornelius back to top form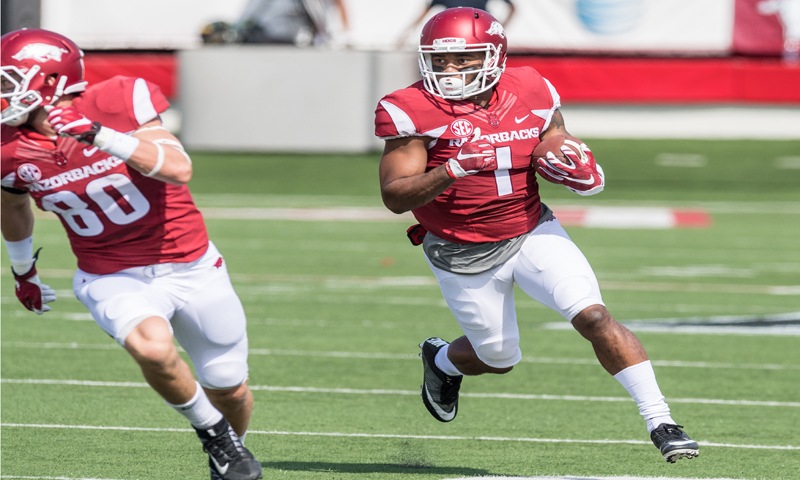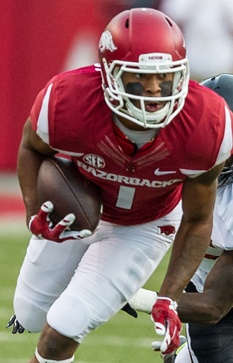 Jr. WR JARED CORNELIUS
FAYETTEVILLE - Jared Cornelius has "backed up" his assertion that he's overcome his bad back.
The Texas A&M Aggies and Alcorn State Braves concur.
Even Nick Saban's reigning national champion/SEC champion Alabama Crimson Tide will be attentive to Arkansas' junior wide receiver from Shreveport's Evangel Christian Academy.  As you read this, defensive genius Saban might be on his fifth Little Debbie  snack cake while watching Arkansas game film of its top receiving threat.
Saban's top-ranked Tide (5-0, 2-0 in the SEC) prepares to invade Reynolds Razorback Stadium for Saturday's 6 p.m. ESPN televised game with No. 16 Arkansas (4-1, 0-1).
It was only three games ago that Arkansas coach Bret Bielema, over Cornelius' objections, confined Cornelius to just watching the 42-3 victory over Texas State because his back ailed.
Good decision. Because though now-No. 9 Texas A&M eventually beat Arkansas 45-24, Cornelius was beating the A&M secondary with a career-high seven catches for 126 yards and a touchdown.
Had they chosen to Saturday against out-manned Alcorn State, junior QB Austin Allen and Cornelius easily could have statistically surpassed Cornelius' big game. In fact, Cornelius did double his TDs with two among his four catches for 106 yards. It should have been three TDs.
For the second consecutive year, pivotal in last year's 16-12 loss to Toledo, a Cornelius punt return for a touchdown was called back due to an illegal block in the back.
"I have a bad Juju in Little Rock," Cornelius said. "I can't figure it out."
Bad Juju? "It's like voodoo," Cornelius said smiling. "I'm from Louisiana."

At least the Razorbacks' Little Rock voodoo has ceased. Bielema's Razorbacks had lost their past three games there, including the 2014 and 2015 losses that included Cornelius.
"It was great ending our losing streak in Little Rock," Cornelius said. "The fans deserved the win, and I'm glad we could do it for them."
Given Cornelius' showing against A&M, was Allen surprised Alcorn couldn't slow him down with blanket coverage?
"Not surprised at all," Allen said. "The way he was running routes last week in practice he looked fast and he looked fresh. It translates that if you practice well during the week you are going to play well on Saturdays."
Cornelius wasn't surprised, either. Even with senior leading receiver Keon Hatcher withheld (hamstring), Razorbacks senior receivers Drew  Morgan, Camden's Dominique Reed and Cody Hollister join senior tight end Jeremy Sprinkle as too many threats for defenses to concentrate on one.
Especially with Arkansas offensive coordinator Dan Enos calling plays, Cornelius said.
"We just did a great job of calling plays that got us open," Cornelius said. "Coach Enos is a genius. There were a few plays they had two or three guys on me, but he did a great job of scheming plays to take guys away from me."
Allen's description of Cornelius' performances vs. Alcorn and the infinitely stouter Aggies sounded the same.

"He was just running great routes out there," Allen said after the A&M game. "He was fresh and healthy and getting open every single time. I saw the way he was breaking off his defender and getting into open space where I could throw him the ball. He's always reliable catching the ball. He played a heck of a game."
Michael Smith, Arkansas' receivers coach and Louisiana native, recruited Cornelius and isn't surprised.
"I know Jared Cornelius is a good football player," Smith said. "That's what he did in high school. He caught a lot of balls and did a lot of good things. And he has done that here for us. When his number was called, he showed up."
He showed up every time and more for trainer Matt Summers and the medical staff to work on his back back.
"We have professionals that know what they are doing here," Cornelius said. "They did a great job of making an executive decision of holding me out of a game that I needed some rest so I could come back 100 percent."
As fine a player as Cornelius has become, he's an even better person, Bielema said. The coach said a Cornelius run Saturday in Little Rock was more impressive than his two TD catches and the called-back punt return TD.
"There was a young man in the crowd who had some health issues," Bielema said. "He (Cornelius) took his program and ran it like 50 yards  over to me to sign it and take it back to him. Mom and dad raised a good kid there."