Hogs: Ellis says "we know we can beat Bama"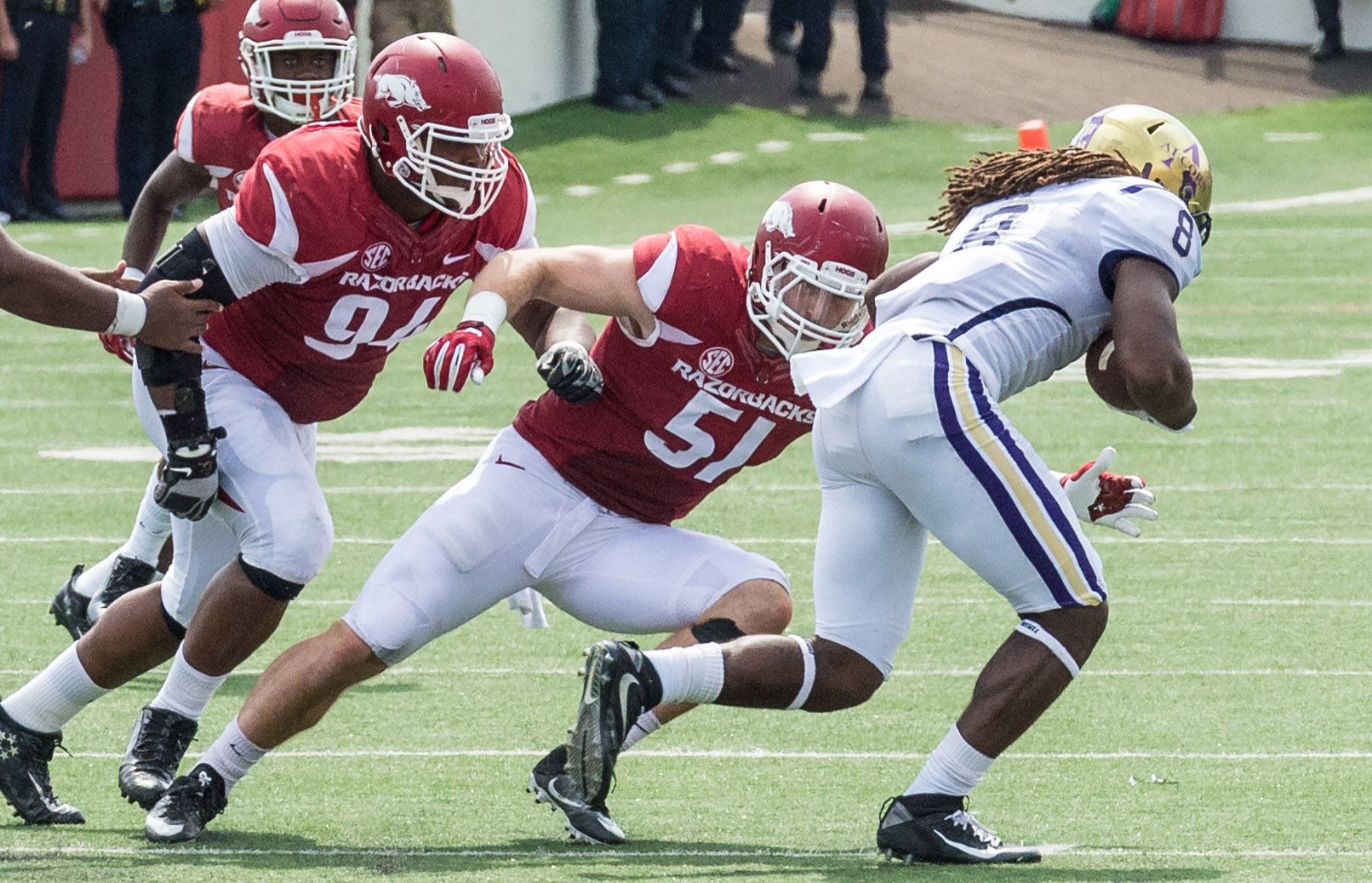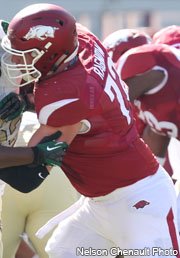 Jr C FRANK RAGNOW
FAYETTEVILLE - Presuming that Frank Ragnow won't play or at least not start for Arkansas  vs. Alabama, sophomore Zach Rogers is the Razorbacks' likely center against the Crimson Tide.
The game kicks off at 6 p.m. Saturday on ESPN at Reynolds Razorback Stadium.
Ragnow has been at his Minnesota home since Saturday night upon the sudden death of his father from a heart attack. The funeral for Jon Ragnow is Thursday.
Arkansas coach Bret Bielema arranged for Frank Ragnow's flight home Saturday night on the Stephens Inc. jet and accompanied Ragnow on that flight. Bielema said Ragnow still wants to play but he will wait until the week's end for Ragnow to evaluate his family obligations and if he would be mentally ready to play off such a traumatic week and no football practice.

SANTOS GOOD TO GO
Sophomore starting  strong safety Santos Ramirez, withheld from Saturday's 52-10 rout of outmanned Alcorn State in Little Rock, practiced during Tuesday's full pads workout, Arkansas defensive backfield coach Paul Rhoads said Tuesday night.
"He did everything today," Rhoads said. "There will be no issue with him being out there ready to go."
COLEY HAS A WAY TO GO
Junior De'Andre Coley started in Ramirez's place against Alcorn State and recovered a key fumble but apparently still has aspects to improve.
"Coley, like anybody, there was good and bad," Rhoads said. "There wasn't a level that would have met our expectations or his expectation, but in a first start and extended reps, he grew from it and will be better off because of it this week."
GOTTA BELIEVE
In its annual SEC West game with Alabama, Arkansas last won in 2006, a year before Nick Saban took over the Tide and put it on course to win national championships in 2009, 2011, 2012 and 2015.
However, Coach Hugh Freeze's Ole Miss Rebels, though losing both years to Arkansas, beat Alabama in 2014 and 2015.  Freeze has said you can't beat Alabama unless you believe you can.
Do the Hogs believe?
"Yeah, that's half the battle, just believing you can do it," Arkansas senior linebacker Brooks Ellis said. "If you can do that, you can do a lot of things. I think we know we can do it. We just have to go out there and do it. Actually put it on film. Do what we're supposed to do and make plays and not beat ourselves. That's the huge part of it. But I think we know we can beat them."
The Hogs have come close, losing 14-13 to the Tide in 2014 in Fayetteville and leading Alabama in the third quarter last year before falling, 27-14 in Tuscaloosa, Ala.
"The whole team was doing really good things," Ellis said. "That just gives us confidence for this year. If we can do that for four quarters now, it could be a different ballgame. We've just got to do it for four quarters."

MUST MAN THE MIDDLE
And the Hogs must secure the middle, which they haven't against running quarterbacks Kenny Hill of TCU and Trevor Knight of Texas A&M.
Even in a 52-10 loss, Alcorn State QB Noah Johnson hurt Arkansas with a 53-yard run up the middle and a 12-yard TD run.
"We know it's something we've got to stop, and we're working really hard this week to put an end to it," middle linebacker Ellis said. "We know they're going to do the same stuff that everybody else has done, so we're getting ready for it and we're going to do our best to stop it."

LEGENDARY SHAWN ANDREWS
Shawn Andrews, the Razorbacks' 2002 and 2003 All-America offensive tackle from Camden Fairview, will be the "legend" representing Arkansas at the SEC Championship game Dec. 3 at the Georgia Dome in Atlanta.
All 14 SEC schools designate a "legend" among their past great players to represent them in Atlanta.