Class 3A Week 6 Rankings, Notes & Picks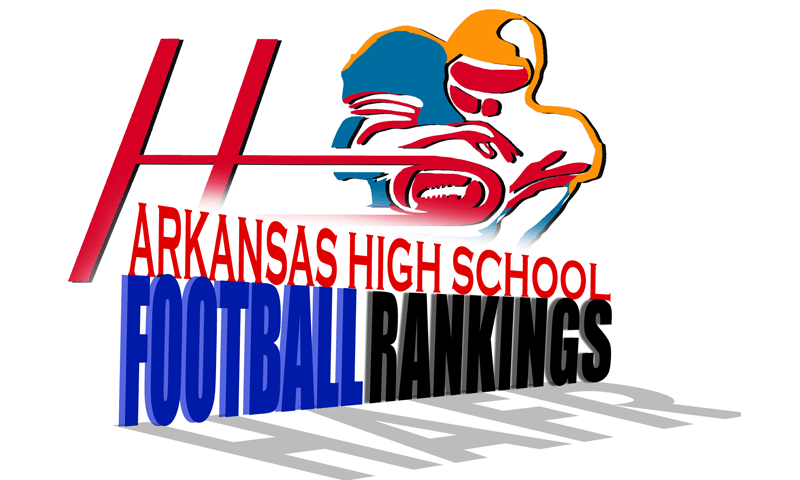 Hootens.com Rankings
Class 3A, Week 6, 2016
Copyright Hooten Publishing, Inc.
1. Charleston (5-0)
2. Prescott (5-0)
3. Glen Rose (5-0)
4. Junction City (3-2)
5. Smackover (4-1)
6. Clinton (4-1)
7. H. Grove Haskell (4-1)
8. Fordyce (4-1)
9. Centerpoint (3-2)
10. Bald Knob (5-0)
11. Newport (4-1)
12. Atkins (3-1)
13. McGehee (3-2)
14. Paris (2-3)
15. Harding Academy (2-3)
16. Fouke (2-2)
17. Piggott (5-0)
18. Rivercrest (2-3)
19. Mountain View (4-1)
20. Elkins (3-2)
21. Walnut Ridge (4-1)
22. Greenland (2-3)
23. Cedar Ridge (3-2)
24. Lamar (2-3)
25. Mayflower (3-2)
26. Manila (3-2)
27. Barton (2-3)
28. Jessieville (3-2)
29. Horatio (2-3)
30. Gurdon (2-3)
31. Osceola (1-4)
32. Hoxie (0-5)
33. Melbourne (2-3)
34. Genoa Central (3-2)
35. Perryville (3-2)
36. Cedarville (1-4)
37. Marianna (1-3)
38. Mansfield (0-5)
39. Episcopal Collegiate (1-4)
40. Green Forest (1-4)
41. Yellville-Summit (0-4)
42. Marshall (1-4)
43. Lake Village (2-3)
44. Corning (0-5)
45. Bismarck (0-5)
46. Two Rivers (0-5)
47. Drew Central (0-5)
48. Rose Bud (0-5)

HOOTENS.COM GAME OF THE WEEK
No. 17 Piggott at No. 11 Newport
Both teams are healthy and 2-0 in conference play. Newport appears to be the 3-3A favorite, but Piggott's 27-13 win last week at Rivercrest has rocked the league's landscape. Piggott is 5-0 for the first time since 1991. The Mohawks are the first team from Clay County to beat Rivercrest. Look for Piggott to control the game with its Diamond T attack. The Mohawks ran 40 more plays than Rivercrest, utilizing senior halfback Justin Goding (19 carries for 121 yards) and junior halfback Cade Harrell (22 carries, 111 yards, three touchdowns). Harrell, the coach's son, and junior linebacker John Jones lead on defense. Third-year Piggott coach Michael Harrell was a junior on that 1991 team, which finished 8-2. "We started 4-0 last year," Harrell says, "but we didn't know how to handle it. This year's team is different. These guys are all business."
Newport counters with a strong rushing attack and a solid defensive line. Elusive senior running back Jordan Neal has rushed for 310 yards and three TDs the past two weeks in wins over Hoxie and Walnut Ridge. Junior RB Jerry Ellis (4.5 speed) paces the Greyhounds this year with 66 carries for 660 yards (10 yards per carry) and six TDs. Newport has allowed three TDs since a 20-14 loss to Gosnell in the opener. Senior defensive tackle Deshaun Anderson and junior DT Darell Hardiman anchor the top defensive line in the 3-3A. The Greyhounds are capable of keeping opponents off balance in the passing game with sophomore quarterback Cash Forrester, senior receiver Jay Crite (4.7 speed) and junior receiver Dawson Cook (4.6 speed). Cook has hauled in a team-high three TD catches in 2016.

LAST WEEK
Hootens.com correctly picked 22 of 24 games (92 percent) involving 3A teams, nailing the spread of Greenland by 20 points over Yellville-Summit. For the season, hootens.com has correctly predicted 135 of 178 winners (76 percent).

WEEK 6 PREDICTIONS (favored team in CAPS followed by point spread)
1-3A
CLINTON (22) at Melbourne: Clinton averaging 434 yards and 44 ppg in league play. Melbourne edged Marshall 21-15 last week. Senior QB Clay Harris completed 14 of 25 passes for 274 yards and two TDs.
Marshall at ELKINS (16): Improved Marshall has lost to Green Forest and Melbourne the past two weeks by a combined 12 points. Elkins has won four in a row over Marshall.
Yellville-Summit at GREEN FOREST (1): Y-S rushed for 202 yards in last week's 40-20 loss to Greenland. The Panthers trailed Greenland 19-13 at halftime. Green Forest lost to Clinton 42-14. Two weeks ago, the Tigers rushed for 187 yards in a 14-8 win over Marshall.
MOUNTAIN VIEW (8) at Greenland: These teams have split the past two meetings. Mountain View handled Elkins 30-23 last week, holding the Elks to 7 yards rushing. The Yellowjackets led 30-7 with three minutes left. Greenland defeated Yellville-Summit 40-20. Junior QB Austin Anderson completed 22 of 31 passes for 288 yards and five TDs.

2-3A
Episcopal Collegiate at BALD KNOB (34): Bald Knob improves to 6-0 for the first time since 2009. Senior slot receiver DeShawn Gulledge gains 10.6 yards per play and has scored 14 TDs this year.
Marianna at BARTON (12): This could decide the league's final playoff seed come November. Marianna hung with Cedar Ridge for three quarters last week in a 37-14 loss. Barton led Harding Academy 21-0 in the first quarter but lost 42-27.
HARDING ACADEMY (13) at Cedar Ridge: Harding Academy got past Barton 42-27 last week. The Wildcats fell behind 21-0 in the first quarter. Senior QB Garrison Hendrix completed 25 of 33 passes for 405 yards and five TDs.
Mayflower is open. The Eagles will receive a forfeit victory from Rose Bud.

3-3A
Piggott at NEWPORT (4): See Hootens.com Game of the Week.
MANILA (18) at Corning: Manila beat Hoxie 24-21 last week for the first time in school history. The Lions hand Corning its 18th straight loss.
RIVERCREST (14) at Hoxie: Rivercrest, the preseason favorite to win the league, lost to Piggott 27-13 last week. Winless Hoxie battled well in a 24-21 loss at Manila.
WALNUT RIDGE (20) at Osceola: Walnut Ridge lost at Newport 28-8 last week, its first loss of the season. Osceola notched its first win of the year with a 28-16 victory at Corning. Two weeks ago, Osceola allowed 332 rushing yards in a 43-7 loss to Piggott, while Walnut Ridge senior RB Luke Harper was piling up 220 yards and four TDs in a 38-15 win over Manila.

4-3A
Paris at ATKINS (7): These teams have split the past eight meetings. Atkins won the last matchup 27-23 in 2013. Paris all-state senior TB Nate Davison ran 12 times for 31 yards and a TD in last week's 42-6 loss to Charleston. Atkins averaging 387 balanced yards and 39 ppg since a 22-14 loss to 4-4A favorite Dover in the opener.
Cedarville at MANSFIELD (1): It's homecoming in Mansfield, and the Tigers are searching for their first win. Cedarville has lost 26 of its past 31 games, including a 33-26 loss at Mansfield in 2013.
CHARLESTON (42) at Two Rivers: Top-ranked Charleston cruises to 6-0. The Tigers beat Two Rivers 49-13 a year ago.
Perryville at LAMAR (6): Lamar has defeated Perryville the past two seasons in non-conference play. The Warriors mercy-ruled Mansfield 49-14 last week. Senior Zedrick Lee rushed for 150 yards and four TDs. Perryville scored twice in the fourth quarter to rally past Cedarville 29-26. Junior slotback Hunter Lawrence ran 18 times for 133 yards and a TD.

5-3A
Bismarck at GLEN ROSE (49): Winless Bismarck has surrendered 53 ppg the past two weeks in losses to Jessieville and Harmony Grove Haskell. Glen Rose, which beat Jessieville 35-6 last week, gears up for next week's showdown at Prescott.
Gurdon at CENTERPOINT (20): Gurdon has lost three in a row. Two weeks ago, the Go-Devils fell to Horatio 13-7. Last week, Centerpoint crushed Horatio 40-0. Senior QB Keenan Owens completed 17 of 22 passes for 231 yards and five TDs.
H.G. HASKELL (23) at Jessieville: Harmony Grove has won the past three meetings with Jessieville, including last year's 46-12 victory.
PRESCOTT (25) at Horatio: Prescott wins its 17th consecutive conference game. Junior receiver Ka'darius Pearson returned from a shoulder injury last week, catching a 73-yard TD pass in a 44-13 win over Gurdon.

6-3A
Drew Central at SMACKOVER (46): Drew Central has lost 11 straight games. Smackover averages 495 yards and 44 ppg in league play.
FORDYCE (21) at Lake Village: Fordyce defeats Lake Village for the third straight season before playing host to Smackover next week.
JUNCTION CITY (12) at Fouke: Junction City started slowly in last week's 46-10 win over Genoa Central. Senior RB Demontauz Gray rushed for 16 yards in the first half but finished with 147 yards and three TDs. Fouke pushed Fordyce in a 30-20 loss. Fordyce out-gained Fouke 281-241.
MCGEHEE (16) at Genoa Central: McGehee travels more than 330 miles roundtrip after last week's 56-6 win at Drew Central. Genoa Central played well for a half in a 46-10 loss at Junction City. Genoa Central rushed for 187 yards on 46 carries.