Hogs: Ragnow mourns; SEC & in-house awards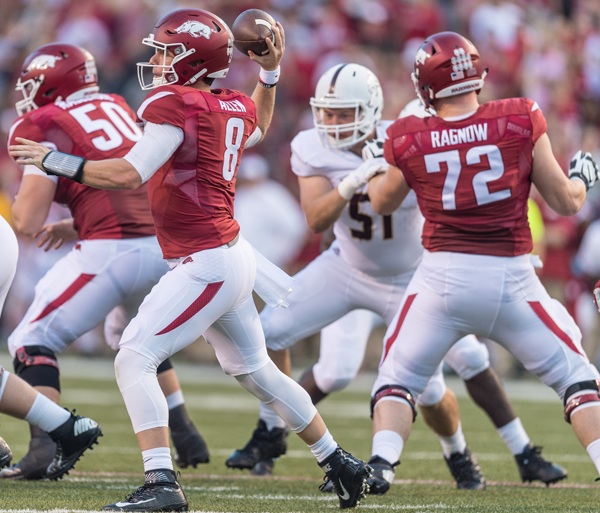 FAYETTEVILLE - Two phone calls, one tragic, dramatically changed Bret Bielema's weekend after his 4-1 Razorbacks routed Alcorn State 52-10 Saturday afternoon in Little Rock.
The Arkansas coach was upset but also relieved to learn Sunday morning that while freshman fullback Hayden Johnson had been charged Saturday night with public intoxication as a minor in possession of alcohol, it did not involve driving under the influence or include a physical altercation or any damage of property.
The devastating call occurred while he and wife Jen were at dinner.
Jon Ragnow, the father of Arkansas junior starting center Frank Ragnow of Chanhassen, Minn., died Saturday.
"Frank Ragnow's mom called me late Saturday night," Bielema said, still choking up during his weekly Monday press conference.  "Frank's dad watched the game with his family. Jon passed after the game of a heart attack."
Thanks to a plane provided by Warren Stephens, the CEO of Stephens Inc., Frank Ragnow and the Bielemas flew to Minnesota Saturday night where Frank remains with his family.
"It was a tough couple hours," Bielema said of finding Frank Ragnow Saturday and giving him the phone and telling him he needed to talk to his mother who broke the horrific news. "Very thankful to Warren Stephens, he gave us the opportunity to hop on a plane and take Frank home Saturday night."
Bielema said Frank Ragnow insists he will be back in Fayetteville to prepare for the No. 16  Razorbacks' 6 p.m. ESPN televised  game at Reynolds Razorback Stadium against No. 1 Alabama (5-0).
"He made that comment (that he wanted to play) to me right away Saturday night as we sat downstairs in the basement of the complex," Bielema said.  "But obviously you never know the emotions you go through. He's got some younger brothers and sisters that needed his attention as well as his mom. That's where we're at with that."
The Razorbacks used Monday as their NCAA  mandated off day and practice Tuesday with junior Jake Raulerson, the starting right guard for four of Arkansas' five games, and sophomore Zach Rogers alternating at center. They alternated at center against Texas State, the one game this season Ragnow didn't start at center but at the right guard position he started every game last season.
Redshirt freshman Colton Jackson of Conway, the starting right tackle for the season's first three games and then moved to right guard after sophomore Brian Wallace started at right tackle, will practice a lot at right guard this week with Raulerson alternating at center, Bielema said Monday.
Jackson backed up Wallace at right tackle in the SEC loss to Texas A&M and debuted at guard vs. Alcorn State, alternating behind Raulerson.
"Colton Jackson got in at right guard and played, very, very well," Bielema said. "So hopefully he'll continue to develop and grow for us."
Regarding Johnson, Bielema removed the freshman starting fullback from the two-deep roster, will have counseling but will suit up against Alabama and play at some point behind now No. 1 fullback Kendrick Jackson.
Redshirt freshman backup tight end Austin Cantrell also is listed as the backup fullback.
"The good news was he (Johnson) wasn't driving. He wasn't causing any harm, just harm to himself," Bielema said.  "He had a lot of remorse. He'll get some counseling and do some mandatory things just to make sure we don't have anything deeper than what it appears. I'm just happy that he's alive and well and we can take this as a learning experience. I'm pretty sure he will.

"Hayden's built a great reputation before coming here and since he's been here, but I told him this is a good warning for you and everybody else."

Seldom does a non-kicking offensive lineman get named a league's Special Teams Player of the Week.  But Arkansas senior left offensive tackle Dan Skipper, named the SEC Offensive Lineman of the Week Sept. 12  by the SEC Office for his Sept. 10 performance in Arkansas' 41-38 double overtime victory at TCU, was named SEC Special Teams Player of the Week Monday by the same SEC Office.
Lining up on the defensive line against place-kicks, Skipper (6-10) blocked a field goal against Alcorn State. He blocked TCU's potential game-winning field goal attempt and for his career has blocked seven, just two shy of the NCAA career record nine set by SMU's Magnus Hunt from 2009-2011.
Bielema credited the SEC for "thinking outside the box" with its special teams honor to Skipper.
Always awarding game most valuable player awards after victories, Bielema said that freshman running back Devwah Whaley (nine carries for a game-leading 36 yards including a 75-yard touchdown), Ragnow and junior receiver Jared Cornelius  (four catches for 106 yards with two TDs) shared MVP honors.
"Defensively, we gave it to (senior starting cornerback) Jared Collins," Bielema said. "He's one of those guys who just continues to do his job play after play. They don't even test him."
Bielema said walk-on Ryder Lucas, playing on every special team, was Arkansas' special team's MVP. Freshman recruited walk-on linebacker Ben Brasuell of Benton was the defensive scout team MVP of the week.
"Ben Brasuell is a non-scholarship freshman linebacker who's doing a tremendous job," Bielema said. "We got him in the program, and he's gonna be a good player."
Arkansas hosts consecutive 6 p.m. ESPN televised SEC games. The Arkansas vs. Ole Miss set for Oct. 15 at Reynolds Razorback Stadium also kicks off at 6 p.m. on ESPN.