Hogs: S. Carolina transfer Williams a fit; more notes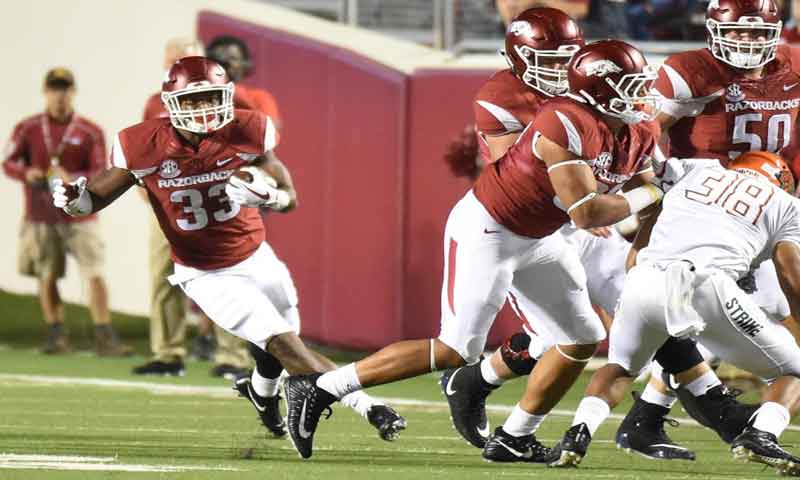 FAYETTEVILLE - To prevent a good man from inadvertently saying something interpreted as bad this week, Arkansas head coach Bret Bielema and David Williams are keeping Williams away from media.
Arkansas visits South Carolina at 3 p.m. Saturday on the SEC Network at Williams-Brice Stadium.
Williams, a graduate transfer from South Carolina, has carried 43 times for 203 yards and four touchdowns for the 2-2 Razorbacks. Williams (in Craven Whitlow photo) has caught four passes for 76 yards and a TD.
From 2014-2016 at South Carolina, Williams carried 174 times for 794 yards and five TDs and caught 27 passes for 264 yards. Williams lettered his first two years for Coach Steve Spurrier and last year for current Gamecocks coach Will Muschamp.
Williams used his graduate school transfer option to leave South Carolina and come to Arkansas in good graces. He and Bielema aim to keep it that way rather than field a barrage of questions this Arkansas vs. South Carolina game week.
Bielema told media Monday, noting he had presented a list of options to Williams that included taking all interview requests, just one day of interviews or none.

"We opted together to not have him available to the media until Saturday," Bielema said.  "Not out of negativity or anything. Just no need for it to dialogue more than it already is. I will say this: when I called Will or I talked to anybody at South Carolina, they raved about (David) and who he was and what he was. There was never any angst or ill will. And the same from David. David never had anything but positive dialogue. He wanted to get to an opportunity to maybe play in a Pro-style offense and change it up for his senior year. Obviously we were able to fall into that mode, and he's been a blessing in disguise."

Williams has contributed tangibly, alternating unselfishly in a tailback troika with sophomore Devwah Whaley (48 carries, 249 yards and two TDs) and true freshman Chase Hayden (41 carries, 246 yards and two TDs).
Austin Allen, the fifth-year senior starting quarterback and offensive captain from Fayetteville, was among the first to notice that the fifth-year senior Philadelphia native via South Carolina would help the Hogs.
"I mentioned something to Austin Allen in practice the other day," Enos said regarding Williams. "'Boy, that was a nice free agent acquisition there wasn't it?' I wasn't surprised in Austin's answer: 'Coach, he's a great guy too' and he fits real well. The biggest credit to David probably is he has come in, fit in and been a good teammate earning the respect of all the guys in the locker room."

THE TAILBACK TRIUMVIRATE
Enos said the tailback triumvirate has been good.
"Obviously in three or four games, we've made a big emphasis on running the football," Enos said. "We had 51 rushing attempts this (last) week (during the 42-24 victory over New Mexico State), and I think we had 45 against A&M (the 50-43 SEC overtime loss to Texas A&M). As much as we run the ball to have three guys is essential."
Hayden, Williams and Whaley (19 carries for 119 yards vs. NMSU) have all been Arkansas' leading rusher, at least once.
"I think it's awesome we have three guys who can feed off one another and each have different running styles and can do things well," Enos said. "It's a good group."
Arkansas is 0-1 in the SEC, losing by seven to Texas A&M two weeks ago. South Carolina is 1-2 in the SEC having beating Missouri 31-13 in its SEC opener. It lost 23-13 to visiting Kentucky and 24-17 to Texas A&M in College Station, Texas.

HOGS VS. TIDE IN TV LIMBO
CBS is invoking its six-day option on Oct. 14 for the 2:30 p.m. game, which could be Arkansas at Alabama, Texas A&M vs. Florida or Auburn vs. LSU. If CBS doesn't pick the Arkansas vs. Alabama game in Tuscaloosa, Ala., the game will air at 6 p.m. ESPN2 or 6:15 p.m on ESPN.

BIELEMA CITES MVPS
For the Hog victory over New Mexico State, Bielema announced the Razorback Players of the Week are receivers Deon Stewart, the third-year sophomore from Hardy, and redshirt freshman Jordan Jones of Smackover as Co-Offensive MVPs; outside linebacker Dwayne Eugene as Defensive MVP; Ryder Lucas as Special Teams MVP; Bryant High School grad Brendan Young who contributed on special teams against New Mexico State as Scout Team Defensive MVP; freshman QB Daulton Hyatt as Scout Team Offensive MVP; and Camden Fairview grad Byron Keaton as Scout Team Special Teams MVP.

PRAYERS FOR LAS VEGAS
Bielema opened his press conference expressing thoughts and prayers for those killed and wounded and their families and friends during the gunfire Sunday night at a country music concert in Las Vegas.