HOGS: Coaches laud linebackers; more notes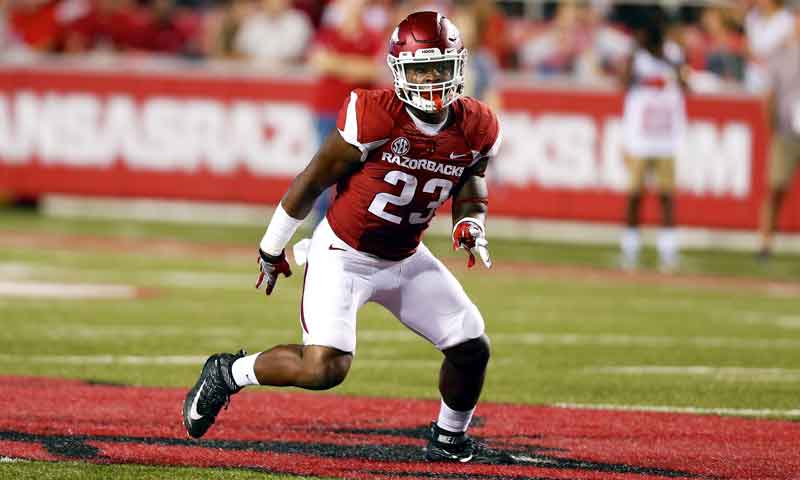 FAYETTEVILLE -  John Chavis has coached linebackers since 1989 and coordinated defenses since 1995 at Tennessee, LSU, Texas A&M and Arkansas.
He's coached some great linebackers, but no pair worked together better than senior Dre Greenlaw and junior Scoota Harris just did Saturday for Arkansas.
Middle linebacker Harris (16 tackles) and weakside side 'backer Greenlaw (13 tackles) accounted for 29 stops, and Greenlaw intercepted two passes in Arkansas' 24-17 loss to three-TD favorite Texas A&M.
"I don't think there's any question it's the best productivity I've been around," Chavis said Monday. "I have been around some really good players, some great players. And I said back in the spring I felt those two guys were special players. They played that way Saturday.  They're fun to coach, fun to be around."
And willing to play special teams with the Razorbacks struggling on punt coverage since the season's outset but holding A&M to minus punt return yardage.
"That's a lot of productivity, and they were still playing hard and on special team's too," Chavis said. "I appreciate their effort and their leadership."
RAMIREZ EXCELS
Morris included senior free safety Santos Ramirez's 10 tackle performance against A&M in the accolades when he said: "I've never been part of a unit that has had two players that had as much production as Dre Greenlaw and Scoota Harris had this past Saturday at the linebacker position.
"Santos Ramirez played his best game of the year, and it's no surprise to me," Morris said. "As you watch his work ethic, you watch his leadership, he's elite. He's elite in everything he does."
STILL NOT WINNING
While improving in their SEC losses at Auburn and Texas A&M, the Razorbacks (1-4, 0-2 in the SEC) are still losing, Morris, Chavis and Craddock reminded.
No. 1 Alabama, the reigning national champion, visits at 11 a.m. Saturday on an ESPN-televised game at Reynolds Razorback Stadium.
"We are seeing improvements in a lot of areas, but it's not been enough to get the outcome we want," Morris said. "We'll look at some of the costly penalties at the most inopportune times that were obviously a huge impact on the game. But with all this being said, with 1:51 (left in the game) the ball's in your hands with a chance to go down and tie or win against a very good opponent. So we are making progress. But, again, it's not enough at this point to get us over the hump."
Morris bemoans that after all last week's work correcting special teams mistakes from the 34-3 loss at Auburn, A&M's JaShaun Corbin  returned the opening kickoff 100 yards for a TD. Those seven points ultimately decided the 24-17 game.
"Our special teams, outside of the first play, I thought there were drastic improvements," Morris said. "But one play is the difference."
PATTON OUT
|Senior tight end Jeremy Patton (injured ankle last Saturday) won't play against Alabama, Morris said.
Junior running back Devwah Whaley, out with a concussion from a hard hit at Auburn, is "day to day" regarding a return to practice and play against Alabama.

Nick Saban's Alabama Crimson Tide has rolled every foe posting 51-14, 57-7, 62-7, 45-23 and 56-14 victories over Louisville, Arkansas State, Ole Miss, Texas A&M and the University of Louisiana.
"They have been the standard for college football over the past several years," Morris said. "They do what they do, and they do it at a very high level."
UNDER THE LIGHTS
After successive 11 a.m. games against Texas A&M and Alabama, the Razorbacks will kick off their Oct. 13 SEC game against Ole Miss at 6:30 p.m. at War Memorial Stadium in Little Rock. The SEC Network will televise the game.