Class 2A Week 6 Rankings, Notes & Picks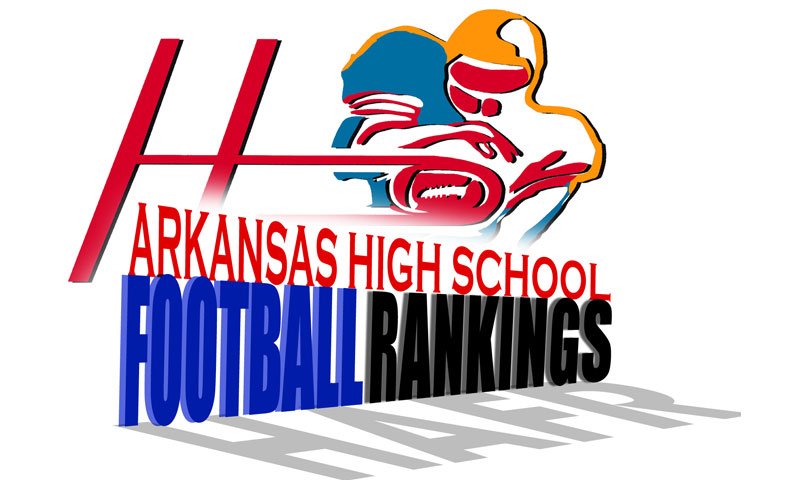 hootens.com Rankings
Class 2A, Week 6, 2018
Copyright Hooten Publishing, Inc.
1. Foreman (5-0)
2. Mount Ida (5-0)
3. Junction City (3-2)
4. Hazen (4-0)
5. Conway Christian (3-2)
6. Hampton (2-2)
7. Fordyce (3-2)
8. Earle (4-1)
9. Hector (4-1)
10. Salem (3-1)
11. Gurdon (4-1)
12. Mineral Springs (3-2)
13. Des Arc (3-2)
14. Quitman (5-0)
15. England (2-3)
16. Mountainburg (3-1)
17. Bearden (1-3)
18. Magnet Cove (2-3)
19. Poyen (3-2)
20. E. Poinsett County (4-1)
21. Cross County (2-3)
22. Bigelow (3-2)
23. Magazine (2-2)
24. Parkers Chapel (1-3)
25. Mountain Pine (2-3)
26. McCrory (4-1)
27. Marked Tree (1-4)
28. Lavaca (2-3)
29. Murfreesboro (2-3)
30. Hackett (2-3)
31. Carlisle (0-4-1)
32. Clarendon (1-3)
33. Strong (0-5)
34. Lafayette County (1-4)
35. Brinkley (1-4)
36. W. Yell County (2-3)
37. Marianna (1-3)
38. Cutter M. Star (1-4)
39. Rector (1-3)
40. Spring Hill (1-3)
41. Dierks (0-5)
42. J.C. Westside (1-4)
43. Midland (0-5)
44. Marvell (0-5)

HOOTENS.COM GAME OF THE WEEK
No. 15 England at No. 5 Conway Christian
This matchup could decide the 5-2A crown. England head coach Andrew Roberson is a Conway Christian graduate and former CC defensive coordinator. His England defense, with superior team speed, last week limited Bigelow to 170 yards in a 35-0 shutout. Fifth-ranked Conway Christian counters with a balanced offense featuring senior QB Jacob Wood who completed 21 of 32 passes last week for 219 yards and four TDs without an interception. Senior Nick Sherrey caught seven balls for 98 yards and a TD, while senior Brandon Shaw hauled in eight passes for 66 yards and two TDs. Conway Christian defeated England 37-32 last year. England won 63-21 in 2016, and Conway Christian won 27-20 in 2015. 

TV LAND
Hooten's Arkansas Football airs at 10:30 Saturday mornings on KATC (ABC Little Rock) Ch. 7, previewing the Razorbacks and their opponent.

LAST WEEK
Hootens.com correctly picked 17 of 21 games (81 percent) played last week. Hootens.com has picked 118 of 147 (80 percent) or the season. 

WEEK 6 PREDICTIONS (favored team in CAPS followed by point spread)
3-2A
McCrory at CROSS COUNTY (2): Cross County junior WB Torrion Warren rushed 60 yards for a TD last week on CC's first snap but received limited touches during the rest of 34-28 loss to 8-2A member Bearden. McCrory committed seven turnovers, including two interceptions returned for TDs, in a (26-12) loss to then-winless Marked Tree. McCrory misses its playmaker, senior ATH T.J. Alford (ankle), who remains questionable for this week.
E. POINSETT COUNTY (4) at Marked Tree: Just 10 miles separate these rivals. MT upset McCrory 26-12 last week when sophomore CB Israel Malone returned an interception 80 yards for a TD, and senior LB A.J. Johnson recovered one fumble, forced a fumble that was recovered for a TD and returned an INT for TD. EPC senior WR Andrew Harston caught three passes last week for 104 yards and three TDs in a 40-point blowout of Midland.
Midland at SALEM (33): 3-2A front-runner Salem ran past Rector 32-6 last week and will do the same this week vs. a Midland team that allowed 13.7 yards per snap last week against EPC. Salem senior RB Jordan Turner (1,079 yards) topped 1,000 yards for the season a week ago with 267 yards and three TDs. 
Yellville-Summit at RECTOR (6): Rector managed 124 yards (23 yards in penalties) last week in a 26-point loss to No. 10 Salem. Salem beat Y-S, 52-6 Week 2.

4-2A
HECTOR (13) at Magazine: Magazine was open last week, when No. 9 Hector jumped J.C. Westside 56-12 by amassing 400 yards. Hector had four starters injured in its season-opening loss to Class 3A Atkins, but the Wildcats are healthy again and playing solid defense with the emergence of junior DT Chris Humphrey (seven TFL) and NG Cody Baucom (25 tackles, 6.5 TFL). Magazine's ball-control offense features junior QB Xeng Yang, sophomore QB Tatum Scott, junior fullback and leading rusher Caleb Hyatt (518 yards) and sophomore HB/LB Kobe Faughn (team-high 32 tackles).
MOUNTAINBURG (36) at J.C. Westside: Mountainburg ran 56 times last week at Lavaca for 390 yard and intercepted two passes in a 29-6 victory. JCW just gave up 400 yards to a Hector team that substituted liberally.
LAVACA (2) at Western Yell: WYC shelved its Double Wing last week for the Spread in a 45-0 loss to sputtering Hackett. Lavaca managed 230 yards in a 23-point loss to Mountainburg but threw two interceptions. 
HACKETT is open.

5-2A
England at CONWAY CHRISTIAN (10): See Game of the Week.
POYEN (35) at Cutter M. Star: No. 19 Poyen finds its offense again after losing the past two weeks to Conway Christian (42-12) and Magnet Cove (35-6). Poyen netted 212 yards vs. MC with 50 of those coming late on its lone TD drive.
Quitman at MAGNET COVE (8): Something old: Magnet Cove just held upstart Poyen to one TD for the third consecutive year in a 35-6 victory. Something new: Magnet Cove junior QB Tyler Hodge completed two of six passes for 130 yards and two TDs, the school's first passing TDs since 2016. Undefeated Quitman's fundamentally sound defense allows just 9.2 ppg, led by 265-pound senior NG Darian Boyce (29 tackles) and senior LB Trey Lovelady (team-high 52 tackles).
MOUNTAIN PINE (3) at Bigelow: MP junior QB Colin Smith accounted for all three TDs and 193 of the Red Devils' 230 yards last week in a 49-18 loss to Conway Christian. Smith ran 16 times for 116 yards, including a 75-yard TD in the fourth quarter. Bigelow mustered 170 yards last week in a 35-0 loss to No. 5 Conway Christian. 

6-2A
Des Arc at HAZEN (6): Hazen has not been pushed since beating Cross County 26-20 Week 0. Hazen was not sharp last week in a 48-12 win at Brinkley with a few exceptions, including junior Blayne Toll who ran eight times for 64 yards and a TD and caught a 35-yard TD pass. Hazen all-state RB Ay'Jon Green and all-league RB Tarrell Penn pose big-play threats to a Des Arc defense lacking speed. Des Arc counters with a ball-control offense that is healthy again with the return of senior Jed Reidhar at tackle and senior Berghan Taylor at tight end. Last week in a 32-14 win over Carlisle, Des Arc drove 99 yards for a TD in 15 plays. Des Arc needs 200 rushing yards to match its rushing total for all of last season.
EARLE (42) at Brinkley: No. 8 Earle crushed Clarendon 69-0 last week behind junior Jaylon Coopwood's 205 yards and two TDs on six carries. Senior first-year QB Tavarius Thomas completed eight of 11 passes for 262 yards and a TD, while rushing seven times for 110 yards and two TDs. Brinkley's team speed could keep this closer.  
MARIANNA (1) at Clarendon: Marianna wins its second straight after mauling Marvell 52-0 a week ago. Comparing scores: Earle beat Marianna 68-6 two weeks ago and Clarendon 69-0 last week. 
CARLISLE (42) at Marvell: Carlisle might have found a fit with the Wing T it unveiled last week in an 18-point loss at Des Arc that was not as close as the final score might indicate. 

7-2A
Spring Hill at MOUNT IDA (42): No. 2 Mount Ida rolling in league play after a sluggish non-conference start. Its defense held Murfreesboro last week to minus-18 yards rushing (70 total yards) and two first downs. MI rushed for 297 yards in the first quarter at Murfreesboro en route to a 58-6 rout.
Dierks at MINERAL SPRINGS (21): No. 12 Mineral Springs ends a two-game losing skid where its run defense was exposed. Mount Ida gutted MS two weeks ago by rushing 309 yards in the first half. Last week, Gurdon sophomore scatback Jameson Threadgill (4.5 seconds) torched Mineral for 223 yards and a TD on 25 carries. 
Murfreesboro at GURDON (27): No. 11 Gurdon special teams continue to excel. Senior DT Remi Williams blocked two punts and returned both for TDs last week in a 33-24 win over Mineral Springs. Murfreeeboro allowed 371 yards on 46 attempts  by nine different Mount Ida ball-carriers.
Lafayette County at FOREMAN (38): Like second-ranked Mount Ida, No. 1 Foreman playing championship defense. It limited Dierks last week to minus-19 total yards in a 56-0 rout.

8-2A
Parkers Chapel at BEARDEN (8): Bearden outlasted 3-2A member Cross County 34-28 a week ago for its first win, while PC was open. Bearden's defense allows 22 ppg, while PC allows 30 ppg.
Strong at HAMPTON (40): Hampton limited No. 3 Junction City to one first down (two more by penalty) in the first half last week, but untimely penalties, a fumble at the JC goal line and JC junior Jakiron Cook (67-yard punt return for TD) proved too much to overcome. Hampton outgunned JC in yards, 245-231,  with senior QB Gauge Welch carrying 12 times for 102 yards. Hampton senior RB/LB DD Stephens ran for two TDs and recorded 15 tackles.
FORDYCE (3) at Barton: Team speed and strength of schedule favor Class 2A Fordyce, which lost to Class 3A No. 9 Rison and No. 12 Camden Harmony Grove but defeated Class 4A Monticello.  
JUNCTION CITY is open.