Bielema dances hokey-pokey after New Mexico St win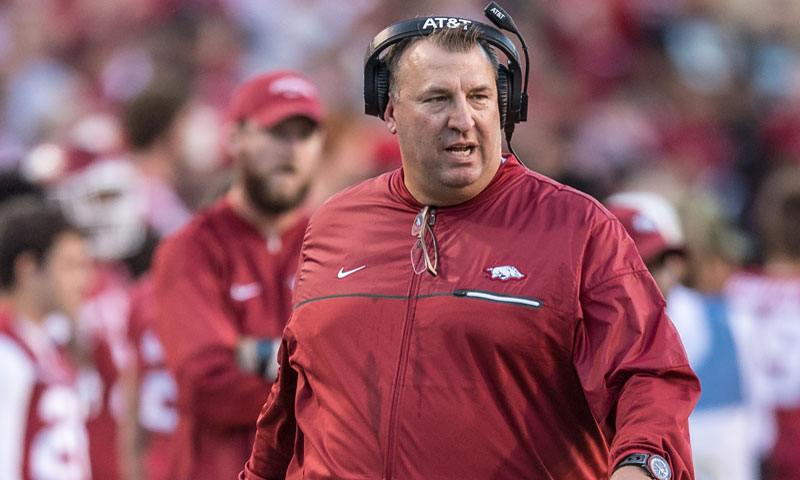 FAYETTEVILLE  - The Arkansas Razorbacks scored 42 points Saturday and took their time doing it.
So much time that New Mexico State Aggies quarterback-receiver combo of Tyler Rogers and Jaleel Scott couldn't overcome an early 21-0 deficit.
Thus the Razorbacks  prevailed beating the Aggies, 42-24 before an alleged crowd of 70,727 at Reynolds Razorback Stadium.
Coach Bret Bielema celebrated showing the Hogs how to dance the hokey-pokey.
"It was a sight," Allen said. "It's a tradition he's been a part of when it comes to winning, and he wanted to let us try it out. It was funny and hopefully a lot more wins come so we can keep seeing him do it."
Bielema's Razorbacks (2-2. 0-1) return to SEC play at 3 p.m. next Saturday at South Carolina on the SEC Network.
Sun Belt Conference member New Mexico State drops to 2-3.
Arkansas dominated time of possession 41:35 over 18:25, mounting six long touchdown drives, including a 9:01 march.
Rogers and Scott couldn't overcome but tried. Rogers completed 23 of 38 for 344 yards and two TDs with one interception. Scott caught 9 for 174 yards including a 36-yard TD for the game's final score with 12:47 left in the fourth quarter.
"I knew their offense was good," Bielema said. "So we thought offensively to keep the ball in our hands and move the chains and make first downs and score in the red zone was really gonna be big."
Arkansas' defense made the Aggies one-dimensional limiting them to 23 yards net rushing.
Meanwhile, the Razorbacks rolled for 230 on the ground. Devwah Whaley carried 19 times119 yards and a TD and Chase Hayden had 12 carries for 48 yards and 2 TDs. Quarterback Austin Allen finished 19 of 26 for 264 yards with three TDs vs. one interception.

GREENWOOD WALK-ON TIPS MOMENTUM TO HOGS
Despite the dominance of Arkansas' balanced offense and its defense against the run, the Porker pass defense made the play of the day.
New Mexico State intercepted Allen at its own 9-yard line and marched the field, looking to tie the game 7-7 before redshirt freshman walk-on backup linebacker Grant Morgan (Greenwood) tipped a pass that Kevin Richardson (Jacksonville) intercepted in the endzone.
"It was big," Bielema said. "Grant Morgan is just a really instinctive player that feels the game really well. He saw a vertical route and tipped that play. It was a big-time play."
Safety Santos Ramirez concurred.
"They were marching and had momentum," Ramirez said. "That pick made the difference. It was major."
Richardson got the pick but gave Morgan the credit.
"Grant made a great play," Richardson said. "I was just in the area and happened to get an opportunity and capitalize on it.

HOGS PULL AWAY
From about to tie the game New Mexico State instead saw Allen, including a 32-yard pass to Jones plus 15 more yards tacked on by linebacker Terrill Hanks' game-ejecting, targeting late hit on Allen, take the Hogs 80 yards again. Whaley rushed the 3-yard TD on the first quarter's final play.
Arkansas junior receiver Jonathan Nance, 6 catches for 58 yards and 2 TDs, caught 31-yard strike from Allen at for a 21-0 lead with 8:38 left in the half.
New Mexico State scored 10 points the final 5:51 of the half. Rogers completed 18 and 19-yard passes to Scott and a 20-yarder to Connor Cramer before rushing a 2-yard TD.
Rogers and Scott connected a 30-yarder during the Aggies frantic drive from their 22 with 1:34 left in the half to the Arkansas 10 before settling for Dylan Brown's 27-yard field goal to make it 28-10 at halftime.
"Their quarterback and receivers, they are legit, man," Ramirez said. "That quarterback was in sync with his receivers. No. 16 (Scott) is NFL caliber. A big body (6-6, 215) who goes and gets the ball."
New Mexico State drove 80 yards to start the second half. Clark scored on Rogers' 9-yard pass at 11:21.
Sixteen plays and 8:51 later, Arkansas completed a 63-yard drive that included Allen completing a 10-yard pass on fourth and four to tight end Cheyenne O'Grady on Allen's 3-yard TD to Nance.
Arkansas special teamers  Michah Smith and D'Vion Warren combined for a strip the ball fumble recovery at the New Mexico State 22 on the ensuing kickoff. Then Hayden netted his 1-yard TD early in the fourth quarter.
The Aggies got a Rogers to Scott 36-yard TD before Arkansas mostly ran the ball and the clock to break a 2-game losing skid (TCU 28-7 and Texas A&M 50-43 in OT).