Hogs turn over Alcorn State 52-10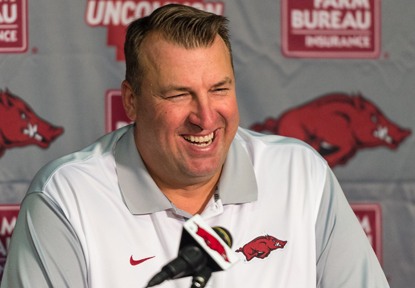 LITTLE ROCK -  Securing three Alcorn State turnovers put the  AP nationally 20th-ranked Arkansas Razorbacks back on course for their anticipated rout of the lower division Braves Saturday before 46,988 at War Memorial Stadium.
The Razorbacks of the top Football Bowl Subdivision and the SEC routed Football Champion Subdivision and reigning Southwestern Athletic Conference  champion  Alcorn State 52-10, but not before the Braves threatened to reduce their eventual 24-7 half deficit off Arkansas' 24-0 first-quarter lead  to 24-14 before fumbling on a 5-yard loss to the 1 to Arkansas safety De'Andre Coley six seconds before intermission.
Failing to convert a fourth and one, a hangover from Arkansas' short-yardage woes in the previous week's SEC loss to Texas A&M at the Dallas Cowboy's AT&T Stadium, precipitated Arkansas' second-quarter sag.
The Braves drove from their 26 to the Arkansas 33  opening the third quarter before Arkansas nickel back Henre Toliver's 70-yard touchdown interception followed by Arkansas safety Josh Liddell's interception set up Arkansas receiver  Cody Hollister's 26-yard touchdown end around run had the Hogs running away  38-7.
"We talk about starting fast and we did that," Arkansas Coach Bret Bielema said. "We hit a little hole in the second quarter when we got stopped on a fourth down play. We responded in the second half.  A pick-six is always nice."
Toliver's pick-six seemed the dramatic dagger but Alcorn State Coach Fred McNair most pointed to  quarterback Noah Johnson, who tallied a 12-yard touchdown run capping a 9-play 61-yard drive  with 10:44 n the second quarter, and center Detonio Dade never connecting on the snap that Coley pounced upon.
""I wish we could get that one back," McNair said. "That was a big swing. You go in and score that one and you are up to 14 points and you are only down 10.  It was just a breakdown in what we did as far as the play. We didn't get the snap for one. That is a big swing. You score that one and you are pretty much in the thick of things."
He knew it would be hard to stay in the thick for long.
""Just like I told the guys it was different strength and different speed and a different ballgame when you are playing an SEC team," McNair said.
The Razorbacks  0-1 in the SEC off losing the Sept. 24  Saturday to Texas A&M,  take a 4-1 record over  into Saturday's SEC game against the nationally No.1 defending national champion/SEC champion Alabama Crimson Tide at Reynolds Razorback Stadium in Fayetteville. Alcorn State fell to 1-4.
By the game's end Arkansas outrushed Alcorn State, 353-155, with two Razorbacks running backs exceeding 100 yards rushing.
Freshman Devwah Whaley, scoring his first Razorbacks touchdown on a 75-yard run, netted 135 on 9 carries and sophomore Rawleigh Williams, netted 126 on 13 carries.
Freshman running back T.J. Hammonds of nearby Pulaski Robinson High scored his first Razorback rushing touchdown  as did senior receiver Hollister while instate redshirt freshman receiver LaMichael Pettway of Nashville caught his first Razorback touchdown after alertly recovering Alcorn's game-opening onside kick.
Arkansas junior quarterback Austin Allen completed 13 of 18 for 205 yards and three touchdowns without a turnover.
Junior receiver Jared Cornelius a career day 7 catches for 126 yards with a touchdown from Allen against Texas A&M, posted another big Saturday catching 4 for 106 yards and two touchdowns.
Arkansas led 24-0 after the first quarter taking command with Pettway covering the onside kick at the Alcorn 43.
"I said expect something on that first time and JaMichael did a good job," Bielema said.

Arkansas drove to first and 10 at the 12 but bogged down and settled for Cole Hedlund's 25-yard field goal.
Hedlund would be 6 for 6 on PAT's but missed a 44-yard field goal try during Arkansas' second-quarter abyss.
Drew Morgan's 33-yard punt return preceded Allen's 29-yard pass to Cornelius for Arkansas' first touchdown and a 10-0 lead at 9:03.Returning what would have been a game-saving punt return for a touchdown in last year's 16-12 loss to Toledo here had it been not been called back for a block in the back, Cornelius appeared to have returned another punt for a touchdown in Saturday's first quarter.
It was again called back because of a block in the back.
The Hogs scored anyway the next play on Whaley's 75-yard run untouched.
"Just a regular inside zone and I cut it back and saw a lot of green and went from there," Whaley said "It felt kind of like I was in high school again."
Johnson got sacked forcing a punt before Allen and Cornelius connected on a 35-yard touchdown for the 24-0 lead with 17 seconds left in the first quarter.
Was Allen surprised to see Cornelius open so often with last week's A&M film available to the Braves and Arkansas resting top senior receiver Keon Hatcher's sore hamstring?
"Not surprised at all. the way he was running routes last week in practice he looked fast and he looked fresh," Allen said.  "It translates that if you practice well during the week you are going to play well on Saturdays."
The second quarter, particularly the Braves stuffing running back Kody Walker on fourth and 1 from Arkansas' 45 after three short-yardage failures against A&M, created Arkansas concern.
"We will continue to work it and press it and figure out what to do" Bielema said.
Coley, suspended the second half of the A&M game because of a targeting late hit and starting Saturday in place of injured strong safety Santos Ramirez, redeemed himself with the big fumble recovery.
Toliver took it from there picking off the Johnson pass that Arkansas linebacker Brooks Ellis tipped.
"My receiver came off the ball and set it down, like 5 yards, and looked back at the quarterback," Toliver said.  "I saw the ball throw to No. 3, and he (Ellis) tipped it. It was high and I got it and I just saw green.
And Arkansas saw an easy victory coming.
"It was great for us," quarterback Allen said. "To get points from the defense is always great for the offense."
Liddell picked off Johnson's next pass. Hollister, who whose 22-yard sideline run earlier nearly was a 40-yarder until ruled on further review that he had stepped out, ran his 26-yard TD end around at 5:44 of the third quarter.
"After that tight rope, I asked Coach Smith, 'Give me another one.'  Hollister said. "Because I was kind of pissed that I stepped out. Honestly, the guys just got good blocks and I just had one man to beat. It was really good blocking and that's what we teach as receivers. You leave them one man to beat as a running back and they'll go score."
Haiden McCraney kicked a 43-yard field goal for Alcorn State with 3:40 left in the third quarter.
Otherwise it was mostly Arkansas including Allen throwing a 10-yard TD to Pettway, Hammonds scoring on a 5-yard run, junior defensive tackle Bijhon Jackson's pass-rush forcing an intentional grounding call on Alcorn's Johnson and Arkansas  6-10nsenior Dan Skipper blocking his second field goal of the season and seventh of his career.