Recruiting: Star City lineman Capps shines brightest among talented senior class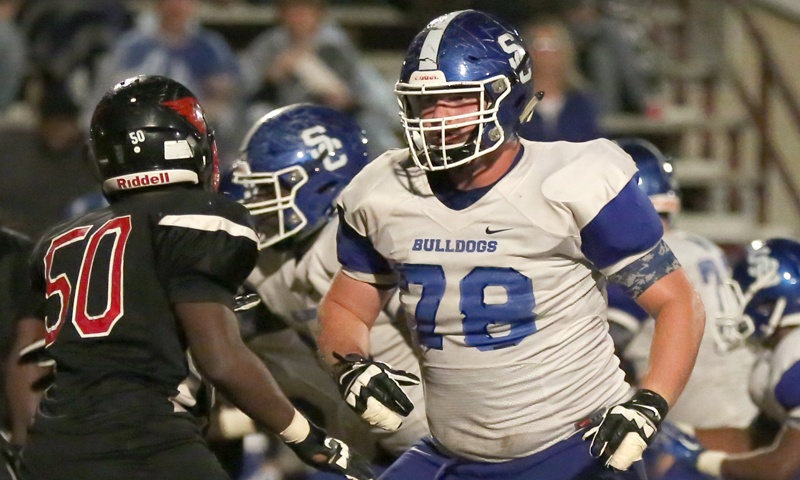 | | |
| --- | --- |
| | |
| | Sr DL AUSTIN CAPPS |
Star City (3-1) plays host to defending Class 4A champion Warren (3-1) this week, one of the Bulldogs' more important regular-season games since winning the 8-4A title in 2010, ironically the last time they beat Warren.

The Bulldogs enter the matchup with one of the better collections of talent in Class 4A. Star City began 2015 ranked No. 3 by Hootens.com but dropped out of the Top 10 after a Week 1 loss to Lonoke. The Bulldogs ease back into the Top 10 (No. 8 this week) after three straight wins.

"Maybe it was a good loss for us," Star City coach Jett Furneaux says. "We identified some major issues and have been working to correct them. To make it far this year, we've got to learn to tackle in space."

Over the past two seasons, Austin Capps (6-4, 310) developed into the most highly touted football player in school history. The senior committed to Arkansas earlier this year, turning down a scholarship offer from Louisville. He also was recruited by Alabama, LSU, Ole Miss and Mississippi State, who quit pursuing after his commitment, Furneaux says.

Capps promoted from junior high to the varsity for the final month of 2012, and started every game since. He worked extensively at guard the past two seasons in Furneaux's Spread attack.

"He's the most athletic big guy I've seen," the coach says. Capps (4.0 GPA) broad jumps more than nine feet and plays first base in baseball, leading the Bulldogs with a .480 batting average as a sophomore.

Capps terrorized South Arkansas as a sophomore with 103 tackles, 31 tackles for loss and 10 sacks. He also forced a pair of fumbles and blocked a punt. He collected 75 tackles and eight sacks last season, often fighting through double- and triple-team blocking schemes. Capps averages five tackles per game this fall, making nine tackles for loss and three sacks.

Preparing for life as an SEC lineman, Capps (400-pound bench press, 365-pound power clean) spends free time in Star City's new indoor workout facility. "He played too high last year," Furneaux says. "He dominated high school guys, but that won't work in college. He's made himself into a better player by getting quicker and playing lower. He always has people devising schemes to stop him, and that allows everyone else on defense to make plays."

Sam Jackson (6-1, 290) benefits from the extra attention opponents give Capps. Jackson, Capps' workout partner and close friend, reaps rewards from Capps' college attention, too. Jackson started on the offensive line the past three seasons. Jackson (375-pound bench press, 290-pound power clean) "finishes blocks better than anyone I've coached," Furneaux says. "He knows how to put people on their backs."

Jackson developed as dominate defensive lineman this fall (20 tackles). He continues drawing recruiting interest from Arkansas State, Memphis and Ouachita Baptist. "Some college coaches say he may be just an inch short from Division I," Furneaux says, "but he can plug holes and shut down the run game. I think he'll be a great college lineman."
| | |
| --- | --- |
| | |
| Sr QB TYE BROWN | |
C.J. Everett (6-1, 250) rounds out the trio of dominating Star City linemen. Everett started at every offensive line position the past two seasons and controls an end slot on the defensive front. Everett (285-pound power clean) has 15 tackles and three sacks in four games this fall.

In last year's 24-20 win over eventual 8-4A co-champion Dollarway, Everett slid to noseguard "and it was the best move we made all year," Furneaux says. The all-conference performer altered Dollarway's Wishbone with five tackles behind the line of scrimmage, and he sacked the quarterback on the final drive to preserve the victory. Memphis invited him to camps last summer, and UCA and Ouachita Baptist are recruiting Everett.

Quarterback Tye Brown (6-1, 155) started the final four games as a sophomore and every game since. Brown, the son of former Bulldog coach Blair Brown and legendary Star City girls basketball coach Becky Brown, set every school passing record before his senior season began. Brown (4.6 speed) passed for 2,147 yards and 17 touchdowns with 12 interceptions as a junior, and he ran for seven TDs.

The Bulldogs designed more running plays in the off-season to utilize Brown's speed and ability on the perimeter. He ran for three TDs Week 3, a 26­-point win over Class 5A Mills. Brown has passed for 802 yards and nine TDs this season, and rushed for 260 yards and four scores. Tulsa invited him for an official visit this fall, and he could play college baseball.

Senior receivers/defensive backs Austin Powell (6-2, 190) and Blake Wynn (5-11, 160) are vital football players, and both own baseball scholarship offers from Arkansas State. Wynn (4.0 GPA) earned all-conference honors last season, hauling in 41 passes for 766 yards and six TDs. Wynn racked up 31 tackles while captaining the secondary at free safety.

"I think he could make it as a college receiver," Furneaux says. "He can get behind the defense, and he knows how to stretch the field as much horizontally as vertically." Powell lines up at strong safety (15 tackles in 2015) and springs Star City's running attack with blocks at receiver.





"