Hogs: Alcorn St. running QBs pose threat; notes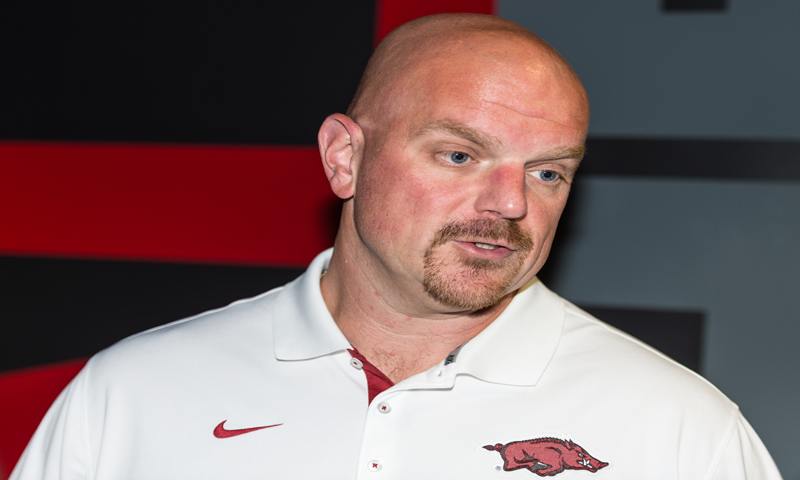 FAYETTEVILLE - The last game Arkansas won in Little Rock it nearly lost.
And like Alcorn State that Arkansas hosts at 11 a.m. Saturday on the SEC Network's Alternate Channel at War Memorial Stadium, it was a lower-division (formerly 1-AA now called FCS for Football Championship Subdivision) team that Arkansas played.
Arkansas defensive line coach/kickers coach Rory Segrest (in top photo) remembers it well. Segrest was the Samford defensive line coach/kickers coach when Samford led Bret Bielema's 2013 Razorbacks in the second half before Arkansas prevailed, 31-21.
In fact, Bielema was so impressed with Segrest's Samford D-line and kickers that he hired Segrest in 2014 after 2013 Arkansas D-line and kickers coach Charlie Partridge became the head coach at Florida Atlantic University.
Segrest spoke to the attitude of a FCS team like Alcorn on the road against an SEC team like Arkansas.
"It's just like any game you go into," Segrest said. "You don't schedule a game you don't feel like you can at least compete. We came in a couple years ago and obviously it was big. It was an SEC opponent. But at the same time, it all comes down to execution. I'm sure that's what these guys are thinking this week. They're going to come in with a great game plan and try execute it and get that win."

Is it like a bowl game for the division that plays playoff games but no bowl games?
"It's big for them obviously," Segrest said. "Some of them have a chip on their shoulder because they felt like they're Division I talent or maybe they're a Division I transfer. So they're out to show that they can compete with that caliber of athlete. They definitely are going to give everything they've got."

TRAP PAP
The Razorbacks' have lost three consecutively in Little Rock, including last year's upset loss to Toledo, and they host No. 1 Alabama next week, making Alcorn State a possible "trap game."
Arkansas linebackers coach Vernon Hargreaves snickers at the suggestion.  Arkansas'17-17 first half last week against Texas A&M dissolved into a 45-24 SEC defeat.
"We can't take anyone for granted right now," Hargreaves said.  "We have no reason to take anyone for granted."

BRAVES' SWAC SWAG
The Alcorn State Braves are 1-2 from the SWAC (Southwestern Athletic Conference) coming off SWAC loses to Alabama State, 21-18 and Arkansas-Pine Bluff 45-43 in triple overtime. They have won SWAC championships the past two seasons.
Former Alcorn State coach Jay Hopson posted 9-3, 10-3 and 9-4 records from 2013-2015, netting in 2016 the head coaching at FBS school Southern Miss, a Conference USA team the Braves played to the 26-20 wire last year.
"Alcorn State is a very successful team the past two years, winning titles and everything that they've done," Bielema said.

DUAL QUARTERBACKS
Quarterbacks coach Fred McNair was promoted to Alcorn State's head coach when Hopson moved on.
All-everything Alcorn QB John Gibbs has graduated, so McNair plays both junior Lenorris Footman, recovered from early-season injury, and redshirt freshman Noah Johnson.
"I think they are similar," Bielema said of Footman and Johnson. "I don't think the offense changes depending on which quarterback is in. I think both those guys can run around a little bit  which will be a challenge for us.  We have to be sure that we will be able to adjust to the multiple personnel groupings we see in the formations that they come out within those groupings."

The Hogs weren't merely challenged last week, they were beaten by running Texas A&M QB Trevor Knight.
"They (Alcorn State) are going to look at this (Arkansas vs. Texas A&M) film and feel they can have success, so we have to get this cleaned up," Hargreaves said.
So far younger QB Johnson has better stats than older QB Footman.
""The freshman really gets it done," Arkansas free safety Josh Liddell said. "Watching his tape, the guy can really run. The other guy is pretty good, too. They know what they're doing."
Arkansas offensive coordinator Dan Enos calls the Braves' defense "very well coached.  Very physical. You see guys that play hard. They have some good athletes and they'll present a challenge from the multiplicity of what they do on defense."
Nobody at Arkansas pretends the Braves pose the challenge of No. 9 and undefeated Texas A&M. But as Hargreaves said, they "are not in position to take anyone for granted."