Hogs, Ags admire QB Allen's grit; notes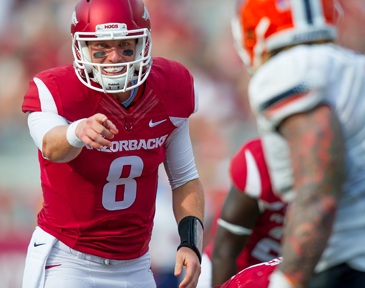 FAYETTEVILLE - Even the Texas A&M Aggies who pounded him tweeted about Austin Allen's toughness.
"You are one tough SO*. Respect," Texas A&M linebacker Claude George tweeted after Allen took virtually an every-down beating Saturday upon constantly passing in the second half of the Razorbacks' 45-24 SEC defeat.
Of course, the Razorbacks also praise their tough, junior quarterback.
"Austin is a trooper," junior receiver Jared Cornelius, catching seven of Allen's 42 passes for a career game-high 126 yards. "He took some shots back there, but it didn't surprise me he was getting back up after every one. He is an athlete and a competitor, and he is going to get up and play ball. That's my boy."
Players and coaches alike have said similar things. And they say something else, too. They don't want Allen's toughness to be a postgame topic because circumstances put him in position to be pounded.
Allen was seldom touched during the 17-17 first half. He became a constant target after the Hogs failed to score on the goal-line and were zapped for a 92-yard touchdown pass and dissolved into passing nearly every down.
How can they better pass protect for such a similar situation in the future?
"Try not to get in that position," running backs coach Reggie Mitchell responded after Wednesday's practice.  "That's the best thing."

Allen reported Wednesday he is none the worse for Saturday's wear. "I'm feeling great," Allen said. "(Trainer) Matt Summers and his whole staff do a lot of stuff with us. They get me back right pretty quickly."

HOGS VS. BRAVES
At 11 a.m. Saturday on the SEC Network Alternate Channel at War Memorial Stadium in Little Rock,  the Razorbacks, 3-1 and ranked 20th, play the lower division (FCS) Alcorn State Braves, 1-2, of the Southwestern Athletic Conference.

HATCHER AND REED
Arkansas coach Bret Bielema and receivers coach Michael Smith mull whether senior receiver Keon Hatcher, hamstring injury late against A&M, will play Saturday. They also closely monitor senior receiver Dominique Reed, sensational last season, but struggling now and not isted on the current two-deep roster.
The Razorbacks need Hatcher full-speed healthy and crave the return of the old Reed Oct. 8 when No. 1 and defending national/SEC champion Alabama visits Reynolds Razorback Stadium.
"We are going to let Keon go out tomorrow (Thursday) and see how he goes," Smith said.  "If he's good to go, we are going to let him go. If not, we will take the steps we need to get him ready."
Regarding Reed, the Camden Fairview alum who transferred last year from Coffeyville (Kan.) Community College, Smith said, "He's had two good practices back to back. I was hard on him Saturday because I expect so much out of him. But he has responded well. I think he is going to have a breakout game this weekend."
YOUNG TACKLES PROGRESS
Although third-year sophomore Brian Wallace got his first start at right tackle against A&M and is set to start against Alcorn State, Colton Jackson remains in the game plan, Arkansas offensive line coach Kurt Anderson said Wednesday.
Redshirt freshman Jackson of Conway started the first three games at right tackle.
"I think Colton Jackson's been playing some really good football," Anderson said. "He can push guys all over in that first line. We're given him some looks at right guard with the twos. We've put Jalen Merrick at right tackle with the twos and Jalen at right guard and Paul Ramirez at right guard and Colton out at right tackle just to get him some multiple reps at multiple positions. He's a big body who has a high care factor. He's very smart. I'm just trying to give guys some opportunities moving forward."
Anderson evaluated Wallace.
"He's obviously physically talented," Anderson said.  "I think his care factor is out the roof. He loves this game, he loves this team, he loves this line, he loves this university and he works hard. Brian has struggled at times with the playbook or techniques, but he has put in a lot of work and got some opportunities and he's done a good job."
HAMMONDS COMES HOME
Since he has played and can't redshirt, Saturday's game in Little Rock seems an ideal setting to work coming-home freshman running back T.J. Hammonds of Joe T. Robinson.
""You know he has made a lot of progress," Reggie Mitchell said. "He had a knee injury earlier in the year, and since then he has shown improvement every week. We are going to try to get him a little package for him, so we can get him out there and kind of exploit some of the things that he is different from the other 'backs."