HOGS go "half pack" for legs; more notes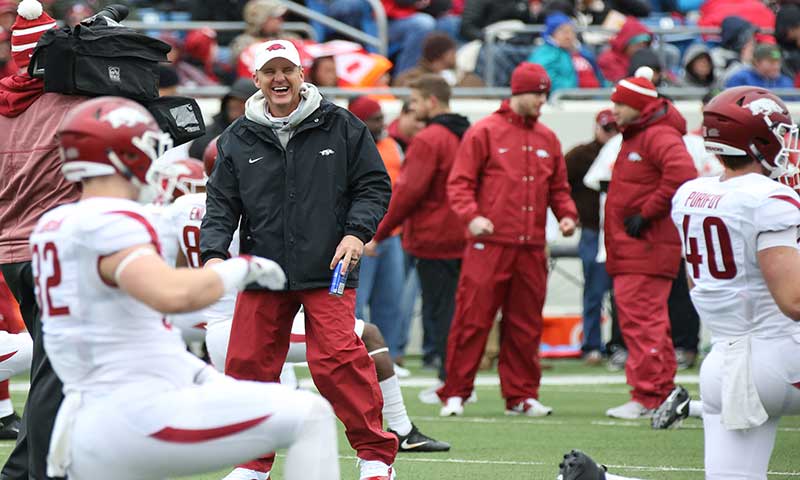 By OTIS KIRK
FAYETTEVILLE - Junior running back Devwah Whaley will miss Saturday's game vs. Texas A&M, Arkansas head coach Chad Morris said.
Whaley went down in the 34-3 loss at Auburn. "It's a concussion," Morris said. "He's very doubtful."

Arkansas and A&M will kick off at 11 a.m. Saturday in the Dallas Cowboys' AT&T Stadium. ESPN will televise the game.
In Whaley's absence last week, Rakeem Boyd paced the Razorbacks in rushing with 66 yards, and the sophomore caught two passes for 39 yards.
"I think we have seen him get better every week," Morris said of Boyd. "I expect that to continue this week. T.J. Hammonds coming back is gonna be a benefit for us. Chase Hayden being out there is going to help us out."
Hammonds, a Joe T. Robinson graduate, missed the Auburn game with an injury, while Hayden split carries with Boyd after Whaley left the game. Boyd originally signed with Texas A&M.

"I haven't seen him be too emotional since I been around him," Morris said. "I am sure a lot of his friends are there (Texas A&M). But it's just like every week. Just another game for him."
Sophomore wide receiver De'Vion Warren, junior receiver La'Michael Pettway and freshman tackle Noah Gatlin wore green jerseys Tuesday but practiced Wednesday and should play Saturday against A&M, Morris said.
PACKING OFF
Arkansas went "half pack" in Tuesday's practice and might do that again today.
"Leadership (players) committee and I talked, and there's some things we can take off their legs a little bit," Morris said. "All it is taking the knee pads off of them. They still have their thigh pads and hip pads. The course of practice doesn't change. It's not live. It's thud to track is what we call it. From a mental standpoint, it's the best thing for us right now. If it was important to them, it was important to me."
FOUR CAPTAINS
Arkansas team members recently elected four permanent captains for 2018: senior safety Santos Ramirez, junior linebacker Scoota Harris, senior linebacker Dre Greenlaw and senior guard Hjalte Froholdt.
"Normally we don't do this until November," Morris said. "I thought it's time. As I shared with each one of them yesterday as we called them out in front of the team, there are a lot of honors they will receive during their playing career and life, but this is probably the most prestigious honor you can get."
MORRIS VS. A&M
Morris is a graduate of Texas A&M but denies any additional motivation to beat the Aggies.
"No, not really," Morris said. "Just an opportunity for this football team to get better. Get back into an area that's a heavy recruiting base for us in the Dallas area.
"We have a huge alumni fan base. We're expecting a huge crowd so I'm excited to get this team down there and give our best performance."
The Razorbacks have lost six games in a row to the Aggies despite many being close.
"I think the psychological barrier is us in ourselves," Morris said. "We're just continuing to get better and eliminate mistakes that is causing some of the inconsistency on all phases of our game right now. That is more the psychological factor I'm facing every day. Just continue to get better."
CONSISTENT OFFENSE
Arkansas had more yardage than Auburn and won the time of possession, but managed just three points.

"Well, we've got to be better, one, staying on the field," Morris said. "We have to be better on first down, and we have in some regards, but not good enough. And then you have to be a very efficient third-down football team. That's something we've really struggled with."
ANOTHER EXIT
Sophomore linebacker Kyrei Fisher announced Wednesday that he will redshirt and then transfer at midterm. Fisher is the second player to announce he's leaving the Hogs this week. Senior Jonathan Nance announced it Monday night.
Fisher played in two games in 2017 and made one tackle. Unlike Nance, Fisher won't be a graduate transfer so he will have to sit out a season if he transfers to another DI school.
GOODE TIMES
Former Razorback and Green Bay Packer long snapper Brett Goode, the featured speaker Wednesday at the Northwest Arkansas Touchdown Club, addressed the Razorbacks' current struggles.
"The hardest part is giving a coach time," Goode said. "Everybody wants to win now. You look across the league and not just the SEC, but you look at a lot of new coaches, the big hires, they've been struggling too.
"A lot of that is the players buying in. That's where it all starts on a new coach and those guys who might have the opportunity to go play in the NFL. Those guys have to buy in, and they have to lead the team."