HOGS: Faces change but A&M still talented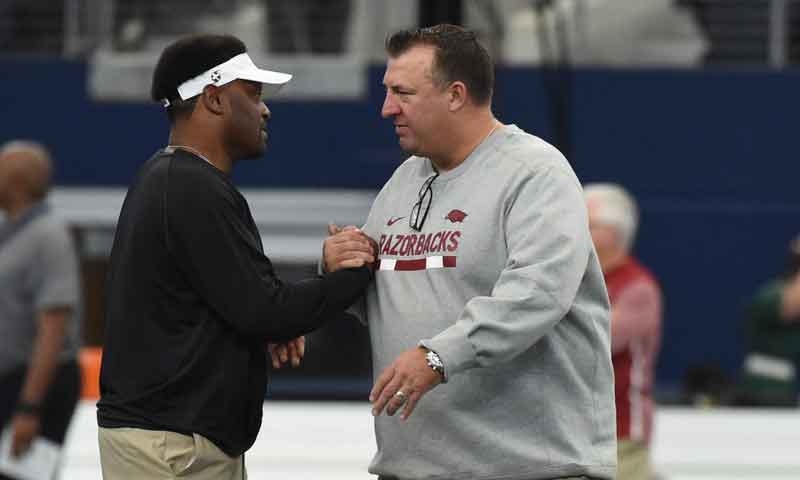 FAYETTEVILLE - Texas A&M receiver and Arkansas killer Christian Kirk has graduated to the NFL and fired A&M coach Kevin Sumlin has moved on to Arizona.
Otherwise, it seems these are the same old Aggies who have beaten the Razorbacks six consecutive years since A&M moved from the Big 12 into the SEC West in 2012.
Texas A&M (2-2, 0-1), with losses to No. 1 Alabama and No. 3 Clemson, is a 20-point favorite over Arkansas (1-3, 0-1) in Saturday's 11 a.m. ESPN-televised game at the Dallas Cowboys' AT&T Stadium in Arlington, Texas.
A&M presumably upgraded from Sumlin by hiring Jimbo Fisher, who won a national title at Florida State. Sumlin opened spectacularly at A&M with 11-2 and 9-4 seasons with Johnny Manziel as his quarterback, then plateaued 8-5, 8-5, 8-5, and 7-5 after hot starts. A&M fired Sumlin last winter before its 55-52 loss to Wake Forest in the Belk Bowl.
There's no way the Aggies can upgrade on Kirk, a second-round draft choice of the Arizona Cardinals.
In A&M's 50-43 overtime victory over Arkansas last year, Kirk returned a 100-yard kickoff return for a TD and caught five passes for 110 yards, including an 81-yard TD and the 10-yard game-winning TD in OT.
MOND, WILLIAMS RETURN
The Aggies still sport plenty of returning firepower.
Sophomore QB Kellen Mond returns from devastating Arkansas last year by carrying for 109 yards and completing 14 of 27 passes for 216 yards with the two TDs passes to Mond with one interception.
Running back Trayveon Williams, recovering from a foot injury, still hurt Arkansas last year by netting a TD and 72 yards on 17 carries, after overwhelming the Hogs in 2016. Williams netted 153 yards and two TDs on 12 carries when A&M prevailed 45-24 in 2016 at AT&T Stadium.
A&M DEFENSE
Defensive back Armani Watts, the most heralded on last year's A&M defense, plays in the NFL for the Kansas City Chiefs.
However, defensive ends Landis Durham and Kingsley Keke and linebackers Tyrel Dodson, Otaro Alaka and Buddy Johnsoin and cornerback Debione Renfro return, and all were significant against Arkansas.
First-year Arkansas coach Chad Morris said defense is an underrated but solid component of the Aggies' outfit.
"They are just a really good football team," Morris said.  "Very sound. One of the best third-down defenses in the country. I know Kellen Mond has been outstanding for them. Continuing to get better and watching his career as he continues to grow. They have big, physical receivers. The running back (Williams) is elite."
Morris went into Thursday's practice believing the Razorbacks are in better shape to play a game than they've been all season.
Though ultimately appearing drubbed 34-3 in last week's SEC opener at ninth-ranked Auburn, the Razorbacks appeared more solid on both sides of the ball than in their preceding 34-27 and 44-17 non-conference losses at Colorado State and North Texas.
LINEUP RESOLVING
Arkansas' defense, battling overwhelming field position odds because of breakdowns on its special teams, played its best game of the season at Auburn after playing better than the score indicated against North Texas.
Morris settled on junior QB Ty Storey to start against Auburn, and it has carried over this week.
"I think from watching them there's a confidence level with everyone saying he's our guy," Morris said. "Let's rally and let's keep going."
The return to health of junior left tackle Colton Jackson (July back surgery) at Auburn, and installing sophomore Ty Clary at center while moving senior Hjalte Froholdt back to the left guard has balanced the offensive line's left side with seniors Johnny Gibson and Brian Wallace staying at right guard and right tackle.
Morris and offensive coordinator Joe Craddock say they are starting their best five on the offensive line.
The Razorbacks will be without running back Devwah Whaley (concussion at Auburn) Saturday. Senior receiver Jonathan Nance, last year's leading receiver, has departed to become a graduate transfer in 2019 after logging just one catch in four games. Junior Deon Stewart of Hardy, who caught five passes for 54 yards, takes Nance's place.
With Whaley out, Rakeem Boyd, originally an Aggie before transferring to Independence (Kan.) Junior College and this semester to Arkansas, becomes the featured back. Boyd likely would have been featured anyway after leading the Hogs with eight carries for 66 yards against Auburn, including a 45-yarder to set up Connor Limpert's field goal.
"I think last week was an opportunity for him to continue to show steady improvements," Morris said. "I expect that to continue."