Hogs: QB Kelley's popularity grows; Whaley healthy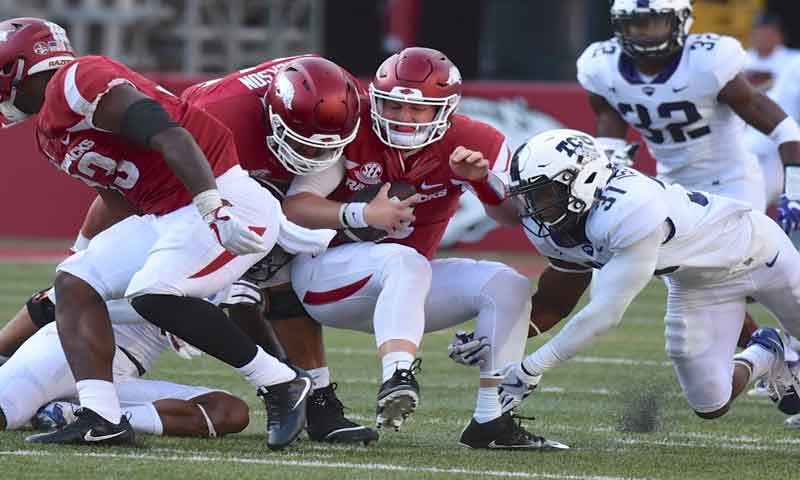 FAYETTEVILLE - They call Cole Kelley "Steamboat," but they still call Austin Allen "THE quarterback," Arkansas redshirt freshman Kelley reminded media Tuesday night.
With the Razorbacks off to a 1-2 start and struggling since the last two games of 2016 on third and short and the goal-line, Kelley became a fan favorite for his short-yardage offense. The 6-7, 268-pounder fell forward for first downs and threw a short touchdown pass in Saturday's 50-43 overtime loss to Texas A&M.
The Lafayette, La., native has become Arkansas' "Steamboat" since offensive coordinator Dan Enos named Kelley's package "Steamboat" for his situations subbing in for Allen, the fifth-year senior starter and 2016 SEC passing leader.
The backup QB, a curiosity with fans who often tire of all starting QBs, becomes more popular with success.
"The backup quarterback is always the most popular and people like to create a quarterback controversy when there is really none," Kelley said. "Austin (in Craven Whitlow photo) is the first quarterback on this team and everyone knows it, including me.  Austin is a warrior and he is a great quarterback, and I am very lucky to have him to look up to. He is the first-team quarterback and there is really no controversy no matter what anybody off the field says."
That said, Kelley wasn't bashful in reminding Arkansas head coach Bret Bielema and Enos he'd be willing to do anything to help.
"I figured it might be a short yardage package because it doesn't take a rocket scientist to see that we haven't had the best success on short yardage in the past," Kelley said. "I feel like quarterback runs help with that because you get an extra blocker in. I'm a big body, and we don't want to do that with Austin because we don't want to get anymore hits on him. I will gladly take some hits to get a few more yards."
Not all big QBs are so gifted protecting the ball and falling forward on those crucial QB sneaks.
"I did it a lot in high school," Kelley said. "That was one of my points to Coach B - this isn't new to me because I did it in high school because I weighed more than the linebackers when I was in high school and I weighed more than the D-line. It really just creates match-up problems in the box. It gives us five-on-five and six-on-six blockers in the box instead of them having more people. You have to have good vision, but running behind our offensive line (especially All-America center candidate Frank Ragnow) the way they run block hasn't been very difficult."
BIG MAN'S BIG RUN
Kelley's runs haven't all been short. He netted 13 on run against the Aggies.
"That's what I needed," Kelley said. "After that run I was pretty comfortable out there."

Kelley is excited with his new role, but how excited will the Razorbacks, losing their SEC opener in an overtime emotionally, be at 11 a.m. Saturday playing the New Mexico State Aggies of the Sun Belt Conference at Reynolds Razorback Stadium.
Arkansas is 0-6 against Texas A&M since the Aggies joined the SEC and has lost three of the past four meetings in overtime.
"It was a tough game to lose because we wanted that game and haven't beat them in awhile," Kelley said. "But we are just going to go out and take out our anger on New Mexico State or at least that is what we are going to try and do and get our anger out in practice and focus on what we need to do. We are just hungry for a win now."
New Mexico State, 2-2, walloped UTEP last Saturday and has beaten New Mexico and lost only 37-31 to traditional Pac 12 power Arizona State.
WHALEY HEALTHY
Arkansas running backs Chase Hayden, 13 carries for 77 yards and a TD vs. A&M, David Williams (11 carries for 68 yards and two TDs) and Devwah Whaley (six carries for 38 yards) ran effectively against Texas A&M.
Whaley was ailing with back and ankle injuries plus absorbing a punch in the jaw last week in an altercation with teammate Brandon Martin. He practices this week healthy, running backs coach David Mitchell said.

"Today was probably the first time in a couple of weeks that he was able to go through a full practice," Mitchell said. "So he's on the mend."
CANTRELL COMEBACK
Sophomore tight end Austin Cantrell of Roland, Okla., struggled in the 28-7 loss to TCU, losing sight of the end zone line on a would-be TD and committing a key penalty. Cantrell did his blocking part Saturday as in Arkansas rushed for 226 yards against Texas A&M. He also caught two passes for 39 yards, including 31-yarder on a tight end screen.
"He played better," Arkansas tight ends coach Barry Lunney said. "He played more like the way we need him to play."