Hogs expect Alcorn QBs to run; notes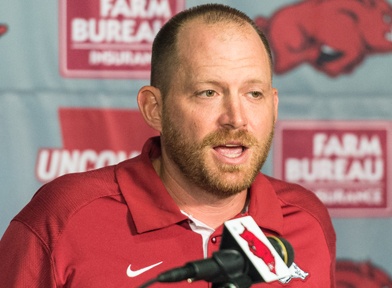 FAYETTEVILLE - Arkansas expects Alcorn State quarterbacks Lenorris Footman and Noah Johnson to run at a Razorback defense that allowed Texas A&M QB Trevor Knight to ramble for 157 yards and two touchdowns last week.

Alcorn State (1-2 of the Southwestern Athletic Conference) and the No. 20 Razorbacks (3-1 overall and 0-1 in the SEC) meet at 11 a.m. Saturday on the SEC Network Alternate Channel at War Memorial Stadium in Little Rock.
Footman and Johnson don't have the same supporting cast on the lower division (Football Championship Subdivision) instead of Arkansas' Division 1 Football Bowl Subdivision) but running quarterbacks J'mar Smith of Louisiana Tech and Kenny Hill  of TCU also gave Arkansas problems in Razorback victories before Arkansas shut down Texas State running quarterback Tyler Jones.
"That trend is not going anywhere," Arkansas secondary coach Paul Rhoads said Tuesday night of running into running quarterbacks. "That experience isn't going away.  Really you look at the whole season and you say we have had the opportunity to defend the quarterback run game and we are going to get it this week. Their original starter was injured but came back in the Grambling game. Both of them are capable of running as well as throwing."

MESSED UP MIDDLE
A&M' Knight exploited Arkansas on some big-time QB draws run through the middle.
No reason to think that Alcorn State won't try the same stuff, Arkansas linebackers coach Vernon Hargreaves said Tuesday night.
"We are going to face guys all year that can run and are good athletes," Hargreaves said. "So they are going to look at this film and feel they can have success. So we have to get this cleaned up. I think we will get that done."
What happened to the Hogs last week that messed their middle?
"I think as much as anything it's our guys at times not being where they are supposed to be and having their eyes in a bad place," Hargreaves said. "When your eyes are bad against that type of stuff and you are looking at the wrong thing, then the offense has a chance for a big play and that's really kind of what happened."

NO EXCUSE OVERLOOKING ALCORN
Well at least it should keep the defense from taking the decided underdog Alcorn State Braves for granted. "We can't take anyone for granted right now," Hargreaves said.  "We have no reason to take anyone for granted."

ACCOUNTING FOR EXTRA GAP
And Rhoads said a running quarterback adds stress on any defense.
"Any time they have that quarterback in a run game, they have created an extra gap," Rhoads said.  "You are playing a 2-back system and they run an isolation play in the B-gap, one linebacker is going to fit on one side of the back and the other linebacker has the other side of the back and a safety has the cutback route. But when you add a quarterback there is an extra gap created and there is not an extra defender. So you have got to create a scheme to produce that extra defender or cause disruption."
Junior backup noseguard Bijhon Jackson of El Dorado said the Razorbacks are well aware of the gaps they missed last week and know that Alcorn State aim to exploit those gaps this week.
"Alcorn has a couple of athletic quarterbacks," Jackson said.  "We have to be disciplined and stay in our gaps and make sure that we eliminate the quarterback run game."

SEC PREP MINUS SEC FOE
Arkansas coach Bret Bielema and his staff bragged on the Razorbacks for preparing their 42-3 rout of the Sun Belt's Texas State like it was a SEC game.
"That's the goal every week to have SEC-type preparation," Jackson said. "This is another team we need to respect, and that we need to go out and handle business the way we should."

ROUGH TIMES IN THE ROCK
Arkansas hasn't handled business very well lately in Little Rock.
Under Bielema, the Razorbacks are 1-3 in Little Rock, beating Samford and losing to Mississippi State in 2013, to Georgia in 2014 and Toledo in 2015 following the 2012 unraveling of the brief John L. Smith era with a September upset loss to Louisiana-Monroe and a competitive 30-27 SEC loss to Ole Miss.
"A lot of fans probably have it in the backs of their minds that it's cursed or whatever, but we don't think about it like that," Johnson said.  "We are just preparing SEC preparations so we can go down there and handle business."
Johnson said he knows how much Little Rock games mean to his home folk in El Dorado.
"It's a good atmosphere for people in South Arkansas who don't really get a chance to come up to the games in Fayetteville," Johnson said.  "So they love this game."