Class 6A Week 5 Rankings, Notes & Picks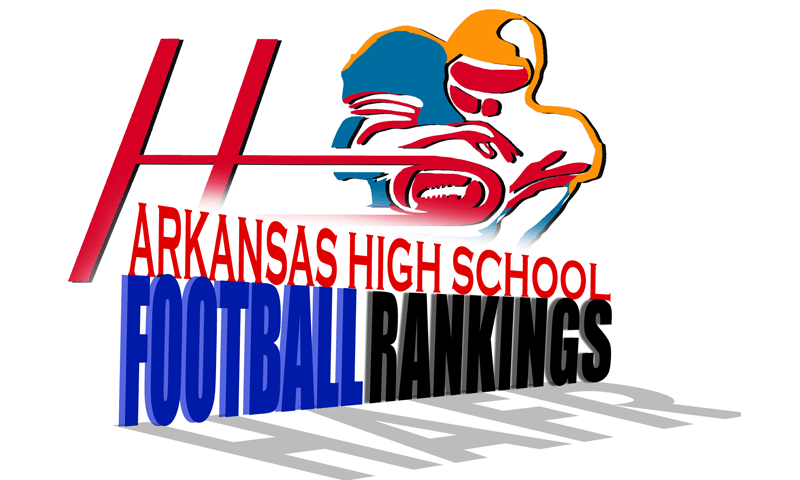 Hootens.com Rankings
Class 6A, Week 5, 2016
Copyright Hooten Publishing, Inc.
1. Greenwood (4-0)
2. Pine Bluff (2-1)
3. Jonesboro (4-0)
4. Russellville (4-0)
5. Lake Hamilton (2-2)
6. El Dorado (2-2)
7. Benton (2-2)
8. Searcy (3-1)
9. West Memphis (3-1)
10. Texarkana (1-3)
11. Marion (1-3)
12. Siloam Springs (1-3)
13. Mountain Home (0-4)
14. Sheridan (1-3)
15. Jacksonville (1-3)
16. LR Hall (2-2)

HOOTENS.COM GAME OF THE WEEK
No. 8 Searcy at No. 9 West Memphis
Searcy has won the past four meetings with West Memphis by a combined 11 points. The Lions average 367 balanced yards and 31 points per game this season. Senior guard Peyton Fisher (6-3, 270) anchors a veteran line that protects junior quarterback Mason Schucker (776 yards, five touchdowns in 2016) and opens holes for senior running back Camron Washington (464 yards, six TDs). Junior receiver Trenton Turner leads Searcy with 24 catches for 504 yards and four TDs.
West Memphis' defense has played well the past two weeks. The Blue Devils beat Marion 22-10 last week, stopping Marion on a crucial fourth-and-1 in the third quarter. West Memphis turned two Marion turnovers into scores. Senior RB Devontae Dean ran 27 times for 68 yards and two TDs. Dean paces the Blue Devils this year with 64 carries for 268 yards and five TDs. Five West Memphis players have intercepted a pass this season.

LAST WEEK
Hootens.com correctly picked seven of eight games (88 percent) involving 6A teams. For the season, hootens.com has correctly predicted 43 of 55 winners (78 percent).

WEEK 5 PREDICTIONS (favored team in CAPS followed by point spread)
6A EAST
SEARCY (4) at West Memphis: See Hootens.com Game of the Week.
JONESBORO (28) at Jacksonville: Jonesboro has hung more than 60 points on three of its four opponents this season. Jacksonville has scored eight ppg the past three weeks.
LR Hall at MARION (29): Hall has lost to LR McClellan and Pine Bluff the past two weeks by an average of 49 points. Marion senior playmakers Tom Young (84 carries, 365 yards, five TDs in 2016) and Collin Chambers (23 receptions, 470 yards, five TDs) should have a big night.
Mountain Home at PINE BLUFF (26): Pine Bluff improves to 2-0 in league play before next week's trip to Jonesboro.

6A WEST
Siloam Springs at BENTON (24): Siloam Springs edged Sheridan 24-21 last week for its first win of the year. Junior Luke Gumm kicked a 27-yard field goal with 10 seconds left. Senior QB Luke Lampton ran 18 times for 213 yards and three TDs. Benton lost three turnovers in a 45-24 loss at Russellville. Senior QB Nate Beck, who did not play Week 3 vs. Greenbrier (fractured hand), passed for 246 yards and two TDs at Russellville. Senior RB Brandon Hunter ran 18 times for 100 yards and a score and caught a 26-yard TD pass.
GREENWOOD (20) at El Dorado: Greenwood threw two interceptions in the first quarter last week at Texarkana and trailed 10-7. But the Bulldogs ripped off 48 unanswered points to win 55-10. Greenwood ran the ball 40 times for 219 yards. Junior RB Kenny Wood rushed for 111 yards and two TDs on 17 carries. El Dorado lost four turnovers in a 27-21 loss at Lake Hamilton. Junior QB Darius Holly completed 11 of 15 passes for 215 yards, including a 69-yard TD pass to senior Blake Cunningham, and ran for two more scores.
LAKE HAMILTON (2) at Texarkana: Lake Hamilton has won six in a row over Texarkana. The Wolves beat El Dorado 27-21 last week. Junior safety Jacob Nichols and sophomore LB Kanaan Williams each returned a fumble for a TD. Junior Hunter Galster recovered a muffed punt that led to a score. Senior defensive end Gage Montgomery sacked El Dorado's QB on fourth-and-7 at the Lake Hamilton 35-yard line to seal the victory. Texarkana made several big plays in the first quarter against Greenwood but lost 55-10. Senior QB Tyler Braswell passed for 140 yards and a TD.
RUSSELLVILLE (28) at Sheridan: It's homecoming in Sheridan, and no school on Friday. Russellville eliminated Sheridan 35-23 in last year's playoffs. Both teams are going in opposite directions this fall. Russellville's rolling under second-year coach Billy Dawson. The undefeated Cyclones totaled 404 yards in last week's 45-24 win over Benton. Sheridan lost in the final seconds at Siloam Springs 24-21, its third straight loss.