HOGS: Storey one tough QB; more notes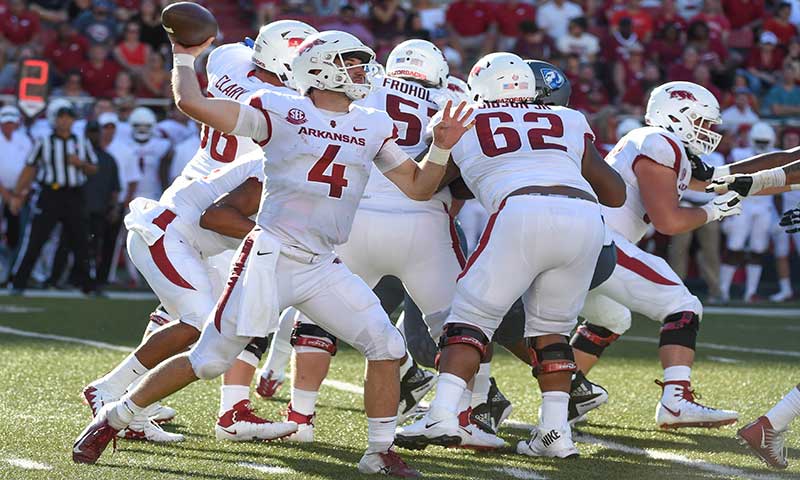 By OTIS KIRK
FAYETTEVILLE - Arkansas junior quarterback Ty Storey, who was pulled at halftime at Colorado State, finished what he started last week at Auburn.
Under duress all night, Storey completed 13 of 31 passes Saturday for 141 yards with one interception in a 34-3 loss. He ran 12 times for 44 yards.
While Storey and the Hogs scored just three points, they amassed 290 yards of total offense and 13 first downs. Arkansas had the ball five more minutes than Auburn did.
"We moved the ball well," Storey said. "We've just got to ... we've got to find a way to put it in the end zone, and I think that's the biggest key. We've got to score points. I know out there it felt good. We were in tune at times, and then there were times we just couldn't get a first down, a big key third down."
The Auburn defense battered Storey, sacking him twice and pressuring him nine more times.

"Feeling good," Storey said. "It's part of the game, so that's what we needed to do, and I'm ready to go again. If we have to take that many hits, we're ready to roll."
It's been a turbulent transition from the Bret Bielema staff and style to the Chad Morris staff and up-tempo style.
"That's what's been really cool about this group of guys," Storey said. "I mean, I know don't what it's like at other places, but I know they've (coaches) really kind of sat down and (said), 'What do you feel comfortable with.' That's really awesome to be able to sit there with your coordinator and tell him and be able to put your input in on the game plan."
Storey adds a running threat to that plan.
"We definitely had some designed runs," Storey said. "That was part of the game plan going in there. And then sometimes, we knew going in that they were a big-man team. On third down that's a great way to pick up a first down if they all bail out of there. Some of those were designed runs and some of those were guys making plays."

During the game in the pile, Auburn's Marlon Davidson raked his hand inside Storey's helmet and caused him to lose his contact.
"He definitely got a finger in my eye," Storey said. "So it actually popped my contact out. I guess that's part of the game. I thought it was kind of dirty. We had some talk about that. We were pretty heated about that. It's not good."
With junior running back Devwah Whaley leaving the game early, Rakeem Boyd led the team in rushing with 66 yards, and the sophomore caught two passes for 39 yards.
In Texas A&M, Boyd plays against the team that signed him out of high school.
"Yes, sir, there is a lot on the line, and I am ready to get out there," Boyd said. "I've been waiting on this one for a long time. I want to beat them. I know all those guys really. I was there for a year, so I built a relationship with all of them and they were pretty cool guys.
Storey called Boyd a hard runner with speed.
"You saw the explosiveness he has," Storey says, "so just getting him on the edge and being able to use him. Who knows about Devwah? If he can play. That's awesome. Whatever happens happens."
Sophomore center Ty Clary also likes what he has seen from Boyd.
"I expect a lot from Rakeem," Clary said. "He's a very talented guy. He can make a defender miss in the backfield. He knows the fronts. He can read pretty well. He's really good overall I feel like."
Arkansas and Texas A&M will kick off at 11 a.m. Saturday in Arlington at AT&T Stadium. ESPN will televise the game.