HOGS: QB, O line and D all better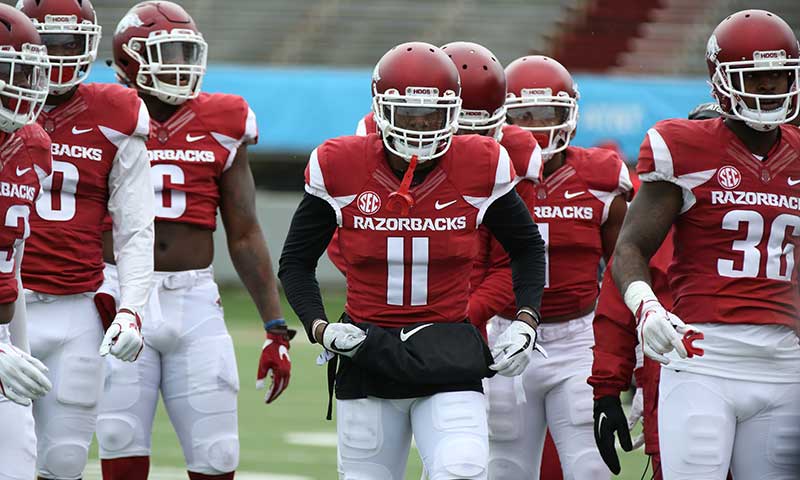 FAYETTEVILLE - The 1-3 Arkansas Razorbacks played better against the best team they've played because they had more experienced, better players playing.
Though beaten 34-3 Saturday by 10th-ranked Auburn, Arkansas played better on both sides of the ball, Coach Chad Morris asserted, than their 44-17 loss the previous Saturday to North Texas or their fourth-quarter meltdown and 34-27 loss at Colorado State.
The Hogs, foiled by special team fiascoes that led to lousy field position, scored three points but out-gained Auburn, 290-225 in total offense.
MORRIS LIKES QB, O-LINE
Morris goes into Saturday's 11 a.m. ESPN-televised game against Texas A&M feeling better about his quarterback and offensive line than he has all season.
Junior QB Ty Storey of Charleston wanted to be Arkansas' quarterback all his life. Storey paid dues arriving early as a December high school grad then redshirting and apprenticing behind the graduated Allen (Brandon and Austin) brothers and has played second fiddle to Cole Kelley.
How much Storey wants to lead the Hogs manifested in the pounding he took against an Auburn front seven Morris has described "as good as I've seen."
"I thought Ty Storey showed his toughness," Morris, "and it was apparent when you look at the color of his jersey at the end of the game. He was hit and he was hurried entirely too many times. Unacceptable. But he kept getting back up. Just gritty."
After playing both Storey and third-year sophomore Kelley the first two games and just Kelley before true freshmen Connor Noland and John Stephens Jones mopped up the 44-17 loss to North Texas, Storey was the man all last week in practice and against Auburn and is this week against A&M.
"The toughness that Ty portrayed Saturday, and the effort he gave, Ty's our quarterback," Morris said.
The revised offensive line, a balanced line now left and right, opened enough holes for Arkansas to outrush ground-oriented Auburn 149-91.
The balance came to the beleaguered left side with fourth-year junior left tackle Colton Jackson making his 2018 debut, coming off July back surgery.
Meanwhile senior Hjalte Froholdt, considered Arkansas' best lineman as a two-year starting left guard but moved to center the first three games, moved back to left guard, while sophomore left guard Ty Clary moved to center and seniors Johnny Gibson of Dumas and Brian Wallace remained at right guard and right tackle.
CLARY THE KEY
The moves hinged on the performance of Clary at center, an early-season starting guard last year and contending at center last spring before moving to guard in August.
"I thought Saturday was our best lineup at the offensive line," Morris said. "Moving Ty inside to center we were a little concerned because of his snaps. But the other night he did a really good job on them. He had two kind of high snaps but other than that he did a nice job."
Froholdt provides "more athleticism" at left guard, Morris said, adding "we wanted to make sure Colton was ready to sustain substantial snaps, and he did a better job."
WELCOME BACK
Given the field-position jams vs. North Texas, John Chavis' Arkansas defense played well. It played even better under worse field positions against Auburn.
Senior weakside linebacker Dre Greenlaw and end Randy Ramsey led Arkansas while junior middle linebacker Scoota Harris and cornerback Ryan Pulley have been mainstays every game.
Greenlaw had missed three games since his 10 tackles in the opening win over Eastern Illinois. He made eight tackles with a sack Saturday at Auburn among his three lost-yardage stops and a QB hurry. Ramsey, out the first two games with an injured hamstring, made six tackles with a 9-yard QB sack plus another for a 2-yard loss.
"I thought the addition of Dre Greenlaw, and Randy Ramsey coming back for the second week and getting more snaps definitely helped the continuity of our defense," Morris said. "Obviously Scoota playing extremely well and Ryan Pulley. I thought these guys played their best game to this point."