Hogs: same frustrating results for D; more notes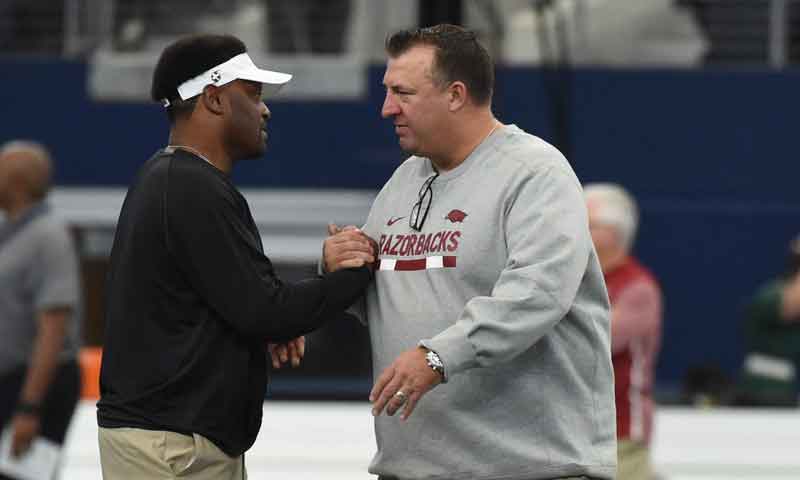 FAYETTEVILLE - Senior receiver Jared Cornelius underwent surgery Monday to repair damage to his Achilles tendon and will miss the remainder of the 2017 season, Arkansas coach Bret Bielema (in Craven Whitlow photo) said.
Junior college transfer Jonathan Nance and either sophomore Deon Stewart of Hardy or redshirt freshman Jordan Jones of Smackover are listed as the starting receivers for Saturday's 11 a.m. non-conference game against the New Mexico State Aggies (2-2) at Reynolds Razorback Stadium.
Bielema feared it could be a season-ending result for Cornelius after the senior from Shreveport's Evangel Academy was injured during Arkansas' 50-43 overtime loss to the Texas A&M.
Cornelius has not redshirted and would be eligible for a hardship fifth year of eligibility at Arkansas in 2018. He could check out possible NFL interest whether in next spring's draft or the league's supplemental draft.
"We'll continue to make decisions as they come," Bielema said. "No need to make any hurried ones now. We'll give him all the information possible."
Bielema recalled while coaching Wisconsin that two injured Badgers returned for a hardship fifth year and went on to careers in the NFL.
Arkansas offensive coordinator Dan Enos: "Outside of being a very good football player, Jared is an outstanding person. He's turned into being a great leader on our team. He was playing well Saturday. We were starting to see the old Jared Cornelius start to unfold. I think we would have gotten a really better version of him each and every week."

NANCE THE LEADER
Nance was the lesser heralded of two junior college transfer receivers the Razorbacks signed last December out of Gulf Coast (Miss.) Junior College. He has surprised as Arkansas' leading receiver so far (nine catches for 200 yards and two TDs).
Jones surprised Texas A&M by netting 20- and 30-yard runs on two jet sweeps.
Bielema said injuries during practice last week limited the participation of senior first-team nickel back Kevin Richardson of Jacksonville and redshirt freshman backup inside linebacker Grant Morgan of Greenwood against Texas A&M.
RICHARDSON, WAGNER RETURNING
Richardson (ankle) has been cleared to return to Tuesday's practice, Bielema said. Dalton Wagner, the true freshman offensive lineman injured during the August preseason, also has been cleared to return.
CLARY STILL STARTING
Bielema said the offensive line likely will continue starting true freshman Ty Clary of Fayetteville at right guard and junior Johnny Gibson of Dumas at right tackle, but that offensive line coach Kurt Anderson will work junior college transfer Paul Ramirez at right tackle and Gibson at right guard.
The Razorbacks went to the Gibson at guard and Ramirez at tackle arrangement because Clary, doing well in the running game, doesn't have the heft of Gibson and was getting outmuscled on the pass rush by Texas A&M's defensive tackles, Bielema said.
LESS BUSTS, BUT MORE POINTS
Though holding TCU to a 14-7 game until under the final three minutes, Arkansas defensive coordinator Paul Rhoads said the defense committed just half as many "busts" last Saturday though the 50-43 final obviously doesn't show it.
"That's why we were angry, to be quite honest with you, on Sunday when we got a chance to see it and see all of those numbers," Rhoads said. "Two missed tackles against that football team? And playing as hard as we possibly did and having a low number of mental mistakes? To give up as many points as we did and total yardage is certainly not a reflection of that. But they came at critical times and they took advantage of a vast majority of them in a big way. That's SEC football."
SUN BELT AGGIES NO GIMME
It's the Sun Belt Aggies, not the SEC Aggies that the Razorbacks meet Saturday. New Mexico State walloped UTEP 41-14 last week and opening the season by losing only 37-31 to Pac 12 member Arizona State.
"They run the ball efficiently," Bielema said. "They throw the ball. Their quarterback's a senior. He's seen a lot of good football. Their running back is a good player who has good speed. He breaks tackles. Defensively, they're a group that plays very physical. They've played Arizona State, a Power Five team, and they play good football."

HOGS VS. S. CAROLINA
It was announced Monday that Arkansas' next SEC game, Oct. 7 at South Carolina, will be televised by the SEC Network and kick off at 3 p.m. CDT.