Class 3A Week 5 Rankings, Notes & Picks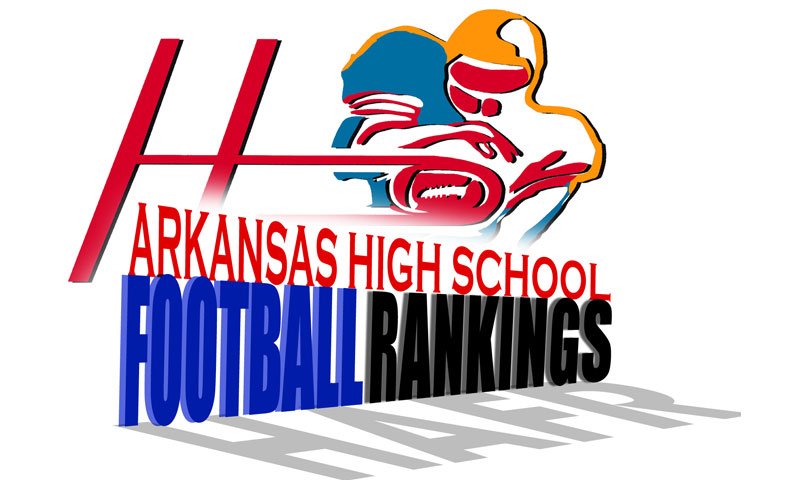 Hootens.com Rankings
Class 3A, Week 5, 2018
Copyright Hooten Publishing, Inc.

1. Booneville (4-0)
2. Prescott (4-0)
3. Clinton (4-0)
4. Mayflower (4-0)
5. Smackover (3-1)
6. Newport (3-1)
7. Osceola (2-2)
8. Glen Rose (3-1)
9. Rison (4-0)
10. Atkins (4-0)
11. Harding Academy (2-2)
12. McGehee (2-2)
13. Charleston (2-2)
14. Walnut Ridge (3-1)
15. Lamar (4-0)
16. Hoxie (2-2)
17. C. Harmony Grove (3-1)
18. Danville (2-2)
19. Melbourne (3-1)
20. Mansfield (4-0)
21. Palestine-Wheatley (3-0)
22. Barton (2-1)
23. Harrisburg (3-1)
24. Greenland (3-1)
25. Piggott (3-1)
26. Jessieville (3-1)
27. Centerpoint (2-2)
28. Fouke (1-3)
29. Yellville-Summit (1-3)
30. Horatio (2-2)
31. Manila (2-2)
32. Perryville (1-3)
33. Drew Central (0-4)
34. Cedarville (1-3)
35. Lake Village (2-2)
36. Mountain View (1-3)
37. Baptist Prep (1-2-1)
38. West Fork (0-4)
39. Bismarck (1-3)
40. Cedar Ridge (1-3)
41. Genoa Central (1-3)
42. Dollarway (0-4)
43. Paris (0-4)
44. Marshall (0-4)
45. Corning (0-4)
46. Two Rivers (0-4)
47. Rose Bud (0-3)

HOOTENS.COM GAME OF THE WEEK
No. 4 Mayflower at No. 8 Glen Rose
This game could decide the 4-3A league title, a first-round playoff bye and home-field advantage through the playoffs. Glen Rose won three of four non-conference meetings from 2008-2011. Mayflower (2-3A) and Glen Rose (5-3A) won outright league titles last year.  Mayflower soared to last season's quarterfinals for just the fourth time in school history. The Eagles score 51 points per week, tops in Class 3A, behind explosive senior twins Deon and Keon Simmons. Keon Simmons has scored five TDs twice this season, but Deon Simmons has been slowed with a leg injury. Deon Simmons last year eclipsed 2,700 total yards and 43 TDs. First-year starting QB Dalton Muse protects the football and distributes it to Mayflower's playmakers. Senior defensive leader Dylan Burnett seeks his third all-conference selection this fall and second all-state nod. Burnett lines up at fullback occasionally. "The key guy is the first tackler," Glen Rose coach Mark Kehner says. "If their dudes make the first tackler miss, then they're gone."
Glen Rose dresses just 28 players (eight seniors) this fall. The Beavers last week opened league play with a 51-0 win at Two Rivers. It was Glen Rose's second straight shutout, and the Beavers surrender just 9.2 points per game. Seniors Nicholas Prichard and Jeremy Beasley anchor the lines. Prichard returned to left tackle two weeks ago from a meniscus injury, while Beasley is aggressive at center and at end. Junior QB J.T. Towers threatens defenses with the run and the pass, while Landers Super Team running back Jay'Shawn Cox has rushed for eight scores this year and has become a threat in the passing game. Seniors Dalen Baldwin and Caleb Barr are playmakers on a defense that last week limited Two Rivers minus-9 yards total offense and recorded a safety.

TV LAND
Hooten's Arkansas Football airs 10:30 a.m. Saturdays on KATV (ABC Little Rock) Channel 7, covering the Razorbacks, high school teams and players to watch.

MISSING IN ACTION
6-3A member Episcopal plays 8-man club football this fall, while 2-3A school Rose Bud finishes 2018 playing a junior varsity schedule.

LAST WEEK
Hootens.com correctly predicted 22 of 23 winners (96 percent) of games involving Class 3A schools. Hootens.com has correctly picked 116 of 138 winners (84 percent) of games involving Class 3A schools for the season.

WEEK 5 PREDICTIONS (favored team in CAPS followed by point spread)
1-3A
West Fork at BOONEVILLE (28): West Fork absorbed its second shutout of the season, a 33-0 loss against Mansfield. The Tigers have lost 24 of their last 25 games and 20 consecutive. Booneville last week blanked Paris 48-0, its second shutout this year. Senior fullback Carson Ray ran for 89 yards. Booneville racked up 391 yards, all on the ground. The Bearcats' dominant defense has another big night.
Cedarville at CHARLESTON (4): Cedarville competed well against 4-0 Lamar last week, losing 22-8 in a downpour. Charleston lost its first conference opener since 2006 (22-21 to Lavaca) in a 13-point loss to Greenland. 
Greenland at MANSFIELD (1): Greenland last week downed favored Charleston 25-12 behind senior playmaker Hayden Stout's four TDs. Mansfield collected five tackles for loss, an interception and a sack in a 33-0 rout against West Fork. The Tigers rolled up 362 yards but did not throw a TD pass for the first time this season. 
Paris at LAMAR (22): Paris last week recorded just 68 yards on 40 plays in a 48-0 loss to Booneville. Lamar surrenders 11.5 points per game and limited physical Cedarville to eight points.

2-3A
CLINTON (10) at Melbourne: One of the bigger Melbourne home games in program history (varsity football launched in 2012). The Bearkatz walloped Yellville-Summit last week by 33 points, scoring a season-high 47 points. Melbourne junior QB Gabe Lawrence fired three TD passes against Yellville. Clinton scored on its first five possessions in a 49-27 victory at Harding Academy. The Yellow Jackets amassed 485 yards, 431 on the ground, led by senior Sky Davidson's 209 rushing yards and four scores. Clinton likely won't be tested until the playoffs following this game. 
Marshall at CEDAR RIDGE (6): Teams are a combined 1-7 this fall, and the loser likely misses the playoffs. Opponents outscore Marshall 190-50 this season, but the Bobcats scored a season-high 26 points last week against Class 2A Mountainburg. Cedar Ridge scores just 6.8 points per game. 
HARDING ACADEMY (20) at Yellville-Summit: Yellville last week matched its season-high for points in a 47-14 loss to Melbourne, but the Panthers' running game continues to struggle. Senior J.T. Frazier makes plays at receiver. Harding Academy scored on its first two drives last week against Clinton before the Yellow Jackets scored 20 unanswered points to end the first half. Senior QB Davis Morgan completed 22 of 39 passes for 241 yards and three TDs against Clinton but managed just 92 yards on 28 carries (3.3 yards per carry). 
Mountain View is open.

3-3A
MANILA (12) at Corning: Loser likely misses the playoffs. Manila last week recorded only 154 yards in a 68-7 loss to Piggott. The 68 points were the second-most allowed in school history (lost 86-0 to Earle in 2013). Senior all-league QB Layne Sims threw a TD pass. Harrisburg shut out Corning, the first scoreless game this season for Corning. 
PIGGOTT (1) at Harrisburg: Piggott rang up 401 yards (378 rushing) last week in a 68-7 win against Manila, the fourth time in three years the Mohawks have scored 60 points or more. Harrisburg has logged shutouts in three straight weeks, and the Hornets have made 18.5 tackles for loss, 4.5 sacks and forced 11 turnovers. 
NEWPORT (4) at Hoxie: Hoxie nixed Newport 28-7 last year. League coaches voted Newport first and Hoxie third in this year's Hooten's Arkansas Football. Hoxie led Osceola 14-13 in the second quarter, but the Seminoles outscored them 31-7 in the final three frames. Newport outlasted Walnut Ridge last week 45-27 when the Greyhounds rolled up 633 yards of offense. Senior QB Cash Forrester passed for a career-high 309 yards and three TDs at Walnut Ridge. Newport's two-headed rushing attack of junior Monquell Cox (419 yards and six scores) and sophomore playmaker Tharon Davos (551 total yards with six TDs) adds balance. Senior Julius Pruitt anchors the Newport defense with 27 tackles, followed by junior Clemmie Alcorn's 21 stops. 
Walnut Ridge at OSCEOLA (10): Walnut Ridge last week was tied at 27 with Newport in the third quarter of a 45-27 loss. That game featured six ties and lead changes. Osceola got two TDs apiece from DeAnthony Poole and Marlon Vance in a 44-21 victory over Hoxie. Osceola's offense has improved weekly and its defense is developing playmakers.

4-3A
Mayflower at GLEN ROSE (1): See Hootens.com Game of the Week.
Perryville at ATKINS (20): Perryville, 0-4 for the first time since 2014, recorded just 136 yards last week in a 34-16 loss to Jessieville. The Mustangs ran for 98 yards on 40 carries (2.5 yards per carry). Atkins has racked up 16 tackles for loss and forced 14 turnovers through four games, including an interception return for a TD in last week's 41-19 win at Baptist Prep. Junior QB Eli Roberson passed for a career-high 177 yards and three scores last week.
Baptist Prep at JESSIEVILLE (10): Baptist Prep playmaker Alex Brooks has recovered a fumble for a TD the past two weeks. BP last week trailed undefeated Atkins 20-6 at halftime of a 49-16 loss, in a game marred by three weather delays. Jessieville rolled up 300 yards against Perryville and rushed for more than 100 yards for the first time this year (112 yards and two TDs). Jessieville receivers average 21 yards per reception this year. 
Two Rivers at DANVILLE (24): Winless Two Rivers managed minus-9 total yards last week and trailed Glen Rose 42-0 at halftime, but the Gators recovered a fumble. Danville was tied at 14 at Mayflower, but the Eagles outscored the Little Johns 26-7 after the break. Senior running back Quentin Tolbert (25 ACT) has rushed for 100 yards in 11 straight games.

5-3A
PRESCOTT (24) at Bismarck: Bismarck rushed for 214 yards (4.9 YPC) and three TDs last week in a 61-19 loss at Camden Harmony Grove, and it did not commit a turnover for the first time this year. Prescott senor QB Ryan Johnson fired three first-half TD passes, two to classmate Cameron Cox, in a 40-6 flogging of Fouke. Prescott racked up 525 yards of offense. 
Fouke at CENTERPOINT (1): Loser likely misses the playoffs. Centerpoint beat Fouke in 2006 and 2007, but the schools haven't met since. Fouke snapped an 11-quarter scoreless streak last week in a 40-6 loss against Prescott, but the Panthers managed just 185 total yards. Centerpoint has not started 0-2 in league play since 2012. Tackle Jonathan Daniel anchors Centerpoint's line, and Landon Way makes plays at tailback and linebacker.
Genoa Central at C. HARMONY GROVE (14): Genoa Central committed two turnovers and scratched out just 191 total yards a week ago in a 10-point loss to Horatio. Seniors Colby Cobb and Remi Bearden scored TDs for Genoa, while strong-legged kicker Aaron Barwick booted a field goal and two extra points. Harmony Grove amassed 784 yards and led Bismarck 47-6 at halftime last week in a 42-point win. Junior playmaker Xaylon Falls ran seven times for 128 yards and four TDs.
Horatio at SMACKOVER (24): Horatio senior QB Trey Pickett connected on three of four passes for 48 yards and a TD last week in a 27-17 win at Genoa Central. Pickett added 45 rushing yards and two scores. The Lions rumbled for 240 yards (5.2 YPC) and three scores. The defense stacked five tackles for loss and forced three turnovers. Smackover played its first game in 20 days, a 41-point romp at Centerpoint. The Buckaroos got two TDs apiece from Greg Turner, Jaqueze Modica and Dexter Crockett.

6-3A
BARTON (1) at Palestine-Wheatley: Barton's flexbone last week rolled for a season-best 350 yards on 40 carries (8.8 YPC) and six TDs in a 13-point win against Dollarway. Junior Kavein Davis romped for 238 yards with a score. The Bear defense added nine tackles for loss with sophomore linebacker Ethan Ward totaling 16 tackles. Palestine-Wheatley, idle last week, recorded its first shutout since Week 6 last year in a 24-point win at Class 2A Brinkley. The Patriots allowed only 52 total yards in the win. 
LAKE VILLAGE (3) at Dollarway: Dollarway ran for 284 yards on 40 carries (7.1 YPC) and three scores last week in a 41-28 loss at Barton. The Cardinal defense forced two turnovers. Lake Village totaled a season-low 131 yards, eight rushing, in a 30-point loss last week at McGehee. 
RISON (3) at McGehee: Per Rison historian Stan Sadler, this is the first meeting in this series since 1963 when the teams were members of the 8A conference. It likely decides the 6-3A title in 2018. McGehee scored a season-high 37 points last week in a 30-point win over Lake Village. Ken Darious Lewis, Caleb Woodson and Cory Smart scored for McGehee. Rison led Drew Central 33-0 with 2:56 in the first quarter of a 39-7 conquest. Sophomore Jerrian Marshall paced Rison with 78 rushing yards, including a 62-yard TD dash on Rison's first play from scrimmage.
DREW CENTRAL is open.