#17 Hogs vs. #10 A&M: Key matchups start w/Sprinkle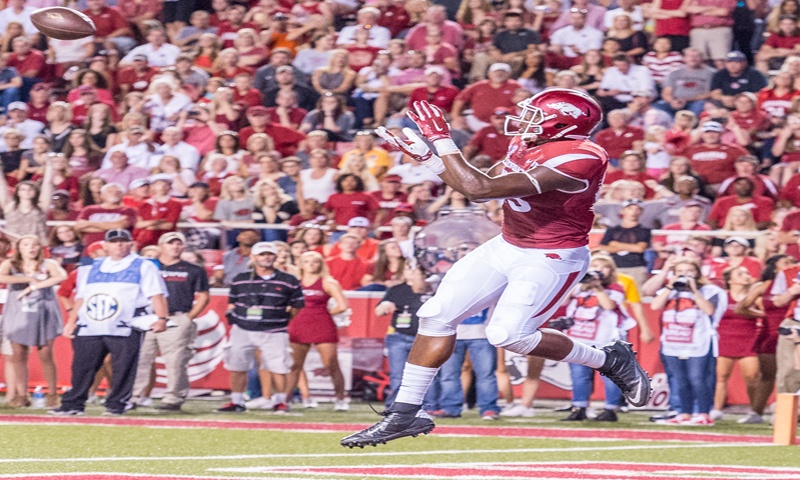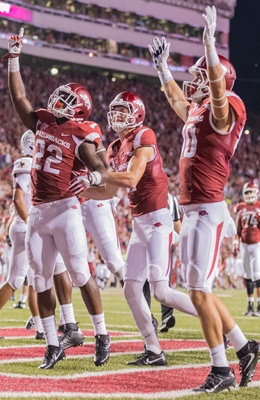 3-0 Hogs celebrate vs. Texas State.
FAYETTEVILLE - For the first time Saturday night since former Arkansas coach Bobby Petrino's seventh-ranked 2011 Razorbacks defeated 11th-ranked Kansas State in the Cotton Bowl, a ranked Razorbacks team battles a nationally ranked opponent.

No. 17 (by the AP) Arkansas battles No. 10 Texas A&M at 8 p.m. Saturday on ESPN at the Dallas Cowboys AT&T Stadium in Arlington, Texas,
Since 2012, Arkansas has played 16 games against Top 25 teams.
Arkansas' brief national rankings under John L. Smith in 2012 and Bielema in  2015 were squandered in September upset losses before the Razorbacks played ranked opposition.
In fact, Arkansas (3-0 with a road victory at then-No. 15 TCU) has never met Texas A&M in their annual SEC West  September game without a preceding loss.
Sumlin's Aggies also arrive 3-0. They opened the season by defeating then-No. 16 UCLA and last week won their SEC West opener at Auburn.
With two high-caliber teams, the games within the game abound. Some of those will determine Saturday night's outcome, and could impact NFL scouts evaluating the talent for NFL drafts the next couple of years.
For Arkansas, senior tight end Jeremy Sprinkle of White Hall, succeeding 2015 Mackey Award winner and current San Diego Chargers Hunter Henry, has matchups guaranteed for pro attention.
As a blocker Sprinkle (6-6, 256) draws Aggies' All-American Myles Garrett at one defensive end. At the other end, Sprinkle will find Daeshon Hall, who may be even better than Garrett. And as a receiver, Sprinkle attempts to catch quarterback Austin Allen's passes against an A&M secondary likely to send its starting safeties to the NFL.
"Sprink is one of the best in the nation going up against some of the best in the nation," Austin Allen said. "So he's ready to show what he can do in the blocking game and the passing game. I am sure he will be ready for it."
Tight ends coach Barry Lunney said Sprinkle had better be ready.
"This will be a tremendous challenge for him Saturday," Lunney said. "He's got to be at his best for us to be successful."
Arkansas receivers coach Michael Smith knows his wideouts are too essential blocking and running routes to attract defensive attention to get too caught up in receiving stats.
Nevertheless, Smith sees senior Keon Hatcher leading the Razorbacks receivers with 11 catches for 204 yards and starts illustrating Hatcher's game by his numbers against A&M.
"No disrespect to the opponents we have played, but this is a conference game," Smith said. "This is the measure of where we (his receivers) stand as a position and Keon as an individual."
The Arkansas brass has some numbers in mind, Defensive coordinator Robb Smith and the defensive assistants expect senior defensive linemen Deatrich Wise and Jeremiah Ledbetter to make plays. Arkansas offensive coordinator Dan Enos is counting on the line to open holes for running back Rawleigh Williams, to establish the ground game that will allow Allen to play-action pass to Sprinkle, Hatcher and wideouts Drew Morgan and Dominique Reed ,

Ditto for A&M defensive coordinator John Chavis, projecting plays made by Garrett and Hall, the defensive tackles between them, the linebackers and secondary behind them. The Aggies rank near the bottom of the SEC standings in rushing defense, but they are second in the league in the ultimate number with 13 points allowed per game.

Meanwhile, new A&M offensive coordinator Noel Mazzone has the Aggies running well.  Running backs Trayveon Williams and  Keith Ford, averaging 8.4 and 4.8 per carry, and graduate Oklahoma transfer QB Trevor Knight averaging 5.4 yards per carry.
And though Knight is known more as a runner than a passer, he's got targets ripe for the catching.