HOGS: O line depth key vs. A&M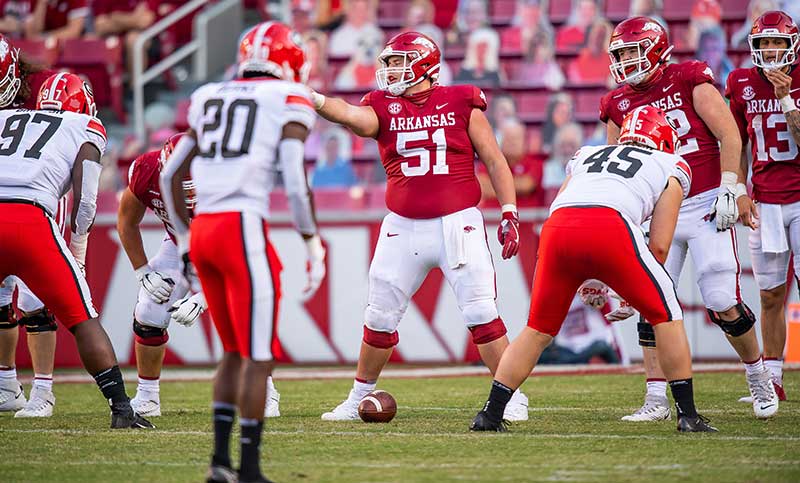 FAYETTEVILLE - Seventh-ranked Texas A&M and No. 16 Arkansas can compare notes on whether it's more difficult to replace a starting quarterback or reshuffle an offensive line. 
The Aggies (3-0) will start their backup QB, while the Razorbacks (3-0) will start a reshuffled line in their 2:30 p.m. kickoff Saturday at the Dallas Cowboys' AT&T Stadium in Arlington, Texas. CBS plans to televise the SEC opener nationally. 
A&M lost starting QB Haynes King to a broken leg during the first quarter of its second game. Seldom-used third-year sophomore Zach Calzada struggled early with the Aggies trailing Colorado 7-0, but after a field goal, he threw an 18-yard touchdown pass to running back Isaiah Spiller to beat the Buffaloes 10-7.
In his first career start last week for Coach Jimbo Fisher's Aggies, Calzada completed 19 of 33 for 275 yards and three TDs with an interception in a 34-0 rout of New Mexico.
HOG LINE SHUFFLE
In last week's 45-10 victory over Georgia Southern, UA left tackle Myron Cunningham was the Razorbacks' lone offensive lineman to finish where he started.
Injuries to starting center Ricky Stromberg and starting right tackle Dalton Wagner had Arkansas coach Sam Pittman and offensive line coach Cody Kennedy playing senior co-first-team guard Ty Clary first at guard then right tackle and finally at center. Starting left guard Brady Latham moved to right tackle and starting left guard Beaux Limmer switched to right guard as backup guard Luke Jones replaced Latham moving to tackle.
INJURIES UPDATE
Going into Wednesday's entirely closed practice, it appeared the availability of  Stromberg and Wagner was questionable at best vs. A&M.
"Neither one of them has practiced this week," Pittman said at his pre-Wednesday press conference. "I don't know that it looks good or not that they're going to be able to play. We'll see."
Pittman's prepared to start the line they finished against Georgia Southern.
A&M and Fisher must feel more Calzada comfortable than when he was thrust into the game at Colorado.
"I was really proud last week," Pittman said of how the reshuffled line dealt an offense amassing 633 total yards. "It was good for our team. It's sort of like Calzada for A&M. He's the guy now for them. He's practiced a full week and a half as the No. 1 quarterback. It's the same way with our guys. They've had a game now to practice in that way. Certainly they have all this week. We're fortunate we have several offensive linemen who can play."
ONE IS ONE
Of course, they would feel more fortunate with Stromberg in the lineup. The junior  earned SEC Co-Offensive Lineman of the Week for his performance against Georgia Southern before his fourth-quarter injury.
"There's a reason a 1 is a 1," Pittman said of first-team players. "Wish we could have gotten Wagner and Stromberg back, but we'll just have to wait and see. But I've been proud of that group, proud of Cody Kennedy, their coach."
Just as he knows Fisher is proud of Calzada.
"I thought Zach, in his first start, came out hot," Fisher said Monday. "Very proud of the way he managed the game, controlled the game."
Throwing the winning TD pass against Colorado carried over to build Calzada's confidence, Pittman said, adding that last week's experience should help his Razorback line this week.
"Depth is such a key part to any game," Pittman said. "You can't be devastated if you lose X, whoever that may be. A good offensive line coach will be ready for every situation he has thrown in front of him. And certainly we have a good offensive line coach (Kennedy). So we were ready. There was no panic with our team."
CLARY ALIGNS
It helps when the key, most versatile substitute, Fayetteville native Clary, is a fifth-year senior who opened the 2017 season as a true freshman at guard for Bret Bielema's Razorbacks. Clary started at center in 2018 and 2019 for Chad Morris' Razorbacks, swapped center for guard with Stromberg under Pittman last year and started once at center when Stromberg was under covid tracing quarantine.
"He's unbelievably valuable to our football team because he can play any position on the field," Pittman said.
JONES A CLARY, TOO
Luke Jones, the fourth-year junior via Pulaski Academy who attended Notre Dame before transferring back home to Arkansas, is a Clary in waiting.
"He's a little bit like Clary," Pittman said. "Luke can play left tackle. He can play center. He's very, very valuable to us. "