Hogs vs A&M: Bielema likes team's growth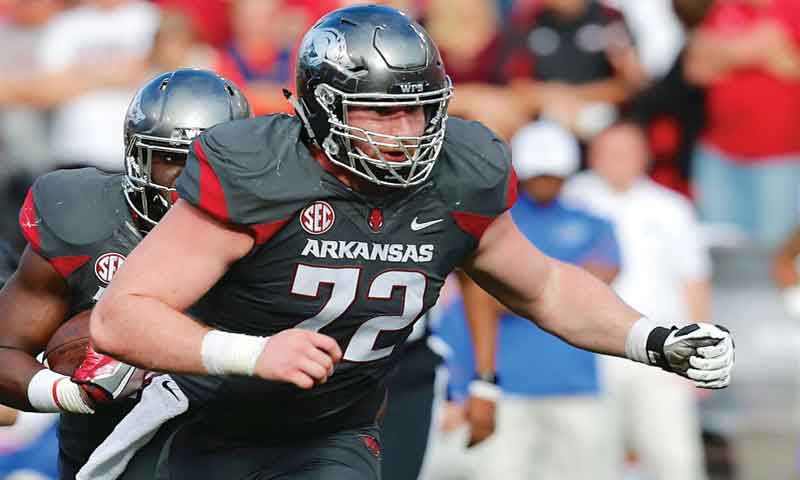 FAYETTEVILLE - Anxiety vs. desperation personifies Saturday's 11 a.m. SEC  opener between the Arkansas Razorbacks and Texas A&M Aggies at the Dallas Cowboys' AT&T Stadium in Arlington, Texas.
This season's respective 1-1 and 2-1 non-conference starts for Arkansas coach Bret Bielema and Texas A&M coach Kevin Sumlin have done nothing to sweeten the respective fans bases soured by how the Razorbacks and Aggies ended their 7-6 and 8-5 seasons of 2016.
With the 24-7 and 24-0 first halves that the Razorbacks posted in their final two games of 2016, you might have presumed them finishing 9-4. They floundered to 7-6, losing 28-24 at Missouri and 35-24 to Virginia Tech in the Belk Bowl.
Arkansas routed lower-division Florida A&M 49-7 in the 2017 opener. It lost 28-7 to TCU two weeks ago, trailing 14-7 into the fourth quarter.
And since Texas A&M left the Big 12 and joined Arkansas in the SEC West, the Razorback are 0-5, 0-4 under Bielema in their annual game with the Aggies.
"Obviously the public has been pretty hostile toward us, which I am not saying is bad or good," Arkansas senior All-America candidate center Frank Ragnow (in Alan Jamison photo) said diplomatically. "We are just trying to rally as a team and realize that we are still a good ball team and we've just got to respond.  We've really had to come together."

Hot as it might be getting in Arkansas on the Razorbacks and their coaches, it's sizzling on Sumlin and the Aggies in College Station,
Even one of Texas A&M's Board of Regents, fuming from last season's Aggies falling from a 5-0 start to an 8-5 finish, publicly called for Sumlin's ouster after the Aggies couldn't hold a 44-10 lead and lost their 2017 season opener 45-44 at UCLA.
Confidence wasn't restored the next game. The Aggies were tied 14-14 in the fourth quarter before finally prevailing 24-14 over lower-division Nicholls State in College Station.
Last Saturday at home, A&M trailed Louisiana-Lafayette 21-14 before posting a 31-0 second half to a 45-14 triumph.
A&M's first half against UCLA and second half against ULL show Sumlin's always talented Aggies are still talented, Bielema said.
And that they do have the momentum of their last half well played. A&M ranks No. 1 in the nation in turnover margin, No. 6 in run defense and No. 14 in yards per carry.
"He's got good skill players who can make a big play in a hurry at the wide receiver and running back position," Bielema said. "They are more than adequate in the O-line. Defensively, they've had some really good seniors move on, but you saw the way the game ended Saturday. Their defenders are very athletic and opportunistic and defended well. The team we're facing is the same one of the last four years."
So even with All-America A&M defensive end Myles Garrett departed to the NFL, asking if defensive coordinator John Chavis still has a quality defensive end is like asking if the Rockettes still dance with precision.
"When you're trying to replace the No. 1 overall draft pick, you can say there's going to be drop off," Arkansas offensive line coach Kurt Anderson said. "But at the same time, these are two really good ends and they have some young pups that definitely are going to be special players. Their interior line has the same guys we played against last year."
A&M safety Armani Watts, preseason first-team All-SEC, heads A&M's secondary.
Offensively, A&M running back Trayveon Williams averages 7.8 per carry.  A&M junior receiver/punt returner/occasional ballcarrier Christian Kirk has annually bedeviled the Razorbacks.
A&M freshman quarterback Kellen Mond took command of the Aggies' second-half surge last week against ULL.
Bielema stated during the postgame ashes of the TCU loss that the Razorbacks, with an open date week, "need to be the most improved team in America" when they play the Aggies."
"A lot of guys took a step forward," Bielema said. "I think a lot of kids took their performance at TCU personally. I really like the growth of this team."
The Razorbacks will wear Dallas Cowboys style uniforms in Razorback red Saturday in honor of Jerry Jones, the UA alum and member of Frank Broyles' 1964 Razorbacks national champions and UA benefactor. Jones became the Dallas Cowboys owner and visionary builder of their state of the art stadium and annual game site arranger of the Hogs vs. Aggies,

"This one is particularly special with our uniforms honoring Jerry Jones and his induction into the (Pro Football)  Hall of Fame and what he's done for us on campus," Bielema said. "So we have a lot to play for on Saturday."