Hogs vs. A&M: frosh RB Whaley right on time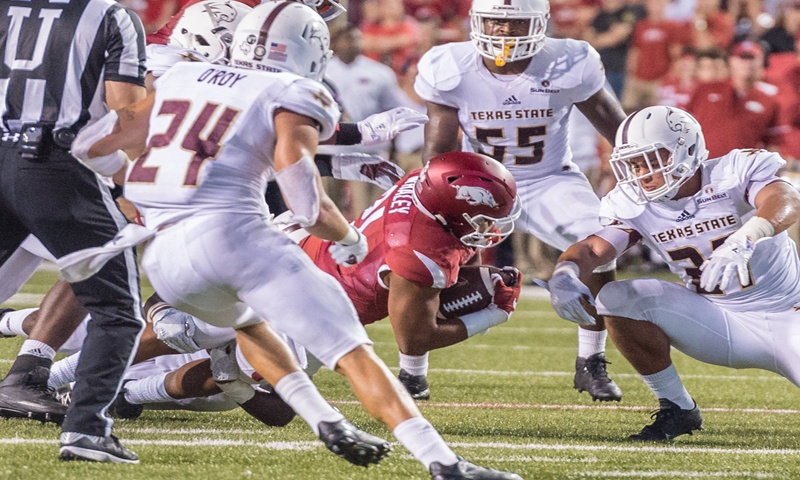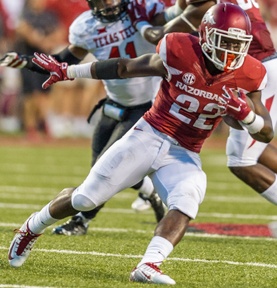 So RB RAWLEIGH WILLIAMS
FAYETTEVILLE -  Arkansas' SEC opener Saturday night against No. 10 Texas A&M hardly seems the setting to increase a rookie running back's playing time.
However, it would not surprise if heralded four-star freshman flash Devwah Whaley of Beaumont, Texas, logs even more playing time than in last week's 42-3 rout of Texas State. Arkansas and Texas A&M kick off at 8 at the Dallas Cowboys' AT&T Stadium on ESPN.
Whaley's playing time vs. Texas State vastly increased over his time in the season-opening 21-20 and 41-38 victories over Louisiana Tech and TCU.  His 50 yards on 11 carries against Texas State, including some carries that appeared just "a shoestring" away from taking it all the way, would appear to cinch Whaley playing more against Texas A&M.
"I think he was about ready to break one," Arkansas coach Bret Bielema said. "There were two or three plays on film where he was really just a shoestring away from probably picking it up and taking it to the house. He is a very dynamic player. "
The compact Whaley (5-11, 216) was Impressive, strong and fast against Texas State. Those are not the major reasons he'll work in the rotation more Saturday with starting sophomore Rawleigh Williams and big senior Kody Walker.
Running the ball well is nice.  Keeping your starting quarterback intact is nicer.
The Razorbacks cannot afford, especially against a defense with the Aggies' fearsome pass rush led by All-America defensive end Myles Garrett, to have starting quarterback Austin Allen clobbered because a running back missed his block or failed to execute his fake or run his assigned pass route.
So comments by Bielema, offensive coordinator Dan Enos and running backs coach Reggie Mitchell regarding what Whaley did without the ball likely impacts the confidence to play him against the Aggies.
"The thing also Devwah did very nice, he picked up a couple pressures," Bielema said. "He did some things in protection and pass pro that was very good to see."
Enos said Mitchell asserted the-without-the-ball improvement.
"Coach Mitchell felt really a good about him in the protections last week," Enos said. "It was the first game where we really were like free-flow with him, like, you don't have to take him out in a passing situation or anything like that. He's done a nice job. He's gotten better. I think he's right where we need him to be going into Week Four."
And Enos likes the thought that Whaley has TD potential on most any play, even against the Aggies,
"He got tripped up on the one run (vs Texas State) or he might still be running on that one," Enos said.  "We thought he ran hard and was physical."
The Razorbacks have been able to nurture Whaley's progress because Williams and Walker have performed well.
As a sixth-year senior, Walker was granted a sixth-year because injuries stopped two of his first seasons after two and three games, 
His 66 yards on 20 carries may not seem like much, but the 6-2, 240-pounder  has come through on key third- and fourth-down carries whether at tailback or fullback.
Williams qualifies as one of the major comeback stories for 2016 college football. Already with 354 yards on 71 carries, 24 for 96 against Louisiana Tech, 28 for 137 in the double-overtime triumph at TCU, and 19 for 121 against Texas State, Williams broke his neck during the quadruple overtime SEC victory over Auburn last Oct. 24.
He missed the remainder of the season. Many presumed that would end his career but doctors gave him the OK that his neck was mended.
Williams has proceeded amazingly fearless and proficient.
"He didn't play a lot in those first couple games last year and was just starting to get in rhythm," Bielema said. "And then to get knocked out cold turkey and  then coming back from a major surgery, now to be three games under his belt into his sophomore year. We're just beginning to scratch the surface. He hadn't played a lot of football but his s ability to affect the game when he doesn't have the ball in his hands in pass pro or a receiver or just another part of our offense is pretty amazing."
NEW ROUTINE
Arkansas (3-0) approaches this SEC opener against the Aggies (3-0 and 1-0 in the SEC) with the same new Thursday and Friday preparation that Bielema used before the three non-conference games.
This year, Bielema reversed the traditional light practice Thursday and walkthrough Friday, making Thursday the week's lightest day.
"I like it," quarterback Austin Allen said. "Tuesday and Wednesday are heavy work days in full pads and Thursday get a nice little walkthrough and it takes it off their legs. And Friday it's not full pads but you fly around and work up a little sweat and really feel fresh on Saturdays."