HOGS: Only believers need travel to Auburn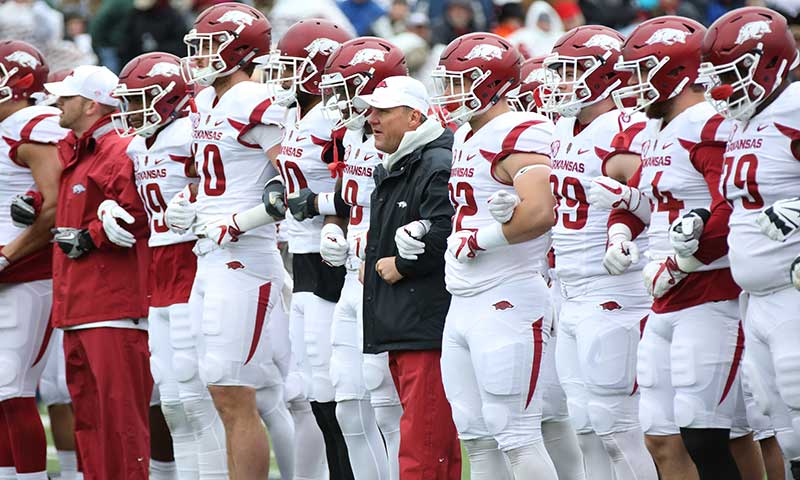 FAYETTEVILLE - Reducing the game day roster from Arkansas' 85 allowed for home games to the NCAA-allowed 70-man travel squad ought to help the Razorbacks' unanimity Saturday night in their SEC opener at Auburn, Ala.
It would seem difficult for new Arkansas coach Chad Morris to find 70 true believers, much less 85 who can beat No. 9 Auburn.
The 1-2 Razorbacks' lost the past two Saturdays 34-27 and 44-17 to underdog non-Power Five conference members Colorado State of the Mountain West and North Texas of Conference USA.
Morris insists only true believers travel Saturday for the  6:30 p.m. SEC West game at Auburn's generally packed 87,541-seats Jordan-Hare Stadium.
Former Arkansas offensive coordinator Gus Malzahn's Tigers (2-1), opened the season by defeating the Pac 12 preseason favored Washington. They lost 22-21 to SEC West rival LSU  last week on a game-ending field goal.
Losing a last-play heartbreaker to now No. 6 LSU is night-and-day different than losing by 27 at home to North Texas.
Auburn embarrassed Arkansas 52-20 last season in Fayetteville.
"Obviously, you go into every ball game expecting to win," Morris said. "I shared with our players, 'If you don't believe, don't get on the plane. Matter of fact, don't even come out to practice if you don't believe. Because if you can't believe things are moving in the right direction, there's no business being here.'"
Ever since the Bret Bielema regime closed the 2016 season collapsing in losses to Missouri and Virginia Tech, these Hogs often have seemed distracted when they take the lead as at Colorado State or never in it at all like against North Texas.
"I think the biggest challenge we're facing is just being able to overcome success and adversity as it comes.," Morris said.
Morris faces a huge task just working on the Hogs and their psyche. He's still sorting it at quarterback. Fourth-year junior Ty Storey of Charleston, yanked after his first start two games ago,  gets another chance this week. Third-year sophomore Cole Kelley's chance last week was four times taken away by UNT interceptions.
On Arkansas' defense, while still having mainstay Ryan Pulley at one cornerback, Morris and defensive coordinator John Chavis alternate a third- and fourth-teamer at the other  corner. Starting corner Chevin Calloway missed his second game while "dealing with personal family issues," Morris said.
Britto Tutt, last week's starter, is injured and "will miss a few weeks," Morris said.
All of this would be troubles enough without the considerable opposition. Morris calls Auburn's defensive front seven "as good as I've seen."
If not wreaking their own havoc, the Tigers' huge front four weighs 278 and 282 pounds on the ends, flanking 320-pound tackles Dontavius Russell and Derrick Brown, ties up blockers. They free the linebackers, especially middle 'backer DeShaun Davis, 25 tackles in three games including 4.5 for minus 12 yards, three QB hurries and a pass breakup.
Injuries have compelled Auburn to shuffle some on its offensive line, but running back JaTarvius Whitlow averages 5.8 per carry.
Arkansas got passed silly by outstanding North Texas QB Mason Fine and faces another fine one in Jarrett Stidham. The Baylor transfer last year quarterbacked Auburn to the SEC championship.
The Razorbacks' best chance appears Auburn overlooking them. That's possible but not likely with Malzahn, a Fort Smith native and former Arkansas state high school coach (Shiloh Christian and Springdale) at the Auburn helm.
Arkansas gave Malzahn his college coaching start in 2006 then enriched him with an obligatory December offer after Bielema was fired. Auburn countered by ponying up $7 million per year  to keep him.
Particularly coming off the LSU loss, Malzahn has incentive to show Auburn he's earning his keep by biting the hand that first enriched him.