Hogs: Rhoads' improved D must tackle better vs A&M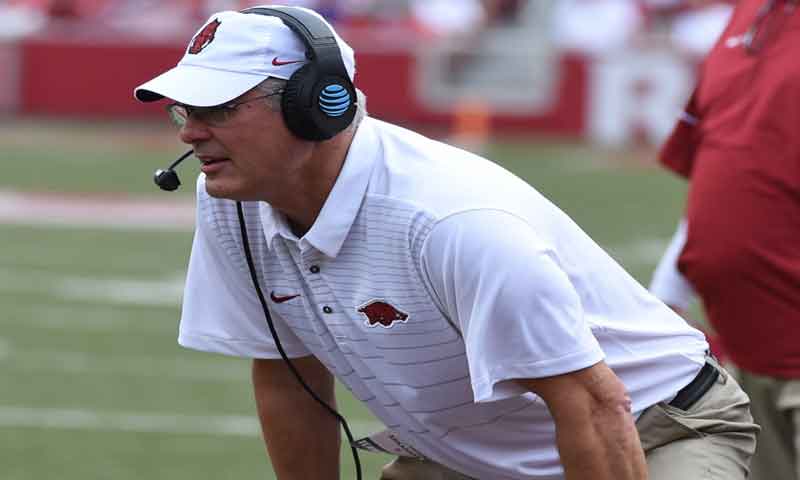 FAYETTEVILLE - Seems hard to build anything off a 21-point loss, but conceivably Arkansas' new 3-4 defense has a foundation to build on going into the SEC opener against Texas A&M.
Coach Bret Bielema's Razorbacks (1-1) and Coach Kevin Sumlin's Aggies (2-1) play their SEC opener at 11 a.m. Saturday on ESPN at the Dallas Cowboys' AT&T Stadium in Arlington, Texas.
In its 28-7 loss Sept. 9 to TCU, Arkansas trailed TCU only 14-7 until the last three minutes. TCU's second fourth-quarter touchdown was set up by Arkansas fumbling the kickoff after the preceding TD.
What caught Bielema's attention should carry over Saturday against the Aggies' hurry-up, no huddle offense. The Razorbacks aligned quickly against TCU's hurry-up, no huddle offense before the Horned Frogs slowed the second-half tempo by running the ball and clock with a lead.
"What impressed me most was our 11-man urgency, 11 guys getting lined up against tempo teams to be ready to play when the ball is snapped,"  Bielema said. "That's a dramatic difference from a year ago. I think this year the poise and confidence our guys have played with before the ball is snapped is really, really good. We have to play a little bit better when the ball is snapped, especially in the fourth quarter. An emphasis on tackling and take advantage of the opportunities that come our way."
The second half in general and fourth quarter in particular has been an offensive and defensive Arkansas emphasis after it was outscored 14-0 in the fourth quarter against TCU. The Razorbacks closed 2016 by blowing 24-7 and 24-0 halftime leads in 28-24 and 35-24 losses to Missouri and Virginia Tech.
Regardless of TCU's final 2:49, holding the No. 15 Horned Frogs to 14 points is an Arkansas achievement Sumlin says doesn't surprise him.
It doesn't surprise Sumlin because when the Aggies were in the Big 12 they played against Arkansas defensive coordinator Paul Rhoads (in Craven Whitlow photo) while Rhoads head coached Iowa State.
"I've got a ton of respect for Paul Rhoads," Sumlin said. "The way he's done things, how they play with great effort. All you've got to do is look at the numbers and they'll tell you all you need to know. A lot of people don't like statistics … but I think they lead the league in not giving up big plays. I think they've given up three plays of 20 or more yards."
The first game was a 49-7 rout over lower-division Florida A&M, but there is nothing low rank about Coach Gary Patterson's Horned Frogs, 3-0 and 11-2 just two seasons ago.
"TCU is very talented on the perimeter and at running back," Sumlin said. "For Arkansas to do what they've done and not give up big plays, I think that says all you need to know about their defense."
Rhoads said one thing he knows about his defense is it must tackle better, especially in the fourth quarter, a point of emphasis the past two weeks.
Rhoads said all Hogs better be attuned to tackling Christian Kirk, the Aggies explosive and versatile receiver, occasional running back, and inevitably dangerous punt returner as the leading active college punt returner in America. Kirk owns a career average 22.3 yards in 29 games, including five returned for TDs.
"I think Christian Kirk is as good as there is in this league," Rhoads said. "When we talk about postseason or preseason honors, he's always one of the first to roll off our tongues as far as offensive skill players or all-purpose as well as receiver. He can run the football. They can put him in the backfield, run reverses, run the short passing game, run the deep passing game as well a returner. Our guys and staff included have a great deal of respect for him."
The Razorbacks held a closed practice Thursday in Fayetteville, their last before visiting the Dallas Cowboys' stadium built by Pro Football Hall of Fame inductee Cowboys owner Jerry Jones, a UA alum and offensive guard guard on Coach Frank Broyles' 1964 Razorbacks national champions.
The Razorbacks honor Jones Saturday wearing uniforms designed to look like the Cowboys' uniforms but in Razorback red.