Hogs brace for A&M defensive freaks; notes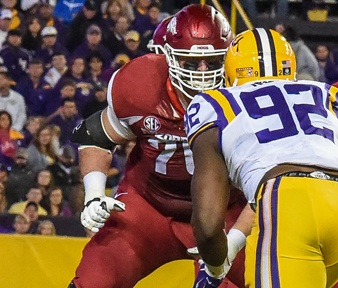 FAYETTEVILLE - Arkansas SEC Offensive Lineman of the Week Frank Ragnow freaked out while discussing the problems Texas A&M's defense presents Saturday night.

Coach Bret Bielema's 17th-ranked Razorbacks (3-0) and Coach Kevin Sumlin's  No. 10 Aggies (3-0 and 1-0 in the SEC) clash at 8 p.m. Saturday on ESPN national television at Dallas Cowboys AT&T Stadium in Arlington, Texas.
"What kind of problems?" Ragnow said Wednesday evening after practice. "Well, 15 and 10 (A&M defensive ends Myles Garrett and Daeshon Hall)  are two just freakish athletes. They have got No. 5 (defensive tackle Daylan Mack), who is a freak. The other interior guy (defensive tackle Zaycoven Henderson) is a freak. They've got a front seven that is a lot more physical this year it looks like. So they present a ton of problems."
The Hogs need to double buckle down, Ragnow said.
"We are calling this  a two-chinstrap game," Ragnow said.  "Because their guys are coming after you and they'll find you."

HOGS ALSO AFTER AGGIES
Of course, the Aggies know Arkansas has guys coming after them. Senior left tackle Dan Skipper and Ragnow, back to back SEC Offensive Lineman of the Week for their performances in Arkansas' 41-38 double overtime victory at then No. 15 TCU and last Saturday's 42-3 rout of Texas State in Fayetteville.
DUELING RIGHT TACKLES
Bielema has indicated the Hogs will continue alternating Conway's Colton Jackson, a redshirt freshman who has started all three games, and third-year sophomore Brian Wallace at right tackle as last week, and again alternate junior Texas transfer Jake Raulerson and sophomore Zach Rogers at center. Sophomore left guard Hjalte Froholdt, Ragnow and Skipper pick up where they left off.

Ragnow was asked about Jackson and Wallace at right tackle.
""Good," Ragnow said. "They are two guys, Colton Jackson and B-Wall, that you can tell really care about the game. It is just the mental things that kind of hold them back. Colton is a young guy and B-Wall is just struggling with the playbook a little bit. But they are two guys that care about the game so it is easy to work with guys that want to get better."
Arkansas offensive line coach Kurt Anderson was asked if Wallace might get his first start.
"He (Wallace) has had a great week of preparation, and he graded out well in the (Texas State) game," Anderson said.  "The plan was to have it nice and even, but there was a 16-play drive in there (all with Jackson) that kinda skewed the numbers, but he played well. He's had a good week of preparation for Texas A&M, so we'll see."
Jackson responded with a good week of practice. "A very good week of practice," Anderson said. "I anticipate both guys are preparing like they're gonna be the starter and there's still time to be had in terms of preparation so very similar to last week, we'll see as we get closer. It goes all the way up until game time in the way that I do it."

FROHOLDT, A GREAT DANE
Froholdt, a native of Denmark and moved just last spring from the defensive line, has steadily improved.
"Yeah, that's usually what happens when you start to get some game experience and start to play and get exposed to certain things," Anderson said. "Kinda the same common theme. Same thing with spring ball and then fall camp, and now as games have continued to roll through for him, he continues to learn. He continues to grow, and he's a very bright guy and a very competitive guy. He's his harshest critic."

REED  SEEKING BREAKOUT
Arkansas senior  Dominique Reed of Camden Fairview, the fastest of the receivers, has shown increasingly closer flashes of last year's form when he  caught fire at midseason for most of his 28 catches for 535 yards and six touchdowns.

This would be a good week for those flashes to fan full flame, receivers coach Michael Smith said.
"I hope he's real close to breaking out this week," Smith said.  "We need him to play well. He has had some opportunities to make some plays. Unfortunately, we missed him a couple of times, but he's right there. I'm hoping it's like last year when we got into SEC play he clicked."
Junior starting quarterback Austin Allen sees Reed, four catches for 53 yards and 15- and 18-yard gains on two reverses, sees Reed's play coming up because his attitude stays up.
"Just the way he works during the week," Allen said. "He's not pouting that he's not getting enough balls or anything like that. He's a hard worker and wants the best for the team. He knows the catches are going to come. He's a big-play threat every time he is out there, so I am sure it will come."