HOGS simplify O for No. 9 Auburn; notes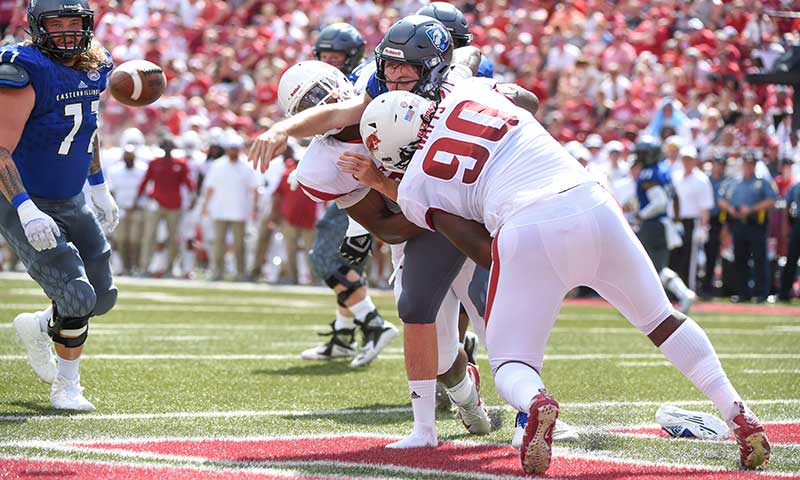 FAYETTEVILLE - Good news doesn't abound for these Razorbacks, 30-point underdogs Saturday night at No. 9 Auburn.

So they rally behind whatever pluses they can find.

Arkansas was going to be a decided underdog for Saturday's 6:30 p.m. kickoff at Jordan-Hare Stadium before it lost 34-27 and 44-17 non-conference games at Colorado State and to North Texas in Fayetteville.

New Coach Chad Morris and these Hogs insist they are not devastated. However, they acknowledge they are up against it at Auburn.

Auburn thumped Bret Bielema's 2017 Razorback team, 52-20 in Fayetteville and opened this season by defeating Pac 12 favorite Washington.

Now with by far the best defense that Arkansas has faced, and among the best Morris said he's ever witnessed, the Tigers want to atone for losing 22-21 last week on a game-ending field goal to SEC West rival LSU.

CUTTING LESS FOR MORE
"They've got as good a front seven defensively as I've seen," Morris said. "We've got our work cut out for us."

Morris said he's cut out many things to simplify the offense Arkansas operated against Colorado State and North Texas.

Less is more has caught on, says senior tight end Jeremy Patton, a second-year junior college transfer.

"I think we kind of went back to our roots a little bit," Patton said. "We're just really narrowing it down to what we installed first. Last week (against North Texas) we felt we had an advantage against their defense and we tried to do a couple of things and I think now we are reverting a little bit more to what you saw in the Eastern Illinois game."

Arkansas beat Eastern Illinois 55-20 to open the season.

Of course, lower division Eastern Illinois isn't close to Auburn. But any comfort-zone familiarity gives the Arkansas offense a starting point.

"Coach Morris is narrowing it down to the plays that we really believe will have a positive effect against their defense," Patton said.

Defensively, the Razorbacks played better last week than a 44-17 score would indicate. Arkansas quarterbacks Cole Kelley, four times, and true freshmen Connor Noland and John Stephen Jones, one each, were intercepted six times.

The turnovers and poor punting put Arkansas on a short field  defensively. Plus UNT scored 14 directly off an interception return and 90-yard yard punt return with Arkansas fooled that a fair catch was signaled though it wasn't.

SCOOTA IMPRESSES
Arkansas junior linebacker Scoota Harris, 12 tackles and two pass breakups, played exceptionally.

Harris' stellar performance is nothing new to Arkansas, first-year defensive coordinator/linebackers coach John Chavis said.

"I think Scoota was playing good football for Arkansas last year," Chavis said. "He's mature and he's smart. It didn't take him long to fit himself into our scheme, and I think it's a good fit for him." 

WATTS UP?
It also seems a good fit for senior defensive tackle Armon Watts.

Logging mostly bit-part action the past three years of the Bielema regime, Watts netted his third sack Saturday in three games among his two tackles, and he also broke up a pass.

The Hogs have a solid first-team defensive line with senior Randy Ramsey finally healthy and debuting at one end last week, and seniors Watts and T.J. Smith inside at tackles, freeing super talented junior Sosa Agim to move outside to the other end.

"Armon is playing at a high level," Morris said. "A lot of times when you get a player who has been in the program for as long as he has, once it's their turn they're the guy. His effort is allowing us to put Sosa out there on the edge."