HOGS: Injury update good and bad; notes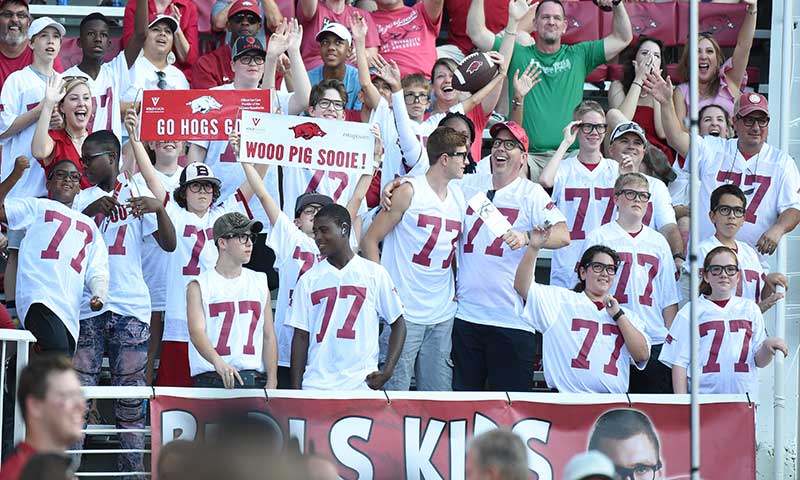 FAYETTEVILLE - Cornerback and kickoff returner have supplanted  the offensive line as the most missing-personnel challenged for Arkansas.

Going into their SEC opener Saturday as 30-point underdogs at No. 9 Auburn, the 1-2 Razorbacks are without starting cornerback Chevin Calloway and backup Britto Tutt, who started for Calloway in last Saturday's 44-17 loss to North Texas.

Calloway missed the North Texas game because of "a family issue he's dealing with," and will miss Saturday's game, too, Arkansas coach Chad Morris said.

Tutt was injured during last week's game, and "he will be out for a few weeks," Morris said. Tutt was the No. 3 kickoff returner behind Gary Cross and D'Vion Warren, who returned a kickoff 100 yards for a touchdown in last year's 52-20 Auburn victory.

Warren and Cross are injured and "doubtful" for Saturday. Deon Stewart, last year's kick returner, was in a green limited practice jersey Wednesday.

Redshirt freshmen Montaric "Buster" Brown and Jarques McClellion appear the next men up on the corner opposite junior mainstay Ryan Pulley.

CURL STAYS PUT
Sophomore strong safety Kamren Curl started at corner last year after Pulley's season-ending injury.

"We have discussed everything in staff meetings," Morris said of position moves. "Right now he's playing well at his position. You hate to do that (move Curl) at this point right now."

FINALLY HEALTHY
The secondary and linebacker did get some good news. Sixth year nickel back Kevin Richardson of Jacksonville, Arkansas' most versatile DB who has played every position during a career, and senior linebacker Dre Greenlaw should play against Auburn.

Richardson recently returned to limited drills after breaking his foot moving furniture just before the August practices began. He practiced Wednesday full go.

Greenlaw has been out since spraining an ankle during his 10-tackles first quarter in the 55-20 season-opening victory over Eastern Illinois. The weakside 'backer has been limited in practice this week, but as a four-year starter certainly can step in if close to full speed.

"We expect both of those guys to travel and play," Morris said.

JACKSON REFRESHES
Fourth-year junior left tackle Colton Jackson, going through his first full practice in pads since July back surgery and playing 26 snaps last Saturday off the bench, was in full gear Wednesday but watching the first 20 minutes that media can view.

Jackson likely will alternately practice and refresh leading into his first start since last season.

Redshirt freshman Dalton Wagner did the first-team left tackle work the first 20 minutes. True freshman Noah Gatlin of Jonesboro has started the past two games but ideally most freshman offensive linemen redshirt.

Under new NCAA rules, a player can play a maximum four games and retain his present eligibility into the next season.

Senior center Hjalte Froholdt, the starting left guard the previous two seasons, again started practice at left guard. Sophomore Ty Clary, last week's starting left guard, opened at center, the position he played last spring.

"We're trying to find the best-five combination on the field," Morris said. "We're cross-training for depth purposes as well."

STOREY RESPONDS
Morris was asked how fourth-junior quarterback Ty Storey responded in practice this week to being named the starter.

"He's done really well," Morris said. "He had a very good day yesterday (Tuesday). All those guys did. He knows he is the guy and in charge out there leading. We had a very good offensive day yesterday."

GRAHAM, GUS AND CHAD
The Northwest Arkansas Touchdown Club timed their speaking schedule well with former Tulsa coach Todd Graham addressing the club's  Wednesday luncheon at Mermaid's Restaurant.

Graham, a former high school coach in Texas, hired longtime Texas high school coach Morris to be his Tulsa offensive coordinator after having Gus Malzahn as his Tulsa offensive coordinator before Malzahn became the Auburn offensive coordinator.

The relationship between Malzahn, Arkansas' coordinator in 2006 and previously an Arkansas state champion high school coach at Springdale, and Morris, starting when then young high school coach Morris sought Malzahn's advice, caught Graham's interest. The interest mushroomed after Morris visited Graham and Malzahn at Tulsa.

Morris and Graham confirmed it took three offers before Morris, coming off successive 16-0 state champion seasons, join the Tulsa staff before moving on as Clemson's offensive coordinator then SMU's head coach.

"He had been coaching in high school for 20 years, so it was just tough for him to take that next step," Graham said. "Especially when you're a high school head coach who's very successful. I bet he's glad I went back three times."