Hogs: Seniors sick of losing to Texas A&M; notes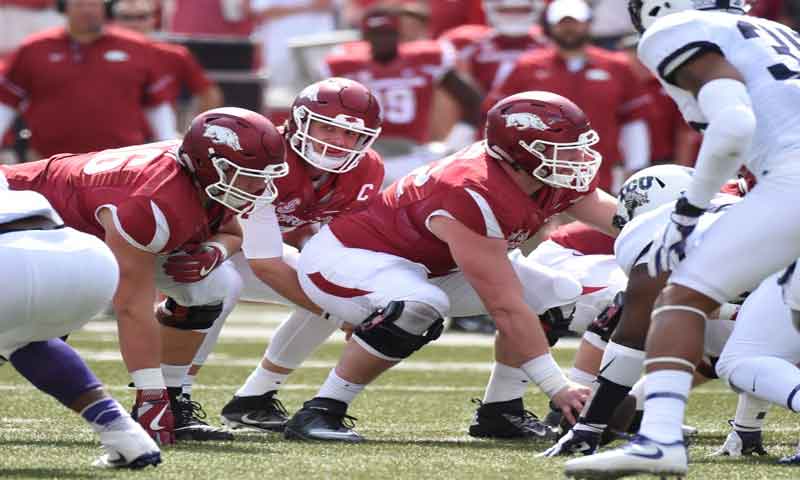 FAYETTEVILLE - Arkansas top receiver, Jared Cornelius, opened the second game of this season by dropping quarterback Austin Allen's first pass of the game.

Cornelius caught 32 passes in 2016 but missed spring drills with a pulled hamstring and most of the August preseason with an injured back. Neither the senior receiver nor his position coach, Michael Smith, played Pollyanna about Cornelius' performance never picking up almost two weeks ago in the 28-7 loss to TCU.

Cornelius caught one pass for 2 yards. He even texted his dismay after the game to Smith, Coach Bret Bielema and offensive coordinator Dan Enos.
"I can tell you this: there's nobody besides me in that stadium that was more disappointed in him not performing the way he's always performed," Smith said. "Jared was very, very disappointed in his play. Immediately after that game myself, Coach B and Coach Enos got a text from him saying that would never happen again. I'm looking forward to watching him play this weekend."
The Razorbacks (1-1) play their SEC opener against Texas A&M at 11 a.m. on ESPN from the Dallas Cowboys' AT&T Stadium in Arlington, Texas, with Cornelius having two full weeks of practice behind him.
"Everybody needs practice," Smith said.
He will be better with much to atone for, Cornelius said after Tuesday's practice.
"I underestimated how much time and practice it takes to get back in the groove of things," Cornelius said. "I don't say I rushed into playing a game, but I definitely didn't take enough time on my own catching balls, running routes and get the rust off. The receivers didn't live up to what we're supposed to do. We let a lot of people down, let the team down and that's on me. I just took over the bye week to catch 200 balls a day just to get back in the groove."
Senior quarterback Austin Allen said Cornelius' practices improved him immensely, and that it continues this week.
"He's looked really good, he really has," Allen asserted Tuesday. "He was out fall camp and not going to be 100 percent right away. Now he's coming along and he's a really big part of our game plan this week."
SICK OF AGGIES' SPELL
Arkansas last beat Texas A&M in 2011 when the Aggies were still members of the Big 12. No current Razorback, including the fifth-year seniors, have defeated the Aggies since A&M joined the SEC West in 2012.
"It's my fifth and final go-around playing against these guys," fifth-year senior QB Allen of Fayetteville said. "We want to fill up that trophy case."
Senior center Frank Ragnow said in the short run the sting of the TCU loss would have been better alleviated by playing last Saturday instead of having an open date, but in the long term the open date should better prepare Arkansas for the Aggies.
"It's tough to go into a bye week after a loss, because the best thing to get the taste of loss out of your mouth is a win," Ragnow said. "But I think it's been good for us to keep us motivated. We've had that terrible feeling in the pit of our stomachs and been really pressing to be better."
MR. VERSATILE
Having shuttled from center to guard and back earlier in his career, Ragnow was asked about fourth-year junior Johnny Gibson of Dumas shuttling this year from right guard Game to right tackle Game Two.
"Johnny Gibson, he's one of the smartest guys in the O-line room," Ragnow said. "So it's pretty cool to see him bounce off from there."
Offensive line coach Kurt Anderson concurred noting Gibson "didn't skip a beat" moving to guard the final period and a half of Tuesday's practice because starting freshman left guard Ty Clary of Fayetteville was excused to take a 6:30  p.m. test.
"I'm not going to say it's been seamless," Gibson said. "There are some things I've got to work on, but it's not anything I can't handle. I've played every position in the line but center."
And likely could do that, too, Anderson said.
"Because of his overall knowledge of the scheme and he's very physical  it's not a big transition with him," Anderson said. "It can be with some other guys but with Johnny and Frank, you could probably play them all five spots and probably at tight end."