UCA at A-State in-depth preview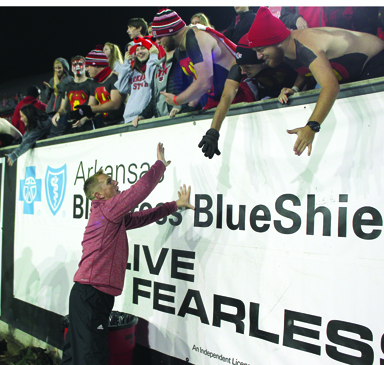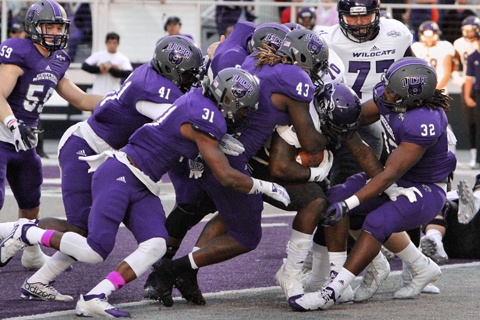 UCA defense swarms.
UCA at A-STATE
6 p.m. Saturday
Centennial Bank Stadium, Jonesboro
Radio:  107.9 FM Jonesboro, 92.7 FM Conway
TV:  ESPN3
ON TAP: Following a pair of road contests, Arkansas State returns home to face FCS and Southland Conference member Central Arkansas in its final non-conference game of the regular season.  The game will be broadcast by ESPN3 and kicks off a stretch of four consecutive home outings for the Red Wolves.

AN A-STATE VICTORY WOULD . . . :  give the Red Wolves four consecutive wins against Central Arkansas and run their all-time record against the Bears to 12-11-2 . . . snap a four-game skid dating back to the 2015 New Orleans Bowl . . . improve its record to 1-3 after four games for the second consecutive year . . . improve its home record to 52-12 since 2005 and give the Red Wolves 27 wins over its last 32 games at Centennial Bank Stadium . . . mark its 45th victory over the last six seasons . . . snap a five-game skid against non-conference opponents . . . give the Red Wolves 13 consecutive victories over FCS opponents dating back to 2002.
THE ARKANSAS STATE - UCA SERIES:  Saturday's game will mark the first meeting between Arkansas State and Central Arkansas since 2011.  A-State and UCA have actually played 24 times since 1916, but will meet this year for just the fourth time since 1947.  While the Bears hold a 12-10-2 lead in the all-time series, the Red Wolves have won all three games played in the modern era.  A-State defeated UCA 17-7 in 1996, picked up a narrow 36-35 win in 1997 and collected a 53-24 win in 2011 as all three victories came in Jonesboro.  The Red Wolves stand 7-5 all-time versus UCA in games played in Jonesboro, including a 101-0 win in 1917 that stands as the largest margin of victory in school history.  At the same time, UCA handed A-State its largest margin of defeat with a 95-0 win in Jonesboro in 1937.
IN-STATE FOES:  Arkansas State is set to play its first in-state foe since defeating UAPB 62-11 in 2013.  The Red Wolves have played 10 colleges/universities located in The Natural State, including UALR, Arkansas-Monticello, Arkansas-Pine Bluff, Lyon College, Arkansas Tech, UCA, Henderson State, Hendrix, Ouachita Baptist and Southern Arkansas.  A-State's 24 games against UCA are its most against an in-state opponent, followed closely by Lyon College with 22 meetings.

A-STATE vs. THE SOUTHLAND CONFERENCE:  Arkansas State has played nine schools that are current members of the Southland Conference and holds an all-time 59-45-5 record against those teams.  Prior to its 2011 game against UCA, the last time A-State had played a Southland Conference team was 2001 when it dropped a 28-22 decision to Nicholls State.  Arkansas State's most victories against a current SLC team is 15 versus Lamar.
A-STATE vs. FCS:  Arkansas State is playing an FCS member for the sixth consecutive season and eighth time over the last nine years.  Dating back to the 2002 campaign, the Red Wolves have won their last 12 games against FCS foes by a combined 651-95, or an average of 46.3 points.  The Red Wolves are 21-4 against FCS opponents since moving to FBS in 1992.
THE PRINCIPALS:  Arkansas State, the only FBS program in the nation to win four conference championships over the last five seasons, enters Saturday's game still looking for its first victory of the season after falling to 0-3 for the first time since its 2004 campaign.  Central Arkansas, picked to finish third in the 2016 Southland Conference Coaches Poll, will carry a 2-1 record into its first road game of the season.  The Bears have a pair of Southland Conference victories, while their only setback came against a Samford team that is receiving votes in the FCS Coaches Top 25 Poll.
HEAD COACH BLAKE ANDERSON: Blake Anderson, a 16-year coaching veteran at the NCAA FBS level who also coached in an NJCAA National Championship game, was named the Red Wolves' 30th all-time head football coach on Dec. 19, 2013.  Anderson led A-State to back-to-back winning seasons, a pair of bowl game appearances (2015 New Orleans Bowl and 2014 GoDaddy Bowl) and the 2015 Sun Belt Conference championship his first two seasons at the helm, which also saw the Red Wolves break the school records for total offense (6,174 yards in 2014), average yards total offense (476.5 yards per game in 2014), total plays (1,024 in 2014), points scored (520 in 2015), touchdowns scored (69 in 2015) and interceptions (26 in 2015).  During his first two years at the helm of the program, he saw 20 of his players earn 26 All-Sun Belt Conference selections -- the most in the league over that span.
FAST START:  Out of 30 all-time head coaches at Arkansas State, Blake Anderson became one of just four to win at least seven games (2014) in his first season at the school.  The other head coaches to win at least seven games in their first season as head coach at A-State were Bryan Harsin (2013), Gus Malzahn (2012) and Hugh Freeze (2011).
TWO YEARS RUNNING:  With 16 combined victories in 2014 and 2015 while leading the Red Wolves, Blake Anderson became the first head coach in A-State history to win 12 or more games over his first two seasons at the school.  Additionally, Anderson became the only head coach in school history to direct A-State to 16 wins in 25 or fewer games.
COACH TO CURE MD: 

This week the Arkansas State and Central Arkansas coaching staffs will be wearing special arm patches in honor of the AFCA's Coach to Cure MD program. This is the ninth year coaches around the country join together to raise funding and awareness of Duchenne muscular dystrophy. Fans are encouraged to donate by texting "CURE" to 90999 or visiting www.CoachtoCureMD.org.
HOME SWEET HOME: Arkansas State has strung together 11 consecutive years with a winning record at Centennial Bank Stadium dating back to 2005. The Red Wolves are now 51‐12 (.809 winning percentage) since the 2005 season and have won 26 of their last 31 home games. The Red Wolves actual on‐field record all‐time at Centennial Bank Stadium is 143‐75‐1 since it opened in 1974. A‐State's six home wins in 2011 were its most since 1985.

THAT'S A FIRST:  The Red Wolves had 19 players participate in their first career game at A-State over the last three weeks, including four as starters.  There were 11 offensive players who saw their first action at A-State, including Chad Voytik (Sr., QB, starter), Kendall Sanders (Sr., WR, starter), Cam Echols-Luper (Jr., WR, starter), Armond Weh-Weh (Jr., RB), Christian Booker (Jr., WR), Justice Hansen (So., QB), Justin McInnis (So., WR), Omar Bayless (Fr.-R, WR), Darveon Brown (Fr.-R, WR), Avery Johnson (Fr.-R, TE) and Dalton Ford (Fr.-R, OL).  There were six defensive players, including Dee Liner (Jr., DL, starter), BJ Edmonds (Fr., S),  Kyle Martin (Jr., CB), Trent Ellis-Brewer (Fr., DB), Antwon Turnage (Jr., LB) and Kyle Wilson (Jr., LB).  The remaining two were Sawyer Williams (Fr.-R, K) and Damon Foncham (Fr.-R, P).
RED WOLVES TABBED SECOND IN SBC PRESEASON POLL:  Arkansas State was picked second in the Sun Belt Conference Preseason Coaches Poll, receiving 110 points and five first place votes.  The Red Wolves have been picked to finish among the top three teams in the league eight of the last 11 years, but have never been picked to win the Sun Belt Conference. 

FIVE-YEAR WINS TOTAL:  Including back-to-back 10-win seasons in 2011 and 2012, eight more in 2013, seven in 2014 and nine last season, the Red Wolves have recorded 44 victories that are tied for the 31st most in the nation over the last six years.           
DON'T CALL IT A COMEBACK:  Three of Arkansas State's victories last season came after the Red Wolves entered halftime behind on the scoreboard.  During those three victories, A-State outscored its opponents by a combined 86-23 in the second half.  The Red Wolves also defeated Utah State during the 2014 season after entering the second half behind, giving them four second-half comeback victories under head coach Blake Anderson.
DOUBLE DIGITS:  All nine A-State victories last season came by at least 10 points, and the Red Wolves average margin of victory in its eight Sun Belt wins was 21.1 points.  Six of A-State's seven wins in 2014 also came by a double-figure margin, meaning 15 of the Red Wolves' 16 wins under head coach Blake Anderson have come by 10 or more points.  The only exception was a 21-14 overtime win over Utah State in 2014.
FIVE ALIVE:  Arkansas State has secured five consecutive winning seasons (2011-15) for not only the first as an FBS member, but also the first time at any level since 1949-53.  The only time A-State has ever strung together six straight winning seasons was 1912-17.  The Red Wolves piled up 44 victories from 2011-15 for its most over a five-year span in the program's 102-year history.
TOP 25:  Arkansas State was receiving votes in both the Associated Press (2 points) and Coaches (6 points) Top 25 polls at the end of the 2015 regular season, making  it the fourth season since 2011 that A-State was included among "others receiving votes" at one point during the year.  The Red Wolves also earned votes in 2011, 2012 and 2013.  A-State's most ever points in the Associated Press (28) and Coaches (23) Top 25 came in the 2012 final polls.
SUN BELT CHAMPS:  Arkansas State won the 2015 Sun Belt Conference championship with an unblemished 8-0 record, giving it the league title for the fourth time over the last five seasons with a 33-6 conference record over that span.  A-State also won the league title 2011-13, including outright championships in 2011 and 2012.  It is just the second program in Sun Belt history with three (2015, 2011-12) outright titles, along with North Texas (2002-04).  Arkansas State is one of three programs to ever win at least four total Sun Belt Conference championships, joining North Texas (4) and Troy (5)
A-STATE vs. THE SUN BELT:  Arkansas State has won 33 of its last 39 Sun Belt Conference games (.846 winning percentage) to run its all-time record in the conference to 66-42.  The Red Wolves hold their most all-time victories against ULM with 23.  With the exception of Georgia Southern, which A-State has never faced as an SBC opponent, the Red Wolves have defeated every team in the conference since the football league was formed in 2001.  Along with ULM and Louisiana-Lafayette, A-State is one of three teams that have been a part of the conference since its inaugural football season.
ALL-TIME CONFERENCE CHAMPIONSHIPS:  Including four of the last five Sun Belt Conference titles, Arkansas State has won 11 conference championships all-time.  A-State won the Southland Conference seven times (1986, 1985, 1978, 1975, 1970, 1969, 1968).  The Red Wolves also won the 2005 Sun Belt Conference title, but it was later vacated due to NCAA sanctions.
BOWL HISTORY:  Arkansas State has played in 13 bowl games all-time and holds a 4-8-1 record in those contests.  The Red Wolves have made a bowl game five consecutive years (2011-15) for the first time in school history.  They played in the New Orleans Bowl last season and in the GoDaddy Bowl the four years prior to that, winning two of them during the 2012 and 2013 seasons.  A-State also played in the 2005 New Orleans Bowl, which marked its first bowl appearance since 1970.  Arkansas State played in seven bowl games from 1951-70, including the Pecan Bowl (1968-70), Tangerine Bowl (1952 & 1951) and the Refrigerator Bowl (1951-52).  The Tangerine Bowl was played in Orlando, Fla., the Pecan Bowl in Arlington, Texas, and the Refrigerator Bowl in Evansville, Ind.
OFFENSIVE NOTES
MORE OFFENSE, FEWER POINTS:  Despite putting up a season-high 357 yards and outgaining Utah State last week by 23 yards, the Red Wolves suffered a 34-20 setback.  It marked just the second time A-State lost a game under head coach Blake Anderson when it actually had more offensive yards, as the other came in 2014 against Louisiana-Lafayette (595-521).  The Red Wolves are now 13-2 in such games over the last three seasons (5-1 in 2014, 8-0 in 2015, 0-1 in 2016).
EXPLOSIVE PLAYS:  Arkansas State recorded six plays that covered at least 20 yards last week against Utah State, which actually matched its total for the first two games combined.  Junior receiver Chris Murray was involved in a team- high two of those six plays last week with receptions covering 33 and 31 yards.  He finished the game with a career-high 64 yards receiving and has three catches covering at least 20 yards this year.
PROTECTING THE FOOTBALL:  While A-State committed three turnovers, its most since the 2015 New Orleans Bowl, last week in its 34-20 setback at Utah State, the Red Wolves went their first two games this season without turning the ball over.  Even with its three turnovers last week, the Red Wolves are still tied for the 26th fewest in the nation.  A-State actually entered the Utah State game as one of just seven teams in the nation that had not committed a single turnover.  Since joining the Sun Belt Conference in 2001, A-State had gone back-to-back games without a turnover only one other time -- its final regular-season game and bowl game of the 2012 season.
TWO-MINUTE OFFENSE:  Four of Arkansas State's eight scoring drives this season have taken less than two minutes, and only one drive this season has consumed more than three minutes.  Last year's team tended to score in the same manner, taking less than two minutes on 35 of its 58 touchdown drives for a 60.3 percentage that ranked among the 10 highest in the nation.
300-PLUS: Dating back to the 2010 season, Arkansas State has posted at least 300 yards of total offense in 71 of its last 80 games (.887 percentage).  A-State went over 300 yards in all 13 games during head coach Blake Anderson's first season, reached the mark 11 times last year and has done so twice this season (last two games).
400-PLUS:  While Arkansas State has yet to post 400 yards total offense in a game this season, it has hit the mark in 18 of 29 games (62 percent) since 2014, which was Blake Anderson's first season as head coach.  A-State's offense this season is averaging 316.3 yards per game, which ranks 116th in the nation.
LIGHTING UP THE SCOREBOARD:  Although the Red Wolves' season-high scoring output this season is 20 points (last week versus Utah State), they have posted at least 30 points in 41 of their last 62 regular-season games (66 percent) dating back to the 2011 season, including 15 of the last 22 contests. The Red Wolves have won 29 of their last 33 games when scoring at least 30 points.  A-State broke the school record in 2015 for both points scored (520) and touchdowns scored (69).  Additionally, the Red Wolves ranked 12th in the nation in scoring offense last year, averaging 40.0 points per game.
RANKING THE O-LINE:  With all five starters returning on the offensive line in 2016, the Red Wolves' front five received high praise from Athlon Sports as the No. 27 ranked o-line unit in the nation.  A-State's first-team unit has 106 combined starts between them entering the 2016 season.  Senior center Devin Mondie is a member of the Rimington Award Watch List, Colton Jackson has started all 39 games of his career and Jemar Clark joined them on the Preseason All-Sun Belt Conference team.
HANSEN STEPS IN:  Sophomore quarterback Justice Hansen completed 18-of-26 passing attempts for a career-high 277 yards and a touchdown during Arkansas State's game at Utah State.  Hansen, who entered the game off the bench following the Red Wolves' fourth offensive series, led the squad to back-to-back scoring drives to begin the third quarter.  He completed a career-long 44-yard touchdown pass to cap the second drive, pulling A-State to within 24-14 of the Utah State lead.  He engineered two other scoring drives that got the Red Wolves within one score of tying the Aggies after previously trailing by 24.  Hansen's passing totals were all the best of his young career at A-State.
BOOK IT:  While junior transfer wide receiver Christian Booker sat out last week with an injury, he has made an immediate impact for the Red Wolves' offense by at least tying for the team high in receptions each of his first two games played.  He hauled in three catches against Toledo before coming back to catch a game-high six passes against Auburn.  Additionally, he led the Red Wolves in receiving yards against the Tigers with 92 to his credit.
MAKING A MOVE:  Junior Blake Mack changed positions from wide receiver to tight end this season, and he appears to have transitioned well as he already has 12 receptions for a team-high 218 yards.  His first two seasons combined at wide receiver, Mack posted 17 receptions for  235 yards.  He caught a career-high seven passes last week for 82 yards, which were just shy of his career-high 90 posted at Texas State during his freshman season.
FINDING THE END ZONE:  A former walk-on and Burlsworth Trophy nominee, junior running back Johnston White recorded a team and career-best 14 rushing touchdowns last season as a sophomore to give him 20 running scores during his career.  He is still looking for his first rushing touchdown this season, but has scored at least one rushing touchdown eight of his last 12 games played.  White's 14 running scores last season tied for the fifth most in school history.  His 20 career rushing touchdowns are tied for the 10th most in school history.  Additionally, he is ranked 35th in the nation among active players in career rushing scores.
WAND APPROACHING 1,000:  Running back Warren Wand has run for a team-high 175 yards this season to go along with his 709 he recorded as a true freshman, which leaves him just 116 shy of reaching 1,000 for his career.  His 709 yards were the most by a true freshman at A-State since Lamont Zachery ran for 846 yards in 1996.
DEFENSIVE NOTES
BETTER ON 3RD:  While A-State's first two opponents were successful on 23-of-32 third-down conversions (72 percent), the Red Wolves allowed Utah State to convert 6-of-16 attempts (38 percent) to significantly drop their conversion percentage defense in comparison.  Additionally, A-State finished allowing 4.6 yards per play, which was over three yards less than its season average entering the Utah State contest.
A LOSS ON THE PLAY:  The Red Wolves had 11 players combine for a season-high nine tackles for loss last week against Utah State, giving them at least five stops behind the line of scrimmage in each of their first three games.  A-State recorded 86 tackles for loss last season, which were the most since 2011 and tied the program's third most since gaining FBS status in 1992.
PICK IT OFF:  While A-State didn't post its first interception of the season until last week against Utah State, it led the nation in picks last year with a Sun Belt Conference record 26.  Fifteen different players combined for those 26 picks that were the third most in school history and the most by an A-State team since the 1969 squad posted a school-record tying 32 (tied with the 1961 team).  A-State posted a season-high four interceptions at ULM, and it recorded at least three in six games.
PICK-SIX:  Arkansas State recorded six interception returns for a touchdown last season, which was the second most in Sun Belt Conference history and just two shy of the NCAA record currently held by the 2011 Southern Miss and 2012 SMU teams.  While he coached on the offensive side of the ball, A-State head coach Blake Anderson was also a member of that 2011 Southern Miss team.  The current Sun Belt Conference record is seven, held by the 2011 Louisiana-Lafayette team.  The Red Wolves also posted a school-record 503 interception return yards, led by senior safety Money Hunter (then a junior) with 128 yards that ranked tied for the fifth most ever by an A-State player.  Hunter had two interception returns for a touchdown last season to tie the Sun Belt Conference record.  Additionally, he has three for his career to tie that Sun Belt record as well.
TURNOVER KINGS:  Arkansas State, which has forced at least one turnover each of its first three games this season, ranked second in the nation in turnovers gained last year with 34. That total included 26 interceptions and eight fumble recoveries.  They turned eight of those turnovers into defensive touchdowns, which led the nation.  A-State's 34 turnovers gained tied the 2002 team for the most by the Red Wolves since joining the FBS in 1992, and it was also the programs most at any level since 1988 when it had 39.  The Red Wolves have recorded at least one turnover gained in 26 of 29 games played under defensive coordinator Joe Cauthen.
CAREER GAME:  Senior defensive end Chris Odom recorded nine tackles and two sacks, both career highs, to go along with a forced fumble, pass break-up and quarterback hurry during Arkansas State's road game at Utah State.  His nine stops almost doubled his previous career high of five, which he recorded the week prior at Auburn.  Odom also set a new career high for tackles for loss and his forced fumble was his first at A-State.  With his two sacks against the Aggies, he now has six for his career.
WILSON ON THE TACKLE:  Junior linebacker Kyle Wilson had at least four tackles in each of his first three games, including a career-high nine against Auburn.  His 20 total tackles ranks tied for fifth on the team and tied for 25th in the Sun Belt.  Wilson is one of three linebackers that rank among the top five players on the A-State team in tackles.
HEATH APPROACHING CAREER BEST:  Senior linebacker Quanterio Heath already has 22 tackles, which are the fourth most on the team and rank tied for 22nd in the Sun Belt Conference.  He posted a career-high 11 against Toledo and his 22 stops are just nine shy of his career-best 31 recorded last season as a junior.
DOUBLE-FIGURE STOPS:  Senior linebacker Xavier Woodson-Luster recorded a double-figure tackles total during two of A-State's first three games, including a career-tying 14 against Toledo.  He has now reached double figures in the tackles column eight times during his career.  Woodson-Luster is ranked 27th in the nation among active players in career tackles with 226.
PLAYING IN THE BACKFIELD:  Junior defensive end Ja'Von Rolland-Jones recorded at least a half TFL in 10 games last season and in 16 of his last 20 contests dating back to his freshman year.  He also had a team and Sun Belt Conference high 9.0 sacks last season, and he has a team-high 19.0 for his career.  He has tallied at least a half sack in 14 of his last 21 games. 

SPECIAL TEAMS NOTES
PLAYING THE PERCENTAGES:  Senior kicker J.D. Houston was successful on both his field goal attempts last week against Utah State, making him 3-of-4 on the season and 15-of-18 during his two-year career at Arkansas State.  His career field goal percentage is .833, which ranks 10th in the nation among active players.
SPECIAL TEAMS SOLID:  While Arkansas State's special teams haven't produced the same high rankings it did the previous two seasons, the numbers are just a three-game sample.  The Red Wolves' special teams units under coordinator Luke Paschall was one of the best-rounded in the nation the previous two seasons, ranking among the top 41 teams in the country in five different statistical categories and among the top 31 in four.
BLOCK PARTY:  Senior defensive end Chris Odom  posted a team-high three blocked kicks last season as a junior to tie third most in school history.  He recorded his first two career blocks during the Georgia State game, his first coming on a field goal and the second on an extra point attempt.  In the process, he became the seventh player in school history to record multiple blocks in the same game.  His third block came on a Texas State field goal attempt to end the first half.  The Red Wolves had four total blocks, which tied the fifth most in school history.
ON THE RETURN:  Junior cornerback Blaise Taylor   recorded 322 punt returns yards last season to lead the Sun Belt Conference and account for the second most in school history.  His two-year career has seen him pile up 556 punt return yards that are the second most in school history and the third most ever by a Sun Belt player.  He has two punt returns for touchdowns (1 in both 2014 and 2015), making him one of six Sun Belt players all-time with multiple scores.