Hogs: hangry Wise motivated for A&M; notes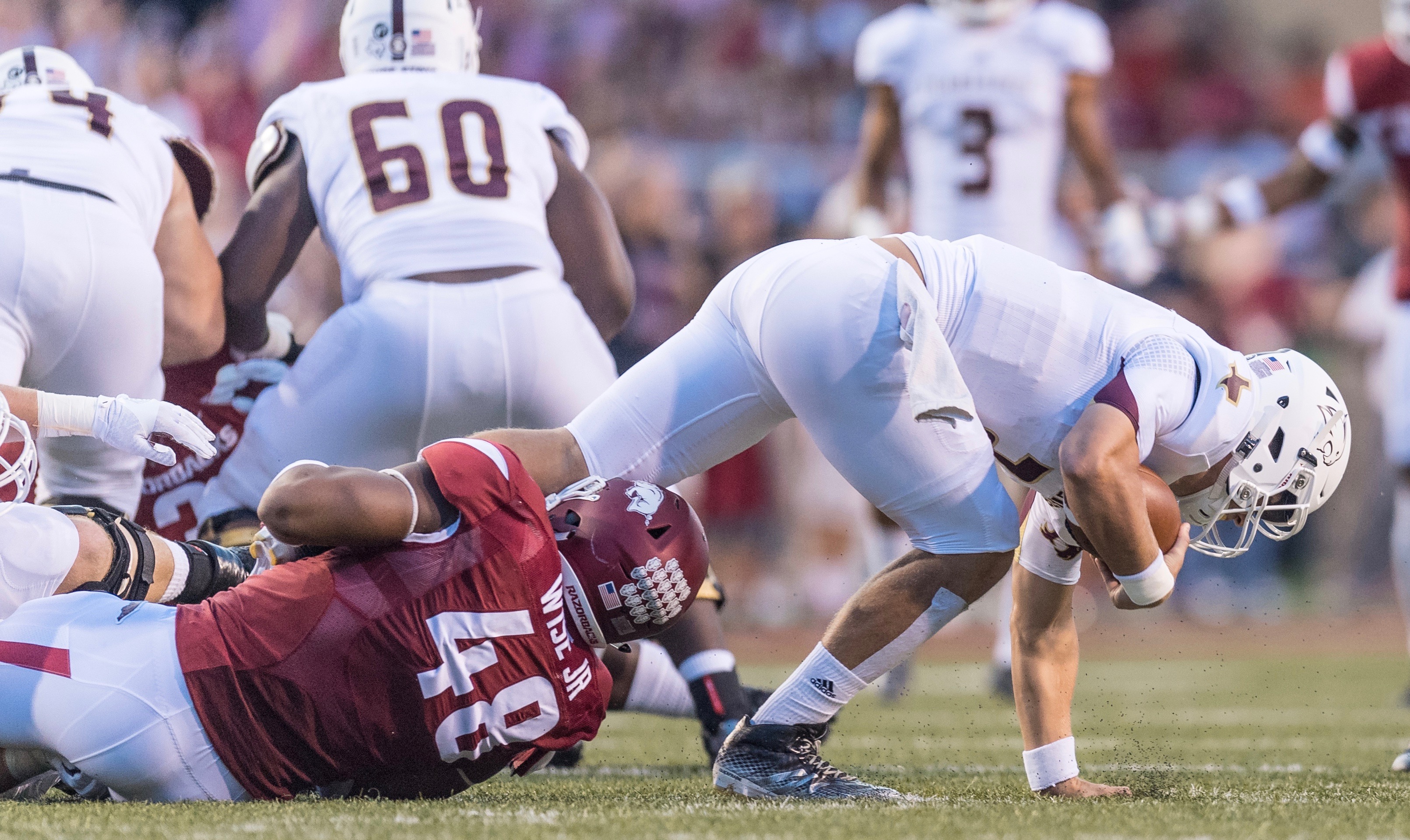 FAYETTEVILLE - Few Razorbacks will arrive at the Cowboys' stadium any more intent than senior defensive end Deatrich Wise (in photo vs. Texas State), having grown up in Carrollton, Texas, within the Dallas-Fort Worth Metroplex.
Redshirting when former Heisman Trophy winning A&M quarterback Johnny Manziel and the Aggies embarrassed John L. Smith's Razorbacks 58-10 in 2012, and won 45-33 in Bret Bielema's 2013 debut season, Wise came off the bench during Arkansas' heartbreaking overtime 35-28 and 28-21 losses to the Aggies in 2014 and 2015.
"It's tough, going in and doing well and often times losing in the last second," Wise said. "It's very tough. We have fought hard overtime and got what we got. They just capitalize on everything that we mess up on. That's been it. This year we feel we can do better."

Wise starts Saturday night's game as an All-America candidate rivaling A&M 2015 All-America defensive end Myles Garrett for 2016 preseason accolades.
"He's a really good player," Wise said about Garrett. "He's showed that he's had fantastic years. I also want to show the world that I am also a great defensive end, and that Deatrich Wise is one of the top ends in the nation."
Of course, Wise and Garrett don't battle head to head. So it's the Aggies, not A&M's defensive end, that Wise craves to surpass.
"I never did get recruited by any of the Texas schools," Wise said. "None of them. I guess I wasn't good enough to play for anybody in Texas."

While a SEC game since 2012, at AT&T Stadium it has also been the Southwest Classic, which Arkansas and A&M called its annual non-conference game from 2009-2011.
Arkansas won those three SEC vs. Big 12 clashes, leaving only sixth-year senior running back Kody Walker from the Hogs' last trophy triumph over A&M.
"One thing we haven't won is that trophy," fifth-year senior Wise said. "That's one thing I am looking forward to holding up after the game.

SHINING KNIGHT
Whether coaching against him as the Iowa State head coach or as Arkansas' secondary coach, Paul Rhoads sees a Knight in shining armor quarterbacking Texas A&M.

University of Oklahoma graduate and grad student transfer Trevor Knight quarterbacks the AP No. 10 Aggies. A&M (3-0 overall, 1-0 in the SEC West) takes on No. 17 Arkansas (3-0) at 8 pm. on ESPN at the Dallas Cowboys' AT&T Stadium in Arlington, Texas.
Knight made his SEC debut last week in A&M's victory at Auburn.
Rhoads, Iowa State's head coach from 2009-2015, twice faced Knight, as the starter and backup QB of the Sooners..
"I can remember telling (Oklahoma Coach) Bob Stoops at (Big 12) Media Day how much I thought of him as a quarterback," Rhoads said of Knight after the Razorbacks practiced Tuesday evening.  "I think he's a great player. He was a two-time captain there before he left the program. That tells you what the kids (at Oklahoma) think of his leadership."
Apparently, the 3-0 Aggies think highly of Knight, too, upon leading them past then-No. 16 UCLA and Auburn.
"I think I am the only one on the staff besides Wally Burnham (Knight's retired Iowa State defensive coordinator now assisting the Razorbacks in quality control) who has seen him," Rhoads said. "I know what he's capable of. He is extremely athletic. He's got a very gifted arm. He can make all the throws and he can get himself out of trouble like no other. He is fast, and athletic and he is elusive. He is all of this and he's all of that and he has already led this team to a 3-0 record against two very high quality opponents."
Knight rushed 123 and 146 yards in two starts against OU and threw a touchdown pass as Baker Mayfield's backup when OU defeated the Cyclones last year.
Knight quarterbacks a great Aggies' supporting cast, Rhoads said.
"They have receivers that are as big and strong and athletic as we have seen," Rhoads said.  "I know Coach (Rory) Segrest  (Arkansas' defensive line coach) will tell you their offensive line is the same and running backs are extremely talented. Top to bottom a lot of strengths and no weakness."

HOGS STILL CONFIDENT
However, Bielema and his Arkansas staff don't sell the Hogs after their 21-20 season-opening squeaker over underdog Louisiana Tech, topping No. 15 TCU, 41-38 in double overtime and routing Texas State, 42-3.
Regarding the secondary he coaches, Rhoads said, "I am excited about what we have done and how this week has started. They are a very intent group. They like to learn and like to be coached, and there's not much more a position coach can ask for."

COMPARING HILL AND KNIGHT
Interesting that Arkansas senior linebacker Brooks Ellis found similarities in former A&M QB Kenny Hill (transferred to TCU) and Knight.
"I think he's kind of similar," Ellis said when asked if Hill and Knight pose the same run-pass threats.  "When a play doesn't go his way, he will do his own thing and make something out of it. He's a good runner, too. We have to keep him in the pocket and keep him uncomfortable."