Class 4A Week 4 Rankings, Notes & Picks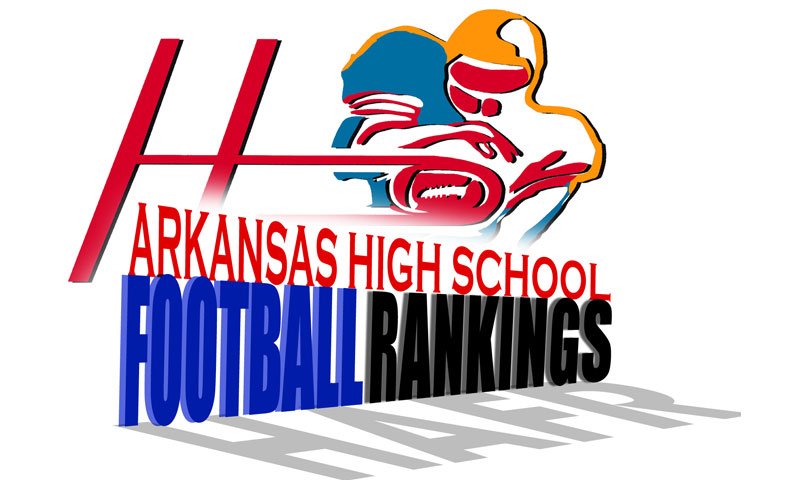 Hootens.com Class 4A Rankings
Week 4, 2022
Copyright Seventy Seven's Publishing
1. Arkadelphia (3-0)
2. Harding Academy (3-0)
3. Warren (2-1)
4. Star City (3-1)
5. Stuttgart (3-1)
6. Ashdown (4-0)
7. Malvern (3-1)
8. Pocahontas (2-1)
9. McGehee (2-0)
10. Rivercrest (1-2)
11. Clinton (4-0)
12. Nashville (3-1)
13. Ozark (1-2)
14. Lamar (4-0)
15. Elkins (2-1)
16. Lonoke (2-1)
17. Gosnell (3-0)
18. Gentry (3-0)
19. H.G. Haskell (4-0)
20. Trumann (1-2)
21. Bauxite (2-2)
22. Blytheville (2-1)
23. Pottsville (1-3)
24. DeWitt (3-1)
25. Mena (3-1)
26. Heber Springs (1-2)
27. Waldron (2-2)
28. Lincoln (2-1)
29. Crossett (1-3)
30. Monticello (1-3)
31. Jonesboro Westside (1-2)
32. Hamburg (1-3)
33. CAC (0-4)
34. Cave City (0-4)
35. Mayflower (1-2)
36. Helena (1-3)
37. Gravette (1-2)
38. Dover (2-1)
39. Dumas (1-2)
40. Huntsville (0-3)
41. Riverview (1-3)
42. Highland (1-2)
43. Bald Knob (0-3)
44. Berryville (1-2)
45. Harrisburg (1-2)
46. Green Forest (1-2)
47. LR Hall (0-3)
WEEK 4 PREDICTIONS (favored team in ALL CAPS and yellow highlight)
HOOTENS.COM GAME OF THE WEEK
No. 5 Stuttgart at NO. 2 HARDING ACADEMY
This likely decides the 2-4A title and will likely be crucial to playoff seedings. The league's top seed has home field until the semifinals, while the second-place team travels to the 8-4A champ in the second round. Stuttgart has won conference titles five of the past six seasons, while Harding Academy won three consecutive 2-3A and Class 3A titles before bumping up to Class 4A this fall.
Harding Academy beat Class 3A No. 2 Booneville last week by 30 points. The Wildcats have won 62 of their past 63 games against in-state opponents (lost at Class 5A Valley View last season by 1 point). Sophomore QB Owen Miller completed 19 of 26 passes for 301 yards and ran 11 times for 71 yards at Booneville. Endy McGalliard caught 2 TDs, while Kyle Hoover caught a TD pass and tallied 238 all-purpose yards (also had a 66-yard punt return for a TD negated via penalty). Senior Kyle Ferrie drilled a 55-yard field goal at Booneville, his second 50-plus yarder of the season. Junior Wyatt Simmons, son of Harding University Coach Paul Simmons, plays well at RB and has developed into one of the top linebackers in Class 4A.
Stuttgart was without 8 starters last week, then lost another in an 11-point win over Class 5A Forrest City. Senior QB Landon Melychuk threw 3 TD passes, ran for a TD and intercepted a pass playing in the secondary. Senior Kendrick Hawkins caught a TD pass and broke up 3 passes playing in the secondary. "Harding has the best quarterback, defensive player and special teams we will see this year," Stuttgart Coach Josh Price says.
LAST WEEK
Hootens.com correctly predicted 17 of 24 games (70 percent). Hootens.com has correctly predicted 101 of 126 games (80 percent) involving 4A teams this season.
1-4A
Gravette at ELKINS: Elkins has beaten Gravette the past two seasons, including last year by 4 points. Elkins senior MLB Landon Haney leads the Elks in tackles, while QB Dizzy Dean and WR John Townsend have played well on offense. Gravette senior QB Rhett Hilger has passed for more than 400 yards this fall.
Huntsville at GENTRY: Gentry has won 7 of the past 13 in the series. The Pioneers pounded Class 5A Pea Ridge 59-28 a week ago, amassing 750 yards and scoring on every possession. Senior QB Chris Bell completed 17 of 24 passes for 380 yards and 5 TDs, and he ran for 3 TDs. Senior Ty Hays ran 21 times for 241 yards and a TD. Winless Huntsville averages 9.0 points per game. The Eagles gave up 414 yards two weeks ago in a 35-6 loss to Pea Ridge.
Green Forest at LINCOLN: Lincoln's only loss came by 3 points Week 2 at Mena. The Wolves put up 353 yards but turned the ball over twice. Green Forest beat Cedarville 30-20 for its first win last week. Sophomore Ridge Gordon Swofford ran 28 times for 149 yards and 2 TDs.
Berryville at OZARK: Ozark has lost consecutive games to Class 3A teams Booneville and Charleston, both former conference rivals, by a combined 42 points. Senior QB Landon Wright has passed for 360 yards and 5 TDs, and rushed for 219 yards and 1 TD this fall. Berryville beat Class 2A Decatur 62-0 last week, with 6 two-way starters out due to injury. Coach Bryan Hudson says he expects one of those starters to return this week.. Senior Ethan Williams returned 2 interceptions for TDs in the first half vs. Decatur, while QB Decimus Ruiz ran 4 times for 113 yards and 3 TDs and threw a TD pass.
2-4A
HEBER SPRINGS at Cave City: Heber Springs junior QB Xander Lindley completed 12 of 22 passes for 186 yards and 2 TDs and averaged 9 yards per carry in last week's 15-point win over Jonesboro Westside. Senior LB Kenan Sneed registered 17 tackles, while senior Chris Edwards had 18 stops, 1 sack and forced a fumble. Winless Cave City gets outscored by 30 points per game.
Riverview at LONOKE: Riverview was held to 105 yards in last week's 48-0 loss to Blytheville. Lonoke bounced back from a Week 1 loss to Melbourne with last week's 54-7 win over Memphis Business Academy. Senior DT Taylor Coffey returned a fumble for a TD and blocked a punt. Junior QB Bradon Allen completed 7 of 7 passes for 123 yards and a TD.
Stuttgart at HARDING ACADEMY: See Hootens.com Class 4A Game of the Week, above
Bald Knob at Class 3A MAGNET COVE: This game was added last week after Danville canceled its season and left Magnet Cove scrambling for a game. Magnet Cove owns wins over Class 2A Poyen and Baptist Prep by a combined 83-29. Panthers senior RB/ILB Julius McClellan and junior OG/DE Luke Harper are playing well on both sides of the ball. Winless Bald Knob lost to Barton last week by 8 points. "Their record isn't indicative of their talent, they can play," Magnet Cove coach Caleb Carmikle says.
3-4A
Highland at GOSNELL: Undefeated Gosnell outscored its nonconference opponents by an average of 37-19. Senior Floyd Williams ran 35 times for 200 yards and 4 TDs two weeks ago in a 40-33 victory over rival Osceola, while Cam Williams caught 5 passes for 146 yards and a TD. Highland forced 5 turnovers two weeks ago in a 39-0 win over Piggott.
BLYTHEVILLE at Harrisburg: Blytheville's only loss this season was at Class 5A No. 8 Nettleton by 15 points in Week 2. The Chickasaws gained 432 yards while holding Riverview to 105 yards in last week's 48-0 triumph. Harrisburg rallied past Manila last week 10-6 with a late TD pass.
Trumann at JONESBORO WESTSIDE: Jonesboro Westside was unable to muster much in the second half of last week's 28-13 loss at Heber Springs. The Warriors twice drove inside the 20-yard line in the second half but turned the ball over on downs. Trumann turned the ball over 2 times and gave up a kickoff return for a TD in last week's 12-point loss to Newport. Senior QB Murphy Williams ran 18 times for 108 yards and a TD.
Rivercrest at POCAHONTAS: This could decide the league title. Rivercrest has won six of its past seven titles, while Pocahontas won conference titles in 2015 and 2021. Rivercrest has dropped consecutive games to Class 5A Mills and Valley View. Fullback Koby Turner averages 9 yards per carry and has 6 TDs this fall, while junior WR Michael Rainer averages 13 yards per reception and has scored 2 TDs. Versatile senior Jayden Stovall has 12 carries for 61 yards this year and 10 catches for 126 yards and 2 TDs. Pocahontas relies on senior QB Connor Baker, who has more than 500 yards this fall. "We have to stop Baker," Rivercrest Coach Johnny Fleming says. "He throws the ball better than last year, so it will be a challenge. But, our kids will be up for the challenge." Pocahontas senior WR Tripp Risley, junior OT/DL Caleb Bettis, senior NG Braden Vancil and sophomore lineman Landen Gettings are playing well, Coach Charles Baty says.
4-4A
Dover at BAUXITE: Bauxite was tied with Lamar 14-14 in the third quarter last week before losing by a TD. The Miners must correct special teams' blunders. They allowed Lamar to recover a kickoff that bounced between two Bauxite players and had a blocked punt that resulted in the winning TD. Dover sophomore Drew Masters ran for 115 yards two weeks ago vs. Atkins.
CLINTON at Harmony Grove Haskell: Clinton beat Haskell 48-42 in the second round of the 2017 Class 3A playoffs. Clinton ran 49 times for 305 yards in last week's 44-26 win over Mayflower. Zane Widener led with 11 carries for 189 yards and 2 TDs, while senior WR Brody Emberton caught 5 balls for 127 yards and 2 TDs. Undefeated Haskell runs for almost 300 yards weekly. Junior Peyton Potter caught a 57-yard TD pass and broke a 72-yard TD run in last week's 21-point win over CAC.
CAC at LR Hall: A battle of winless teams. CAC sophomore QB Grayson Williams threw a TD pass in last week's 35-14 setback to H.G. Haskell. LR Hall has been outscored by an average of 52-9 this fall.
POTTSVILLE at Mayflower: These teams have never played. Mayflower ran for 287 yards but turned the ball over twice in last week's loss to Clinton. Pottsville shut out LR Hall 30-0 a week ago. Senior FB Bricen Villareal played well, Coach Bryant Rust says.
OPEN Lamar
7-4A
Waldron at ASHDOWN: Waldron yielded 223 yards passing, turned the ball over 3 times and converted 1 of 14 third-down attempts in last week's 26-point loss to rival Mansfield. Undefeated Ashdown beat Idabel, Okla., last week by 9 points. Ashdown WR Kaiden Winfrey played well against Idabell, Coach Matt Richardson says.
 
ARKADELPHIA at Nashville: Nashville has won 12 of the past 17 meetings in this battle of unbeatens. Nashville senior QB Sloan Perrin ran for 138 yards and 2 TDs and passed for 136 yards and a TD in last week's 27-19 victory at previously undefeated Charleston. Sophomore DB Skylar Gibson snagged 2 interceptions, including the final one to secure the win with 1:29 left. Undefeated Arkadelphia beat Class 5A Texarkana by 43 points two weeks ago. Kyle Reed ran for 2 TDs and caught a TD pass vs. Texarkana, while senior LaTonnieo Hughes caught 4 passes for 57 yards.
OPEN Malvern, Mena
8-4A
STAR CITY at DeWitt Star City has beaten DeWitt 17 of the past 19 times they've played. Star City must recover emotionally from last week's 28-27 overtime loss to Warren. The Bulldogs failed on the potential winning 2-point conversion on the final play. Sophomore Dejuan Haney returned an interception for a TD against Warren, while senior Austin Wilkerson hauled in 2 TD passes. DeWitt ran in 5 TDs in last week's 43-8 victory at Helena, while senior QB Eli Ashcraft passed for 81 yards and a TD. DeWitt's defense held Helena to 6 yards passing.
HAMBURG at Dumas: Hamburg has won 11 of the past 20 meetings. The Lions were tied with Crossett 0-0 in the second quarter last week before losing 13-0. LB Zane Johnson played well, Coach Blake Johnson says. Dumas snapped an 8-game losing streak with last week's 17-13 decision over Lake Village. Senior LB Ethan Cruce intercepted 2 passes.
MONTICELLO at Helena: Helena totaled 128 yards in last week's mercy-rule loss to DeWitt. Monticello trailed McGehee 14-0 at the half last week, but gave up more than 300 yards rushing in a 36-14 setback. Monticello junior CB Tejon Tensley amassed 10 tackles, while Hayden Carter made 8 stops. Junior slot receiver Evan Bealer hauled in 3 passes for 66 yards and 2 TDs.
WARREN at McGehee: This former conference rivalry is renewed, but even when McGehee was in Class 3A, these teams scrimmaged each other. McGehee had two backs with more than 100 yards rushing last week, while another finished with 98 yards  The Owls defense yielded 13 yards rushing. Warren beat Star City 28-27 in overtime last week. Warren continues rotating Treylon Jackson and Maddox Lassiter at QB. Lassiter threw the tying TD pass to Jalin Lee in the fourth quarter last week and led the defense with 19 tackles playing linebacker.
OPEN Crossett