RECRUITING: Stars aplenty again at Nashville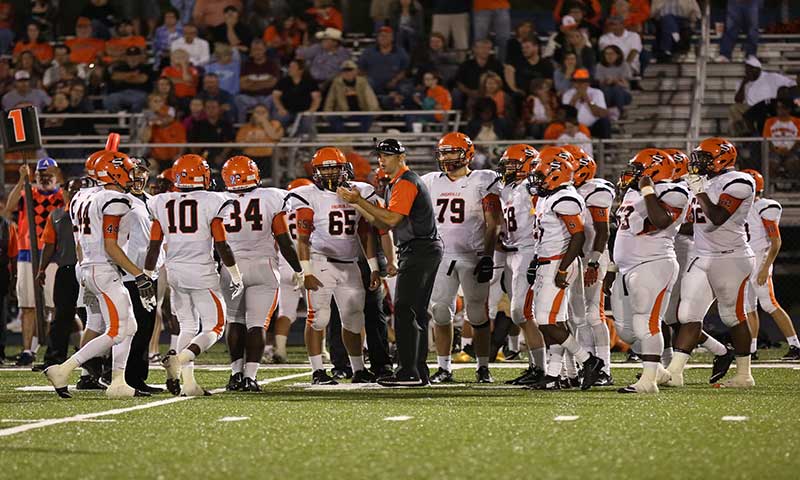 By BARRY GROOMES
Nashville has captured five state championships and played in four more title games in the past 26 years.
Title banners could return to Scrapper Stadium in 2018 after Nashville uncharacteristically exited the playoffs in the second round the past two seasons.
Nashville bolted to a fast start this fall, winning its three non-conference games over Class 5A De Queen, Hope and Watson Chapel by a combined 154-35. Nashville has jumped six spots to No. 3 in the Hootens.com Class 4A rankings.
But things get tougher in the rugged 7-4A, starting this week against defending Class 4A champion Arkadelphia.
The return to prominence coincides with increased talent. Senior quarterback Tristen Jamison (6-3, 175) transferred in January after playing at DeKalb, Texas, the past two seasons. He broke his foot in the second game last fall and didn't return.
Jamison, a Nashville native, pitched and played infield for the state championship baseball team. He was tabbed the starting QB in August but sprained an ankle in a preseason scrimmage with El Dorado and sat out Nashville's 28-22 win over Watson Chapel. Jamison has taken limited snaps the past two games (completed seven of 15 passes for 107 yards and one touchdown) but likely takes over larger roles the remainder of the season.
"He's a college baseball prospect, but I think he's a big-time quarterback," Coach Mike Volarvich says. "He has a lot of arm strength and gets the ball out quickly."
Jamison credits his offensive line for success in the opening three games, and senior right tackle Robert Dunham (6-3, 265) owns offers from Henderson State and UAPB. The athletic Dunham plays basketball. "He's our biggest player and is quick for his size," Volarvich says. "He's been dominant."
Undersized senior safety Jordan White (5-8, 160) led Nashville last year with 129 tackles. He has 12 stops, one interception and one fumble recovery this fall. White, one of the state's top hurdlers, finished second in the 110-meter hurdles at the state track meet in May. Most Division II schools are evaluating White. "He's our most consistent player," the coach says.
Senior cornerbacks Jamarta Gilliam (6-1, 190) and Colton Patterson (5-11, 160) anchor Nashville's improved defense (allow 12 ppg after surrendering 27 ppg in 2017), and both could play in college.
"Nobody has thrown the ball on us this year," Volarvich says. Gilliam (six tackles and one interception in 2018) didn't play as a sophomore and started some at safety last season until taking over at corner. "He's is the best basketball player in school and the most physical defender on the football field," the coach says.
Many of Nashville's gifted underclassmen could develop into college players. Junior running back Carmillias Morrison (5-7, 145) has 33 carries for 262 yards and three TDs "and can play in college because he's so shifty," Volarvich says.
Junior inside linebacker Devonte Witherspoon (5-9, 150) leads the improved defense. Witherspoon didn't play last season while concentrating on basketball. Witherspoon has 29 tackles, two sacks, one interception and one fumble recovery this fall. "No college will find him because he's 150 pounds," the coach says. "But dang, he's a good player. He's so fast, you can't get past him."
Sophomore tight end Dalton Brown (6-4, 250) could be Nashville's next DI prospect. Brown likely shifts to offensive tackle next season, "but he has the best hands on the team," the coach says. Brown hurdles in track and plays basketball.
Sophomore running back Keyshawn Stewart (5-11, 180) has carried 32 times this fall for 263 yards and five TDs. Stewart, the brother of former Scrapper all-state defensive end Billy Stewart, "is a dynamic player," Volarvich says. "He'll play major college football."
Another talented sophomore, Ty Gordon (6-0, 205), plays QB and middle linebacker. Gordon has scored TDs this year on two of his four carries and has recorded five tackles. He quarterbacked the 10-0 junior high last season, tallying more than 2,000 yards. Gordon started for the varsity baseball team as a freshman and may choose that sport in college after visiting Arkansas and Oklahoma last summer.