Hogs: SEC honors utility lineman Ragnow; notes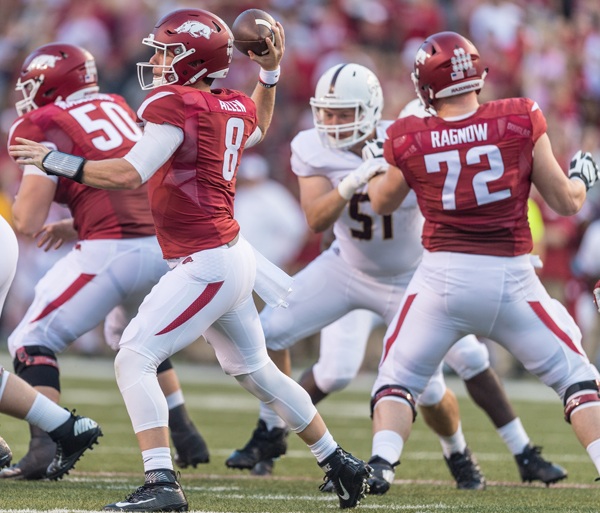 FAYETTEVILLE - Arkansas' realigned offensive line features Frank Ragnow (No. 72 in photo), the SEC Offensive Lineman of the Week going into the Razorbacks' SEC opener Saturday night against Texas A&M.
Arkansas is 3-0 and ranked 17th and 18th in the AP and Coaches polls. A&M is 3-0 overall and 1-0 in the SEC West and ranked 10th and 13th in the AP and Coaches polls. The two old Southwest Conference rivals collide at 8 p.m. on ESPN at the Dallas Cowboys' AT&T Stadium in Arlington, Texas.
Ragnow, a junior from Chanhassen, Minn., was named SEC Offensive Lineman of the Week Monday by the SEC Office in Birmingham, Ala. for his performance in Arkansas' 42-3 rout of Texas State last week.
Snapping every snap as the starting center in Arkansas' 21-20 victory over Louisiana Tech and 41-38 double-overtime victory over TCU, Ragnow graded 92 percent at right guard against Texas State. Ragnow started at right guard all 13 games in 2015.
Junior Jake Raulerson, previously the starting right guard, and sophomore Zach Rogers alternated at center against Texas State, while redshirt freshman Colton Jackson of Conway and third-year sophomore Brian Wallace alternated at right tackle.
Senior Dan Skipper, the SEC Offensive Lineman of the Week the previous week, and sophomore Hjalte Froholdt are fixtures at left tackle and left guard.
Ragnow, the backup center and reserve guard as a 2014 freshman,  will remain at right guard against Texas A&M with Raulerson and Rogers at center. Jackson and Wallace again will split time at right tackle, Bielema said.
"Frank Ragnow got lineman of the week in the SEC in his first start at guard in a year," Bielema said. "He played extremely well."
Senior Skipper is Arkansas' best known offensive lineman  and the tallest (6-10) in college football. Skipper has started at guard and both tackles during his Razorbacks career.
But Ragnow is even more versatile having played both guards and center, and he likely would be Arkansas' best right tackle, Bielema said.
However, now that Raulerson and Rogers are stepping up at center, Ragnow can most help the team not only as its best right guard but as the next door neighbor by assisting the centers and  helping Jackson and Wallace grow into SEC right tackles, Bielema said.
"He can communicate with the center, and he can communicate with the tackle," Bielema said.  "I think B-Wall (Wallace) graded out over 90 percent, only had two or three minuses on the day. I think a lot of that was having comfort in the guy next to him. And on the flip side, I know he helped Jake and Zach out at the center position a lot as well."
Offensive coordinator Dan Enos extolled Ragnow's willingness to fit where needed.
"He's unselfish in the fact that he'll do whatever," Enos said. "He could play tackle for us if we needed him to, but he's at guard. We like to pull our guards and do things with them. That fits his skill set very well. He's just a tremendous player with great intellect. That helps him, and it's going to help him as he leaves here as well to be able to say he's been a guy that snapped, played center and also could play guard for a team."

HACKETT NOT HACKING IT
Previously listed Arkansas' backup middle linebacker to senior Brooks Ellis, junior  two-year letterman Khalia Hackett won't be on this week's travel roster, Bielema said.
Freshman De'Jon "Scoota" Harris  backs up Ellis at middle linebacker, while junior Dwayne Eugene backs up weakside linebacker Dre Greenlaw.
Hackett played on special teams against Louisiana Tech and TCU but did not play against Texas State.
"We needed to have better production (on the field) out of the assignments we've given him," Bielema said of Hackett. "Those weren't happening the way we felt as coaches it needed to happen, so that's why we went with a younger player (Harris)."

Defensive coordinator Robb Smith was asked about the backup linebacking.
"We really are excited about De'Jon and Dwayne, and we have got to push those guys forward this week in practice," Smith said. "And when Khalia gets his opportunities, he certainly has to make the most of them."
Hackett has been listed first-team strongside linebacker but the Hogs haven't used one and instead played an extra defensive back against three Spread opponents. A&M's Spread offense also dictates Arkansas using a nickel back over a third linebacker.

EARLY MORNING FOR THE ROCK
Arkansas' Oct. 1 non-conference game at War Memorial Stadium in Little Rock against Alcorn State will kick off at 11 a.m. and be televised on the SEC Network Alternate channel.
Arkansas' lone Little Rock appearance for 2016 marks its final non-conference game.

CORNELIUS BACK
Withheld from the Texas State game to rest an ailing back, junior receiver/kick returner Jared Cornelius is back in the Razorbacks' rotation against A&M, Bielema said.