HOGS: Malzahn will have No. 9 Auburn ready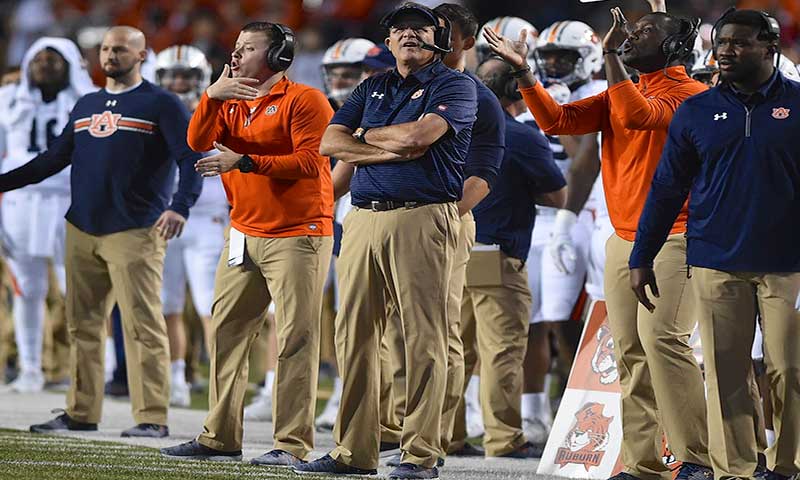 FAYETTEVILLE - It's unlikely any team coached by Gus Malzahn would overlook Arkansas.
Not even this year with the Razorbacks losing to non-Power 5 opponent Colorado State and being embarrassed by visiting North Texas 44-17.
Malzahn, the sixth-year Auburn coach, is a Fort Smith native, former Razorback walk-on, Arkansas high school state champion coach at Shiloh Christian and Springdale, a one-year Razorback offensive coordinator, and one-year Arkansas State head coach.
Malzahn always has Auburn primed to play the Hogs, whether as head coach or as offensive coordinator.
And with Auburn upended last week 22-21 by LSU on the last play of the game, Malzahn may have additional incentive to keep Auburn from overlooking the downtrodden Hogs.
It's Arkansas' SEC opener at 6:30 p.m. Saturday on the SEC Network at Auburn's Jordan-Hare Stadium.
No. 9 Auburn (2-1 overall) opened with a win over then No. 6 and Pac 12 preseason favorite Washington, but it's an angry 0-1 in the SEC, while Arkansas' new coach and old Malzahn friend Chad Morris and the Razorbacks are 1-2.
Arkansas opened by beating FCS Eastern Illinois before losing a 27-9 lead in the 34-27 loss at Colorado State and never leading in a 27-point loss to UNT.
Those losses to Mountain West and Conference USA teams hardly compare to Auburn's heartbreaker against now No. 6 LSU. But a loss is a loss, and so are the incentives afterward, Malzahn maintains.
"We have got Arkansas, and their backs are against the wall," Malzahn said Tuesday. "They are a team with a new staff, and they are going to improve each week and there's no doubt we'll get their best. We have to worry about them. That's easier said than done and a lot of teams can't do that. But that's what we're going to do."
Malzahn explained his expectations even if it seems the Tigers could relax after looking at film of North Texas routing the Razorbacks 52-20 last week.
"I think we have a veteran enough team to understand in this league it doesn't matter what happened in the past," Malzahn said. "You are going to get their best.  And I think, too, (Auburn) coming off a tough loss helps with that kind of deal. We need to play well and our players understand that and our coaches understand that."
Malzahn touts Morris and vice-versa. As a younger up-tempo offensively oriented high school coach in Texas, Morris sought input from up-tempo offensively oriented high school coach Malzahn whom he visited in Arkansas.
"We developed a relationship, and he's a great person," Malzahn said. "One of the good guys in our business. He's one of the best coaches I've ever been around. You look at Clemson (when Morris was Clemson's 2011-2014 offensive coordinator for Dabo Swinney before head coaching SMU from 2015-2017). When everything really changed for them is when they hired Chad Morris. He went to SMU, and it was low, low, low, and he got them out of it and he'll do the same thing there (Arkansas)."
Morris likewise praises Malzahn.
Quarterback seems one of many huge differences in their current situations.
Morris hasn't settled on a QB. He hopes it will be junior Ty Storey who came off the bench the first game, netted his first-ever start but then was second-half  relieved by first-game starter Cole Kelley the second game.
Storey didn't play a snap against North Texas. Morris went with Kelley until his fourth interception led to UNT leading 37-10 in the third quarter. He debuted true freshmen Connor Noland and John Stephen Jones, mopping up so Storey would start this Saturday unencumbered by last Saturday.
In contrast, Jarrett Stidham quarterbacked Auburn last year to the SEC West championship and a win over eventual national champion Alabama after transferring from Baylor. Stidham has completed 48 of 75 passes for 584 yards and three touchdowns with two interceptions.
Stidham threw both of those interceptions last week vs. LSU.
"He'd like to have a couple of those plays back, but Jarrett, we have a lot of confidence in him," Malzahn said. "He's going to play extremely well. He's our guy.  He's one of the best quarterbacks in college football.
Arkansas defensive coordinator John Chavis concurs.
"Very, very talented," Chavis said. "I think he's got an NFL arm, and it's a shame he runs so good, but he does. He can move around. He can make you miss. He can make plays. In the SEC, you expect to see good quarterbacks. I think he has developed into being a really good quarterback."