Hogs relish fresh start, unis vs. Texas A&M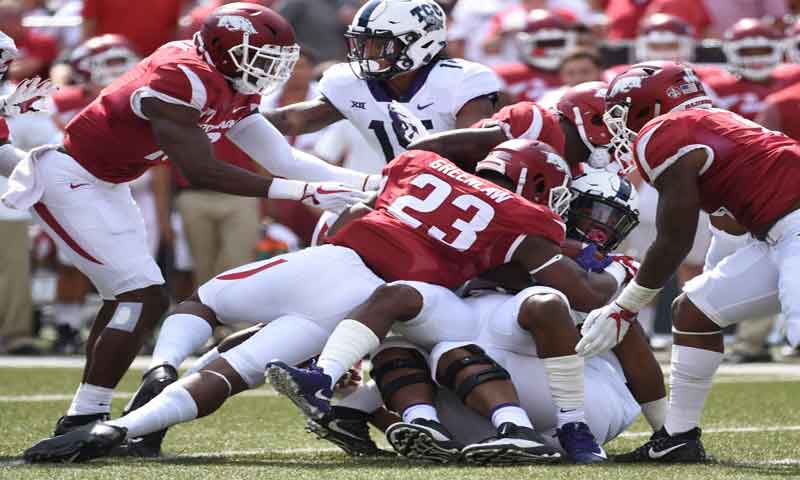 FAYETTEVILLE - A new start and uniforms greet the Arkansas Razorbacks this week.
By some social media accounts, the 1-1 Razorbacks' world ended Sept. 9 with a 28-7 loss to TCU at Reynolds Razorback Stadium.
However, with an intervening open date week completed, the Razorbacks life springs 0-0 fresh heading into their SEC opener against Texas A&M (2-1, 0-0) at 11 a.m. Saturday on ESPN from the Dallas Cowboys' AT&T Stadium in Arlington, Texas.
"Huge!" Arkansas coach Bret Bielema said Monday of the start-fresh psyche. "You are defined in life more by your reaction to adversity than you are by success, and I know these guys have worked very hard to get to where they are. It (losing by 21 to TCU after trailing 14-7 late) hurt a lot. Especially when you watch the film. That's why we watched it twice. I want them to realize how close they are."
AGS START FRESH, TOO
Coach Kevin Sumlin and his Aggies blew a 30-point lead in a 45-44 season-opening loss at UCLA, struggled to defeat lower division Nicholls State 24-14 and Saturday trailed Louisiana-Lafayette 21-14 at half before running away with 45-21 victory.
"A&M is a good football team," Bielema, noting he's 0-4 against the Aggies and the Hogs are 0-5 vs. the Aggies since A&M joined the SEC in 2012. "I know the first game (at UCLA) drew a lot of attention  But the team we're facing is the same one of the last four years. Obviously, one of two teams in the West (reigning SEC champion Alabama is the other) we haven't been able to capture since I've been here. Had some close games in Jerry's World (the Dallas Cowboys' home built by Cowboys owner and former Razorback Jerry Jones).
HOGS IN COWBOYS GEAR
In honor of Jones, an offensive guard on the 1964 national champion Razorbacks, the Razorbacks are wearing (in Razorback red) replicated Dallas Cowboys uniforms for Saturday's game.
"I was fully in support of it," Bielema said. "Then to hear the (wholeheartedly positive) reaction from the Jones family has been very, very positive. The kids saw the uniforms for the first time and really enjoyed it. To honor Jerry Jones is another great reason to be a part of that celebration this year with him in the NFL Hall of Fame.
Bielema said the Razorbacks, off Monday, practiced Sunday in the new uniforms to see if they fit. They've since been washed and put away until Saturday. The Razorbacks are back to normal practice gear for their game-week workouts Tuesday through Thursday.
LIMPERT TO KICK
Barring a change from practices this week, sophomore letterman kickoff man Connor Limpert of Allen, Texas, will be Arkansas' place-kicker Saturday in Arlington.
Junior Cole Hedlund, the highly recruited kicker out of Argyle, Texas, lost the starting place-kicking job in 2015 and 2016 seasons. He lost it again Sept. 9 after missing 23- and 20-yard field goal attempts in first quarter and third quarter goal-line situations against TCU.
Limpert and fellow walk-on Blake Mazza of Plano, Texas, compete for the job that Hedlund doesn't have this week. Limpert leads Mazza on experience.
"You know right now that's how it would lie out," Bielema said. "But we still have Tuesday and Wednesday and Thursday to see exactly where they are. He (Limpert) and Mazza were almost a dead heat. The thing Limpert has is he's kicked in a live-game situation. So based on where we're at next Saturday, that'll be the deciding factor."
Whether left-footed Limpert or right-footed Mazza is place-kicking,  senior snapper Robert  Decker of Greenwich, Ct.,  will continue snapping, and junior holder/backup safety Reid Miller of Hollidaysburg, Pa., will continue holding, Bielema said.