No. 24 Hogs wary of up-tempo Texas St.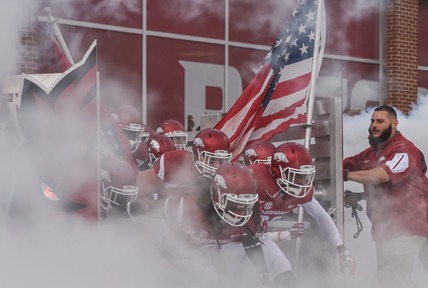 FAYETTEVILLE - The last time the Arkansas Razorbacks were ranked in the Top 25 in September they were 21-point favorites over Toledo.
Toledo won 16-12 in Little Rock.

That hasn't been forgotten by Coach Bret Bielema's 24th-ranked and 2-0 Razorbacks, who are 31-point favorites Saturday over the 1-0 Texas State Bobcats. The game kicks off at 6:30 p.m. at Reynolds Razorback Stadium on the SEC Network Alternate channel.
Even some Razorbacks who weren't Razorbacks yet remember it well.
Arkansas freshman backup defensive tackle McTelvin Agim was earning five-star recruit status in Hope when the Hogs slipped lost to Toledo at War Memorial Stadium.
"Coach B says the past is an indication of the future," Agim said. "We lost to Toledo.  So we try not to overlook anybody. Texas State is a good team."
The Razorbacks forged into the Top 25 because they upended then-No.15 TCU, 41-38 in double overtime at TCU's Amon Carter Stadium in Fort Worth.
However if they get too full of themselves for hopping over the Horned Frogs, they need only remember two weeks ago.
Arkansas was favored by 26 over Louisiana Tech. The Razorbacks needed quarterback Austin Allen's fourth-and-goal touchdown pass to tight end Jeremy Sprinkle and Cole Hedlund's PAT with 6:37 to win by one 21-20.
Texas State is a 31-point underdog, primarily because first-year coach Everett Withers' Bobcats are from the Sun Belt Conference and on the road against an SEC team.
Somebody forgot to pass that information along to the 2012 Razorbacks. They lost in September at  Little Rock to 30-point underdog Louisiana-Monroe of the Sun Belt en route to a disappointing 4-8 season.
So ULM "Sun Belting" the Hogs out of the rankings four years ago, and Toledo's MAC sack of the Razorbacks last year should have the Hogs taking precious hold of the No. 24 ranking they finally achieved in the AP and Coaches polls.
"It took a long time to get that to where they need to be," Bielema said. "They've got a little bit of respect, and now they have to continue to earn it week by week."
The Razorbacks would gain far more respect by winning their SEC opener Sept. 24 against the 17th-ranked Texas A&M Aggies at the Dallas Cowboys' AT&T Stadium.
But that wouldn't recoup the respect lost if they get upset Saturday by not respecting these Bobcats. Texas State comes off an open date after beating Ohio University, 56-54 in overtime the Saturday before Ohio U. defeated Kansas 37-21 in Lawrence, Kan.
Though at the bottom of its league, Kansas hails from the same Big 12 housing TCU.
"Texas State had a really, really impressive first game," Bielema said. "They beat a Power Five conference school."
The Bobcats did so with senior quarterback Tyler Jones completing  40 of 55 for 418 yard and four TDs against two interceptions.  Four Bobcats receivers, led by  Eric Luna's 10 catches for 90 yards and a TD, and Elijah King, seven catches for 105 yards and two TDs, combined for 29 catches against Kansas.

Texas State  takes an average 16 seconds between plays in its hurry-up Spread that Bielema says operates at a faster clip than hurry-up Spread teams Louisiana Tech and TCU.
"We have to give them a lot of credit offensively," Bielema said. "They go fast and their quarterback is very talented. Very gifted athletes in all three phases. We've got our work cut out for us."
Withers says his Texas State team "has a long way to go," and he praised the Hogs' size and length as well their strength and ability to control time of possession.
But he did compare his team's offense with a TCU offense that took Arkansas to overtime and came within a field goal of winning in regulation until blocked by Razorbacks 6-10 tackle Dan Skipper.
"TCU was out-manned physically, but skill-wise they weren't," Withers said. "TCU runs an offense very similar to us with tempo. Hopefully it will give us a chance to have maybe a little bit of an advantage if any advantage at all. The challenge will be for our defense to get the ball back for our offense."