GAMEDAY: fragile Hogs vs. upstart North Texas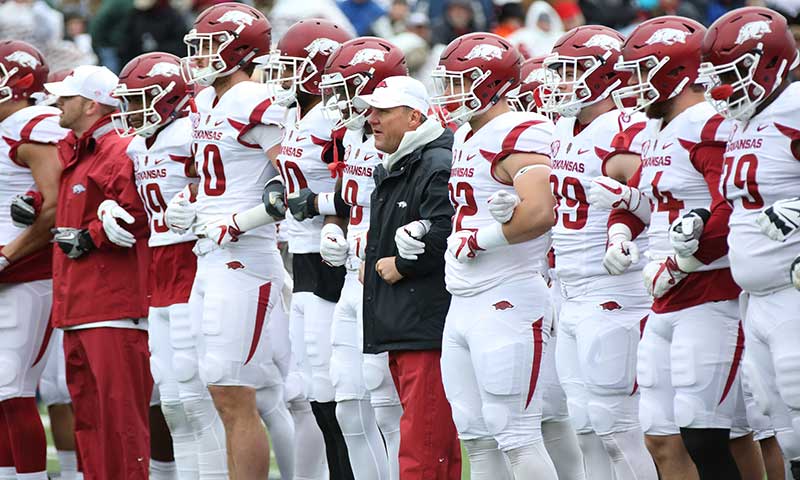 FAYETTEVILLE - Too bad for Arkansas football that one of Dr. Phil's degrees was achieved at what is now the University of North Texas.

Seems the Razorbacks could use a celebrity with a clinical psychology degree in their corner instead of rooting against them. That's the Ph.D that Dr. Phil McGraw owns from the Denton, Texas, based school formerly known as North Texas State whose 2-0 Mean Green visits 1-1 Arkansas in today's 3 p.m. game at Reynolds Razorback Stadium.

Ever since the second-half meltdown in 2012 against underdog Louisiana-Monroe, the Razorbacks have been haunted by second halves gone wrong.

The collapse repeated just two games into the tenure of new coach Chad Morris. Last Saturday, the Razorbacks led 13-point underdog Colorado State 27-9 midway through the third quarter. Arkansas lost the game 34-27.

Are these Arkansas second-half demises physical or mental?

Morris has refrained from commenting on what happened those years under coaches John L. Smith and Bret Beilema, but he saw enough last Saturday from the Hogs when they were up and down to diagnose the symptoms.

"Well, to be really honest with you, it's the ability to handle success," Morris said. "We had things going our way and just the ability to stay focused, to stay in the moment and keep doing what we keep saying over and over about the little things. It's the ability when you have someone down to put them away. It's more mental than it is anything physical right now."

What must they do?

"Just having a complete mindset," Morris said. "That's from a staff standpoint, from a players' standpoint. And believe me that's something we talk about every day and obviously we've got to continue to address it. If we see anything that's taking our focus off the moment in that fourth quarter, then we all have to be on point and address it."

Given the SEC West Murderers' Row awaiting the three Saturdays after today at No. 7 Auburn, the Texas A&M Aggies and reigning national champion Alabama, these Razorbacks better capitalize on whatever success they can achieve.

Nobody's pretending the Mean Green of Conference USA is Alabama. But with UNT confident from on Sept. 1 routing of SMU, UNT doesn't appear any less formidable than those CSU Rams who outscored Arkansas 25-0 from midway through the third quarter.

Averaging 431 passing yards for UNT's 46-23 victory over SMU and 58-16 over lower division FCS school Incarnate Word, junior QB Fine is on all the Manning Award, Davey O'Brien Award, Maxwell Trophy and Walter Camp preseason watch lists.

Fine presents a marked contrast to Arkansas' QB situation. It's still unsettled. Junior Ty Storey played better off the bench than Cole Kelley did starting in the 55-20 opening victory over lower division Eastern Illinois. The opposite results occurred last week at CSU with Kelley better off the bench than Storey starting until the fourth quarter when the Hogs floundered both sides of the ball.

Arkansas senior receivers Jared Cornelius, the leading returning receiver off Arkansas' 2016 team, and Jonathan Nance, last year's Arkansas leading receiver, haven't gotten untracked their first two games.

UNT receivers Rico Bussey, and Notre Dame transfer Jalen Guyton already have combined for 29 catches for 443 yards and six touchdowns.

Morris likes to go uptempo, but it may take a more deliberate ball-control attack exemplified by the 299 yards rushing against Colorado State behind a line that run-blocked much better than the previous week against Eastern Illinois.

Arkansas' defense, still hoping for a healthy return by senior linebacker Dre Greenlaw (ankle) and senior defensive end Randy Ramsey (hamstring), needs strong four quarters instead of the two and half it played against Colorado State.