Hogs: Like his hair, Hatcher not staisfied with growth at receiver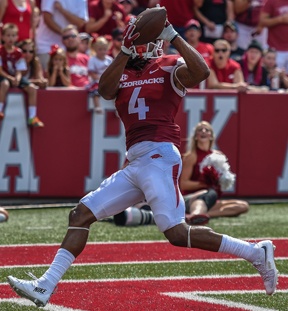 FAYETTEVILLE -  Hair yesterday, gone today, the TCU Horned Frogs learned Saturday about Keon Hatcher.

And hair yes again Sunday in Fayetteville after the senior receiver helped Arkansas edge TCU 41-38 in overtime.
Twice yanked by his trademark dreadlocks while helping Arkansas edge Louisiana Tech with six critical catches for 86 yards, Hatcher's locks were taped inside his helmet Saturday when he caught two passes, one a 16-yard touchdown, and stunned the Frogs with his trick play two-point conversion pass to quarterback Austin Allen that sent the 28-28 game into overtime.
So will Hatcher always tape his locks from flowing starting with Saturday's 6:30 p.m. game against the Texas State Bobcats  at Reynolds Razorback Stadium telecast by the SEC Network's Alternate channel?
"I don't know about always I'll tape it up, sometimes I will," Hatcher said Wednesday.
Somebody asked if it seemed less than manly for a defender to try and tackle Hatcher by his hair.
"It's girlish, I feel like, pulling another man's hair, yeah," Hatcher replied, smiling.
Add football, Arkansas  receivers coach Michael Smith implied, to the old adage that all is fair in love and war.
"I told him to cut it a long time ago just for an image thing," Arkansas receivers coach Michael Smith after the Louisiana Tech game.  "But that's his prerogative, and Coach (Bret Bielema) is fine with those guys wearing them. But if I was a defender I would tackle it, too."
GOOD BUT WILL BE BETTER
Presumably Smith liked Hatcher's hair inside the helmet, but most like how the senior, granted a fifth-year hardship missing last season's last 11 games with a broken foot, has responded.
Sensational catching 13 passes for 198 yards and two TDs in a game and a half last year after leading the team with 43 catches for 558 yards and six TDs in 2014, Hatcher plays in a more spread-the-wealth offense given how well senior returning receivers Drew Morgan, and Camden's Dominique Reed and junior Jared Cornelius played in Hatcher's absence last year.
Still Hatcher's eight catches for 108 yards and a TD are second on the team so far only to Morgan's 12 catches for 140 yards and a touchdown.
And Owasso, Okla., native Hatcher will improve in all phases, Smith predicts.
"He's still not where he wants to be," Smith said.  "We know it's a process and he's playing well, but not to the level that I know he's capable of playing."
What most needs improving?
"I think there's some things we need to polish in his route running," Smith said.  "Where he finished last year, I thought he was really, really in a so-called zone. He's playing really well. We looked at some technical things after the game Saturday that he knows and I know he can do better. It's mostly some route running things."

WHERE'S WHALEY?
Any time a heralded freshman running back begins the season on the bench it seems fans and media get restive.
So even though sophomore Rawleigh Williams (52 carries for 233 yards) and senior Kody Walker (13 carries for 44 yards) are the most experienced running backs combining for 65 of Arkansas' 83 rushing attempts, running backs coach Reggie Mitchell was asked after Wednesday's practice by media about freshman back Devwah Whaley.
So far four-star signee Whaley out of Beaumont, Texas, has logged just four carries for 8 yards.
"Nothing really on his part," Mitchell replied about Whaley's lack of playing time. "Rawleigh has kind of been in a groove, and when a guy is playing like that you want to keep him in there and keep it going. Put it on his shoulders to bring it in. But as I said we just need to force the issue and get him in there. Devwah has had a couple of great weeks of practice. He's going to get a few more reps."

PICKING UP PACE
Defensively, the now nationally No. 24  Razorbacks continue quickening their pace against a hurry-up Texas State Spread offense taking even less time between plays than the hurry-up Spreads operated by Louisiana Tech and TCU. From Thursday until Saturday night's postgame the Razorbacks are off limits to media.