Hogs: QB Allen trying too hard; more notes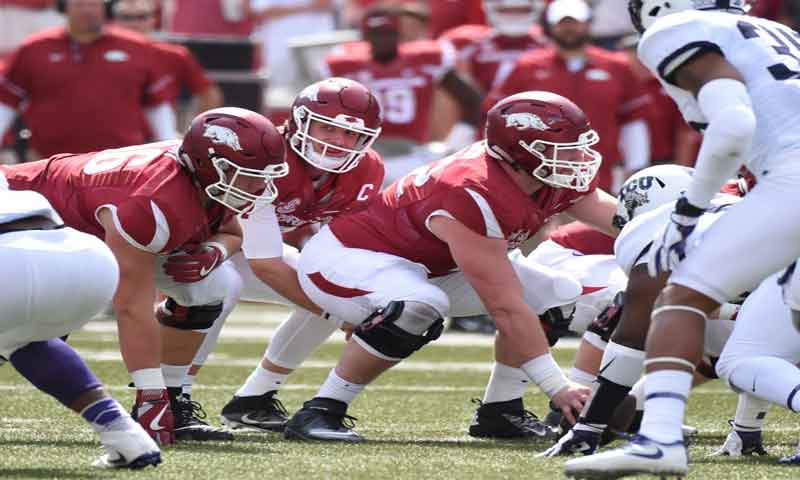 FAYETTEVILLE - Arkansas offensive coordinator Dan Enos said his quarterback has been thinking too much in the Razorbacks' first two games.

Austin Allen (in Craven Whitlow photo above), Arkansas' fifth-year senior who led the SEC in passing last year, completed nine of 23 attempts last week for 138 yards in a 28-7 loss to visiting TCU.
The Razorbacks (1-1) don't play again until their 11 a.m. Sept. 23 SEC opener against Texas A&M on ESPN at the Dallas Cowboys' AT&T Stadium.
"I'm just putting too much pressure on myself where I want to be perfect on every play," Allen said Thursday. "No one's perfect. No one's going to grade at 100 percent. I'm not going to hit the big play every single time. I've got to let things come to me, get the ball out of my hands."
The best things don't always come to those who wait, Allen and Enos concur.
"Instead of trying to be perfect on every play, just throw the ball," Allen said. "I noticed that watching film on Sunday. I'm looking for things to get open instead of throwing it open, where last year I was just letting it rip. I think this week I've gone out to practice where I just throw the ball. I think that's kind of helped me."
Can you just throw it even if you see no separation in the receivers and those covering them?
"Well there's the trust factor," Allen said. "I've got to trust them to get open. They know that, and I know that. We'll get all that figured out. Everyone's getting healthy and getting better. I think our pass game is going to come along."
Allen's best returning receiver from last year, senior Jared Cornelius, missed the bulk of the August preseason practices with a back injury and dropped the first pass vs. TCU.
CORNELIUS COMEBACK
"Jared's looking great," Allen said. "He's looked the best he's ever looked these past two days since the back injury. He's caught everything this week and has run great routes. I just have all the trust in the world in him"
TARGETING O'GRADY
Sophomore tight end Cheyenne O'Grady, four passes caught for 44 yards and a TD against Florida A&M, could be a diversifying factor on the goal-line.
"You know there's definitely an emphasis to get him the ball," Allen said. "He's a special tight end. Such a big body, 6-5, 250. He can run and catch. As things get going, as the offense gets in a groove, he's going to be a big contributor and really a big part of the offense."
ONES VS. ONES
Arkansas coach Bret Bielema has used the bye week to toughen his offense and defense by pitting the first units against each other rather than the usual game-week emphasis of scout teams impersonating the opposition offense and defense against the first and second units.
"It's good to get speed on speed instead of going with the scouts all the time," said Arkansas junior linebacker Dre Greenlaw, also a Fayetteville High grad. "You want to go against people who know a little bit more about what's going on."

O'Grady added: "It's real looks. Sometimes scout team doesn't go hard or 100 percent. So when we're going ones vs. ones, it gives us that game-like feel. That helps us tremendously."