HOGS: North Texas fits kicker Hedlund, lil' QB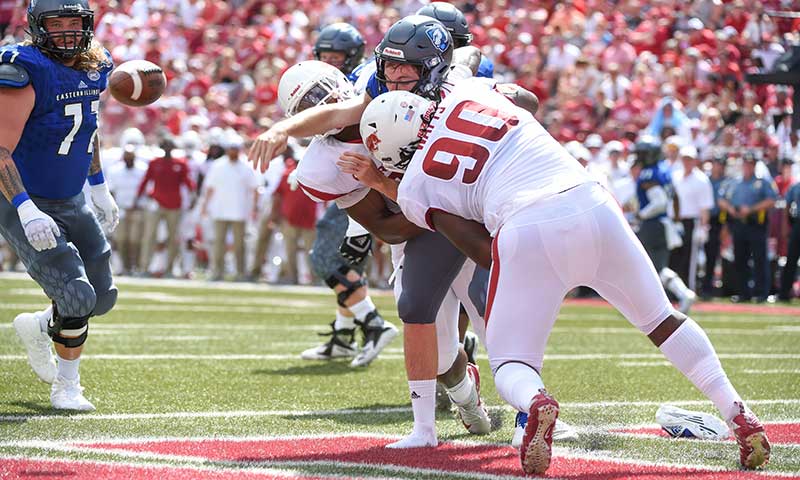 FAYETTEVILLE - Just one major college team deemed Mason Fine (5-11, 185) of little Peggs, Okla., big enough to play DI quarterback.
That team, the 2-0 North Texas Mean Green, visit the 1-1 Arkansas Razorbacks at 3 p.m. Saturday at Reynolds Razorback Stadium on the SEC Network, now  sports a statistical giant.
Fine leads the nation in passing, completing 65 of 90 passes for 862 yards and seven TDs with one interception. The junior, who already owns UNT single-season passing records for attempts, completions, yards and TDs, averages 431 passing yards this fall after 46-23 and 58-16 victories over SMU and Incarnate Word.
Of all the QBs and teams Arkansas faces in 2018, new Arkansas coach Chad Morris knows Fine and the Mean Green the best. Coaching the SMU Mustangs from 2015-2017, Morris went 3-0 against the Conference USA's Mean Green in their annual non-conference game.
However, the 5-8 and 9-5 Mean Green teams Seth Littrell coached in 2016 and 2017 were far more formidable than the 1-11 team his UNT  predecessor, Dan McCarney, coached in 2015.
Morris' Mustangs had to earn those 34-21 and 54-32 victories. Fine came off the bench to complete eight of 11 against SMU in 2016. As the starter, he completed 32 of 47 for 424 yards on Morris' 2017 Mustangs.
North Texas opened its 2018 season by routing the Mustangs Morris left behind. Fine completed 40 of 50 for 444 yards and three TDs.
RAPID RELEASE
Fine delivers the ball before tall pass-rushers can get their hands up.
"The ball gets out of his hands extremely quick," Morris said. "Even when you do bring pressure on him, he's a guy that very few times does pressure get to him. That ball comes out. A lot of it is scheme, getting in and out of routes."
And a lot of it is talent, instinct, savvy and proving his worth isn't measured by height.
"This guy plays with an edge," Morris said. "He sees the field really well and understands coverages. He is very well-coached."
OLD ACC RIVALS RENEW RIVALRY
That Fine is well-coached is a given, says Morris, citing Littrell whom he's known since both were ACC offensive coordinators with Morris at Clemson and Littrell at North Carolina.
"Seth and I go way back," Morris said. "Just a great young offensive mind. He's very bright. He does a great job of preparing his players. He came into North Texas and basically built that program from the ground floor up and has done a fabulous job of recruiting and just evaluating talent. You look at Mason Fine."
Arkansas senior safety Santos Ramirez spent this week looking at Fine on game film. He's impressed.
"He's a great quarterback," Ramirez said. "He does a great job looking off safeties and puts the ball in the right place. He's got velocity on the ball and the receivers are very talented. They have great chemistry together. So we have to go out and have our best game, especially in the secondary."
BUSY BUSSEY
Not that these Razorbacks need an attention-grabber coming into Thursday's practice still trying to rebound from blowing a third-quarter lead and the game, 34-27 to Colorado State.
But Fine and his receivers ought to keep all Razorback defenders from looking ahead to the Sept. 22 SEC opener at Auburn. Junior Rico Bussey leads a slew of UNT receivers. Bussy recorded nine receptions for 109 yards against SMU and eight catches for 128 yards and three TDs against Incarnate Word. 
HEDLUND RETURNS
While Morris and the offensive assistants he brought with him from SMU know the Mean Green well, the Razorbacks know UNT's place-kicker.
Cole Hedlund once was one of them. Signed by Arkansas' Bret Bielema regime in 2014 out of Argyle, Texas, as the nation's outstanding prep place-kicker, Hedlund seldom hit stride at Arkansas.
After redshirting in 2014, Hedlund started three seasons as the place-kicker only to be supplanted by season's end.
Bielema replaced Hedlund with Connor Limpert after last season's second game when Hedlund missed a 22-yard field goal attempt during the 28-7 loss to TCU in Fayetteville.
As a graduate transfer, Hedlund chose UNT and rediscovered his high school form. He's seven of seven on field goals this fall, including a 51-yarder.
Hedlund was determined to head out the Arkansas door for a change of scenery before Morris was hired in December, even with the new coach's  ties to the Hedlund family.
"I knew him just briefly when I got here," Morris said. "His brother, Chad, kicked for us at SMU and did a fabulous job. A great family. I know he (Cole) will be excited to come back here. He's having a great year for them."