No. 24 Hogs forget TCU, focus on Texas St.; notes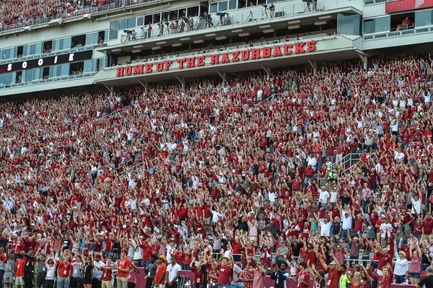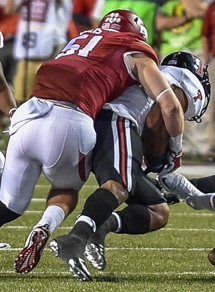 Sr LB BROOKS ELLIS
FAYETTEVILLE - It seems Coach Bret Bielema has imparted to his Razorbacks to move on from Saturday's upset of then-No. 15 TCU even faster than their defense must prepare for hurry-up Texas State.
The 1-0 Texas State Bobcats, an unheralded Sun Belt Conference team but more hurry-up than TCU's offense, visits 24th-ranked Arkansas (2-0) at 6:30 Saturday night at Reynolds Razorback Stadium on the SEC Network's alternate channel.
Arkansas secondary coach Paul Rhoads, formerly the head coach at Iowa State, turned every rehash question Tuesday night about TCU into discussing Texas State.
"You see where I'm going, guys," Rhoads said. "We're gonna talk about Texas State. It's Texas State game week."
Two weeks ago, Texas State senior quarterback Tyler Jones completed 40 of 55 passes for 418 yards and four touchdowns and ran for a TD in a 56-54 upset victory at Ohio University.

Ohio then upset Kansas of the Big 12 Saturday in Lawrence, Kan., while Texas State enjoyed an open date.
"It's easy to get caught up in what happened last week, because it was a great game," Arkansas senior linebacker Brooks Ellis said Tuesday off perhaps his greatest game as a Razorback.  "But it's time to move on and get ready for Texas State, because they're a good team. We've got to be ready for them."

FIRST TIME BOOED
Ellis, 13 tackles and a 47-yard TD return of an interception against TCU, did reply to the question about being booed while ailing in Fort Worth.  While the Fayetteville High grad Ehad to be helped off the field cramping late in the long game on a hot night, TCU fans booed assuming he was feigning injury to stop the clock and get his defense some rest against TCU's no-huddle offense.
"That was the first time," Ellis said of being booed. "It was actually kind of fun walking across the field and having them boo me. It was a cool experience."
Kind of like a pro wrestling villain? "Maybe a little bit," Ellis said laughing.

FAST COMPANY COMING
If it's a hot Saturday night in Fayetteville, the Razorbacks may need to feign a clock-stopping injury or two if the Bobcats play as fast as advertised.
"This outfit operates faster than the first two teams," Rhoads said of the Bobcats' no-huddle Spread compared to Louisiana Tech and TCU. "This team operates in about 16 seconds, leaving about 24 seconds on the play clock every time they snap the ball. That's fast. We're gonna have to draw on the last two games to be prepared."
The players get the message.
"They're like ranked second in the nation in the no-huddle offense," Arkansas sophomore defensive end Randy Ramsey said.  "That's what we've heard so far."

FASTER THAN HILL
TCU quarterback Kenny Hill passed for 377 yards and one touchdown against Arkansas and ran for 93 yards and two TDs, but Texas State quarterback Tyler Jones might pose a greater threat.

"He actually may be more mobile than Kenny Hill," Arkansas freshman defensive tackle McTelvin Agim said.  "He is a great runner and a great passer. He has great weapons around him, and the offensive line is really good. He has the total package."
Freshman Agim made an impression in Fort Worth, leveling Hill on the game's most thunderous sack.
"The linebackers and Deatrich (Wise, the defensive end) and Taiwan (Johnson, the nose tackle) held up their lanes and I was running free and kept coming," Agim said. "I believe he was going to try to run out of the pocket, but I showed up in time."
Agim didn't take long answering the question about his sack to turn the conversation back on not overlooking Texas State.
"Coach B says the past is an indication of the future," Agim said  "We lost to Toledo (last year in Little Rock).  So we try not to overlook anybody. Texas State is a good team."

BAKER PRAISES SNAPPER
Senior punter Toby Baker, sensational against TCU but not SEC Special Teams Player of the Week honored Monday, heard before the flight back from Fort Worth Saturday night that Bielema had told media, "If he doesn't get Special Teams Player of the Week, I quit."
"So, on the plane I said 'Hey, Coach, don't quit," Baker said, laughing.
Baker credited senior deep snapper Matt Emrich of El Dorado played a pivotal part in his six punts against TCU averaging 50.7 yards.
"He was awesome on Saturday, and he's been great all year," Baker said. "He slings the ball back, and I don't even have to think. Just grip it and rip, and that's a huge part of it. He's done an incredible job."