HOGS: Ten O linemen ready; notes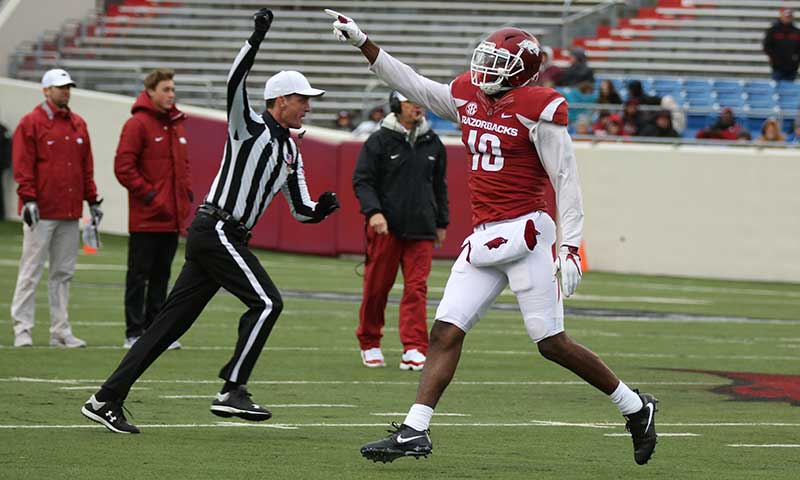 FAYETTEVILLE - Though coming off a bitter 34-27 loss at Colorado State, Arkansas coach Chad Morris went into Wednesday's practice celebrating what transpired Tuesday.
Addressing media before Wednesday's practice, Morris said the Razorbacks responded far better in Tuesday's practice coming off defeat than their Tuesday practice coming off the Sept. 1 55-20 season-opening victory over Eastern Illinois.
Given their light workout Sunday and Monday's NCAA mandated off day, Tuesdays and Wednesdays are the heaviest practices for the Razorbacks (1-1), who start tapering Thursday for Saturday's 3 p.m. game against North Texas (2-0) at Reynolds Razorback Stadium.
"Back on the field yesterday in pads was a really good day," Morris said. "I loved our focus, the energy level from when those guys walked out of that locker room even while stretch and flex. It was definitely on a different  level. You felt a different vibe with this team. That's what you ask for."

And require, Morris said.

"I said it all week long what you want to know is how are you going to respond when adversity happens," Morris said. "I thought we've learned a lot about our football team. Overall yesterday I was pleased with the way they came out."
He compared the successive Tuesday practices as  a "night-and-day difference."
"The guys were definitely locked in a lot more," Morris said. "That happens. Every time we've asked them to respond whether through through (preseason) camp or spring ball where maybe we didn't come out and have the standard we wanted, they've always responded. Starting Sunday they came out with a different edge. These kids care and they understand for this program to move forward we're gonna have to learn and sometimes you learn through hard times."

2 FULL LINES
The hard times looked a little easier the week, finally practicing with two scholarship offensive lines.
"Yesterday was our very first day since I've been here that we had 10 scholarship offensive linemen," Morris said of the position group hardest hit by injuries starting with incumbent left tackle Colton Jackson requiring back surgery in July. "To be able to have that rotation was really encouraging and exciting to see."
Jackson, the fourth-year junior from Conway and two-year starter unable to play so far, has two completed full practices this week on the second unit and seems partially in the game plan.
"We're anticipating Colton to possibly get in there and play a few series and see how it goes," Morris said. "He got in yesterday (Tuesday) full speed and full contact and did a great job. Just trying to get his legs back underneath him. That's the biggest challenge for Colton right now."
Freshman Noah Gatlin of Jonesboro started at left tackle against Colorado State and likely starts again against North Texas.
Redshirt freshman Shane Clenin, the starting left tackle against Eastern Illinois idled last week by a sprained ankle, practiced this week behind senior center Hjalte Froholdt.  Clenin variously has practiced at every offensive line position since the August preseason.

RAMSEY, GREENLAW POSSIBLE
Senior starting weakside linebacker Dre Greenlaw, idled by a sprained ankle since his 10 tackles during the first quarter against Eastern Illinois, was in a green limited practice jersey Wednesday. Senior projected starting defensive end Randy Ramsey (in R Sharp photo) still has not played because of hamstring issues that occurred in mid August.
However, Morris has not ruled either out of Saturday's game.
"We anticipate him (Ramsey) playing," Morris said before Wednesday's workout. "He actually worked out yesterday and went through the entire practice and did some good things. Kinda working at a pace to get him back."

SOSA ON EDGE
The Razorbacks have missed Ramsey on the pass rush though moving junior Sosa Agim from defensive tackle to end helped against Colorado State. Of Agim's four tackles coming off the edge, one was for a loss and he was credited with two quarterback hurries, forcing incomplete passes and two fumbles and recovering one.
"You will see Sosa outside a lot more this week," Morris said.  "You may see him slide in some, but more so on the edge."
Morris said he's encouraged with Greenlaw's progress, though true freshman Bumper Pool still practices first-team weakside linebacker.

STARTING QB
Morris said he's not yet decided whether fourth-year junior Ty Storey or third-year sophomore Cole Kelley will start at QB.
Kelley started against Eastern Illinois, but Storey proved the better off the bench.
The roles and productivity reversed last week with Kelley having a big third quarter after Storey started, though Kelley and the offense didn't sustain while Arkansas' defense couldn't stop CSU's Rams during Arkansas' fourth quarter fizzle in Fort Collins, Colo.
How did the two quarterbacks fare in Tuesday's practice?
"They were good," Morris said. "They got out here and competed. It's still a work in progress. You keep thinking one is going to separate above the other and it just hasn't happened. We'll continue to challenge them."