No. 24 Hogs reel in post-TCU honors; notes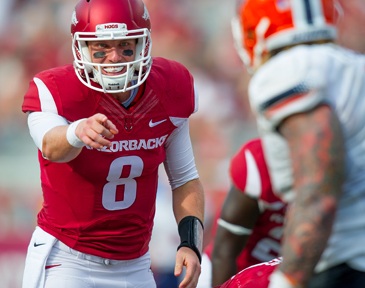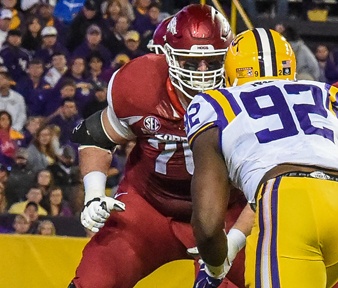 Sr LT DAN SKIPPER
FAYETTEVILLE - For their performances in the SEC's biggest non-conference victory Saturday when now 24th ranked Arkansas defeated then 15th-ranked TCU 41-38 in double overtime, junior quarterback Austin Allen of Fayetteville and senior left  offensive tackle Dan Skipper of Arvada, Colo. were honored Monday by the SEC.
Allen was voted SEC Offensive Player of the Week, while Skipper was named SEC Offensive Lineman of the Week by the SEC Office in Birmingham, Ala.
Triple-threat Allen completed 17 of 29 passes for 233 yards and three touchdowns without a turnover, caught a 2-point conversion pass from receiver  Keon Hatcher off a double reverse to achieve the overtime, and ran for the winning 5-yard TD in the second overtime.
Skipper not only blocked well against the Horned Frogs but used his 6-10 height and wingspan to block a late fourth-quarter TCU field goal attempt.

OFFENSIVE HONORABLE MENTIONS
Allen also was the Arkansas' staff's offensive MVP, Arkansas coach Bret Bielema announced at his Monday press conference, citing Skipper, senior tight end Jeremy Sprinkle, senior receiver Keon Hatcher and sophomore running back Rawleigh Williams as honorable mentions offensively against TCU.
"We gave the MVP to Austin Allen," Bielema said.  "The SEC also did as well, which I thought was big."
Bielema's Razorbacks play host to Sun Belt Conference member Texas State at 6:30 Saturday night at Reynolds Razorback Stadium.
"Just super proud of him," offensive coordinator Dan Enos said of Allen.  "It's quite an honor, especially in this league. I thought he played very, very well. Like every game where there's 75 plays or whatever, there's a couple that we'd like to change. But I thought he played with great toughness, I thought he played fast. I thought he played big at the biggest moments, which was huge for our team."
An offensive lineman also used to block field goals sets Skipper apart, and netted him Arkansas' co-special teams MVP with senior punter Toby Baker. Five of Baker's six punts against TCU netted 50 yards or better,  but Enos said Skipper's offensive line play was award-winning, too.

"He played really well," Enos said. "He was a little late on the snap count on one play and gave up a sack or a pressure, but other than that, he was really solid. I thought those  (TCU defensive) ends we played were very good. I thought that defense was a very good defense. It was tough sledding in there on every play. We earned everything we got,  and I thought Dan Skipper played an extremely solid football game and graded out very well. He just continues to get better and better and we need him and Frank (Ragnow, the junior center) to continue to get better and Hjalte (Froholdt, the sophomore left guard) and all of them."
Arkansas' offensive line helped spring running back Williams for 137 yards on 28 carries against TCU, while Hatcher caught a 16-yard TD pass from Allen before rolling out and tossing the 2-point pass to Allen. Senior tight end Sprinkle of White Hall, whose  fourth-down TD catch from Allen edged Louisiana Tech 21-20 in the opener, caught three passes for 58 yards against TCU, including a 19-yard TD from Allen in the first overtime.

ELLIS EXCELS
Defensively, senior middle linebacker Brooks Ellis was Arkansas' MVP, with a 47-yard TD return of a Kenny Hill pass and a team-leading 13 tackles, Bielema said.
"It's kind of neat to see Austin and Brooks, two high school captains together at Fayetteville High, just having continued success here together," Bielema said. "To see Brooksie get in the end zone on an interception was pretty cool."
For defensive honorable mention, Bielema mentioned defensive backs Jared Collins, Ryan Pulley and Santos Ramirez and defensive tackle Jeremiah Ledbetter.

PULLEY LEVERAGES STARTING
Sophomore cornerback Pulley of Fort Meyers, Fla., started against TCU because starting cornerback Henre Toliver moved to nickel back with junior nickel Kevin Richardson lost for the season after tearing pectoral muscles against Louisiana Tech.

UA vs. A&M SET FOR 8 P.M.
The No. 24 Razorbacks and  No. 17 Texas A&M Aggies will kick off their SEC opener at 8 p.m. Sept. 24 on ESPN, it was announced Monday.
The Razorbacks and Aggies clash at the Dallas Cowboys' AT&T Stadium in Arlington, Texas.

UP, UP UPTEMPO
In the meantime, Bielema and defensive coordinator Robb Smith warn that Texas State, 1-0 from beating Ohio University and having an open date last weekend, can pose problems even faster than quick-tempo no-huddle TCU.
"They actually tempo-wise are faster than TCU," Smith said Monday. "I believe they are second in the country. They snap the ball with 23.5 seconds left on the shot clock, or the play clock, which is actually three seconds faster than what TCU had averaged. So we have got to be prepared for that."