HOGS: Forget Colorado St.; injury report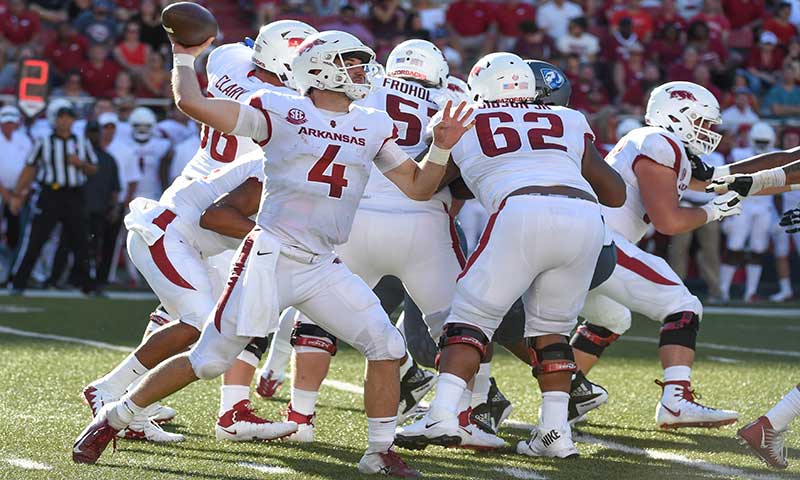 FAYETTEVILLE - Arkansas junior tackle Colton Jackson of Conway, idled since undergoing back surgery in July,  practiced full go Tuesday for the first time since his surgery.
Jackson, practicing last week on a limited basis but missing Saturday's 34-27 loss to Colorado State and the 55-20 season-opening victory over Eastern Illinois, practiced Tuesday with the second unit.
True freshman Noah Gatlin of Jonesboro, the starter playing every left tackle snap at Colorado State, practiced first-team Tuesday as the 1-1 Razorbacks ready for Saturday's 3 p.m. non-conference game against the 2-0 North Texas Mean Green at Reynolds Razorback Stadium
Redshirt freshman Shane Clenin, the starting left tackle against Eastern Illinois who was idled last week by a sprained ankle, also practiced Tuesday.
GATLIN SPEAKS
Gatlin said Tuesday the veteran linemen, Jackson, senior right guard Johnny Gibson of Dumas, senior center Hjalte Froholdt and senior right tackle Brian Wallace, mentored him going into his first start.
"Colton's a great mentor for me," Gatlin said. "I've learned a ton from Colton (Jackson). Getting to learn from him has helped my game out tremendously. I've learned a lot from Johnny (Gibson). When I came on my official visit, he kind of took me around and showed me, so I've known Johnny for awhile now. And picking up things from Hjalte's game and B-Wall's game has helped me out a lot."
Gatlin started as a true freshman at a position most linemen don't start in a major college game until they are at least third-year sophomores.
"I knew I had to play with Shane being hurt, and so I just took it like I was the starter that week and gave it all I had," Gatlin said.
HAIR ON FIRE
The 6-7, 293 Gatlin drew high praise from Froholdt.
"He did extremely well," Froholdt said. "I think he came out with his hair on fire. He did a tremendous job for it being his first start and on the road in a hostile environment."|
Regarding Froholdt's comment that he played like his hair was on fire, Gatlin said: "Yeah, I was pretty fired up."
Gatlin said he'll be equally fired up but more sure of what he's doing if asked to start against North Texas.
"I think my confidence is a lot higher," Gatlin said.  "I just have to keep preparing and knowing that I'm a true freshman. I'm probably going to get attacked a little more than the other guys. Just staying prepared and being ready."
GREENLAW STILL IDLE
Senior weakside linebacker Dre Greenlaw, idled since spraining his ankle after making 10 tackles during the first quarter against Eastern Illinois, did  not practice Tuesday.
True freshman Bumper Pool started at weakside linebacker against Colorado State and likely starts again Saturday.
Senior defensive end Randy Ramsey, not yet used in a 2018 game because of a preseason hamstring injury, did some drills Tuesday with a green limited practice jersey.
Junior Sosa Agim moved from starting defensive tackle to defensive end against Colorado State and excelled, Arkansas coach Chad Morris said.
RAMIREZ RECOMMENDS AMNESIA
Arkansas lost an 18-point third quarter lead in the 34-27 loss at Colorado State, an experience the Hogs must learn from yet forget, senior safety Santos Ramirez said.
North Texas comes armed with the national passing leader in quarterback Mason Fine.
"Like Coach always says, of course the outcome didn't happen the way we wanted it to happen, but you've got to have amnesia," Ramirez said. "You've got to move forward."
FINE AND DANDY
The defense better think forward because Fine is dandy. The North Texas QB averaged 431 passing yards in the Mean Green's 46-23 and 58-16 wins over SMU and Incarnate Word.
"He's a great quarterback," Ramirez said. "He does a great job looking off safeties and puts the ball in the right place. He's got velocity on the ball, and the receivers are very talented. A lot of big bodies out there that know their timing with their quarterback. So we have to go out and have our best game, especially in the secondary."
A complete game, he said, which Arkansas didn't muster on either side of the ball in Saturday's fourth quarter.
"We have to have to keep our foot on peoples' necks when they're down, man," Ramirez said. "We can't sit here and think the game is over, especially in college football on the D-1 level."