HOGS: Morris offers no excuses; notes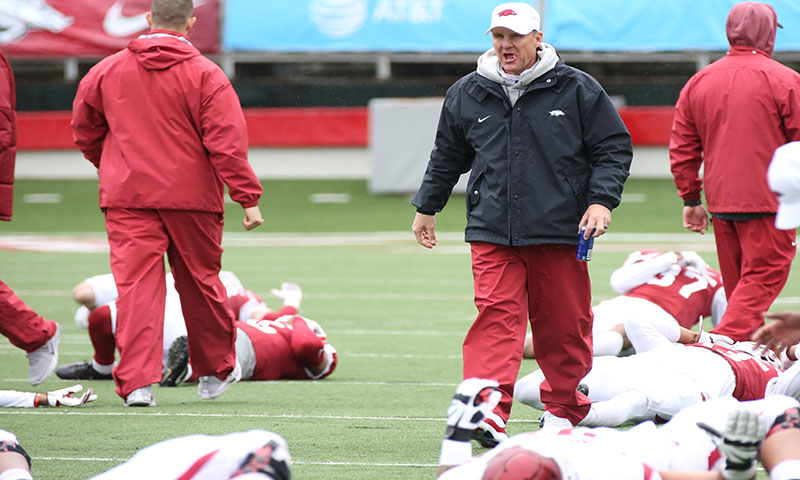 FAYETTEVILLE - Since December, Arkansas first-year head coach Chad Morris has stressed that the Razorbacks must finish.
Morris saw the Razorbacks fail to finish what they started Saturday at Colorado State much like the Razorbacks of former coach Bret Bielema blew 24-7 and 24-0 halftime leads in losing 28-24 and 35-24 to Missouri and Virginia Tech in 2016. In 2017, Bielema's Hogs led Mississippi State 14-0 and Missouri 28-14 but lost 28-21 and 48-45.
At Fort Collins, Colo., Saturday, Arkansas led Colorado State 27-9 midway through the third quarter but lost 34-27. The Rams scored the game-winning touchdown with eight seconds left.
"We always talk about it's all about the finish," Morris said Monday. "That's what we train for, these moments, these opportunities. We'll continue to stress that. I know it's been a main focal point for us since coming here.   It's all about the finish."
Arkansas (1-1) plays host to the University of North Texas  at 3 p.m. Saturday in a non-conference game at Reynolds Razorback Stadium.
ACCOUNTABILITY
Whatever problems these Razorbacks had finishing before, they are his problems now, Morris asserted.
"It starts with accountability," Morris said. "I'm the head football coach. It's on me to fix."
From handling being ahead to handling the opposition coming back, the fixing works both ways, Morris said. 
"Our inability to deal both with success and adversity in that ballgame was disappointing," Morris said. "Dealing with success is just as important as how you deal with adversity."
WHY HE PUNTED
Morris didn't wait Monday to be asked about his decision to start the fourth quarter by punting on fourth and inches from the 50 with a 27-17 lead and Colorado State appearing helpless to slow Arkansas' running game.
Arkansas freshman punter Reid Bauer, helped by a CSU penalty, punted the Rams back to their 4, but CSU launched a 96-yard game-tying TD drive.
"I chose not to go for it on fourth down to start the fourth quarter," Morris said Monday. "I felt at that time, and they were, that the (Arkansas) defense was playing well. And I thought the only way we could give them any momentum and get them back in this game was to give them a shorter field and get the crowd back in it. We did our job and got the ball down to the 4-yard line."
FAILING ON LAST CHANCE
Even with the Rams tying it 27-27 on a field goal, his Hogs had a go-ahead chance, Morris said.
"We had 5:17 on the clock with the game tied and had the ball in our hands," Morris said. "And we had to punt it right back. We'll correct the bad and build on the good."
WHALEY OF A GAME
Much of the bad has been noted.
The good includes 299 rushing yards after netting but 80 yards rushing in the previous week's 55-20 victory over lower division (FCS) Eastern Illinois.
Junior Devwah Whaley rushed for a career-high 165 yards on 26 carries against Colorado State.
"Offensively, our player of the game was Devwah Whaley," Morris said. "He had a career night. I was glad to see Noah Gatlin (the freshman from Jonesboro) start at left tackle and played all snaps for us and did a really good job."
Gatlin started because 2017 starting left tackle Colton Jackson of Conway has been idled by July back surgery. Morris said Jackson might be ready to play this week and should be ready for the Sept. 22 SEC opener at Auburn.
INJURY UPDATES
Redshirt freshman tackle Shane Clenin started against Eastern Illinois but missed the Colorado State game with an ankle injury. Clenin returns to practice this week and is considered "either or" with Gatlin as Saturday's starting left tackle against North Texas.
"Either or" also categorizes whether junior Ty Storey or sophomore Cole Kelley starts at QB. Kelley started against Eastern Illinois, but Storey fared better off the bench.
Kelley fared better in the third quarter at Fort Collins in relieve of Storey, who played the entire first half.
Arkansas established little offensively in Saturday's fourth quarter.
Defensively, Morris most cited D-linemen McTelvin "Sosa" Agim, the  junior from Hope, and senior Armon Watts for their performances against Colorado State.
"Both are playing extremely well and being very disruptive," Morris said.
Senior defensive end Randy Ramsey has not played in 2018 because of hamstring issues. Senior linebacker Dre Greenlaw has been out with a sprained ankle since making 10 tackles in the first quarter against Eastern Illinois.
"We hope to have Randy back this week," Morris said. "He was in green (limited practice) last night and working out a little bit, so we'll see on that. We expect Dre to be back."