TCU manhandles Hogs 28-7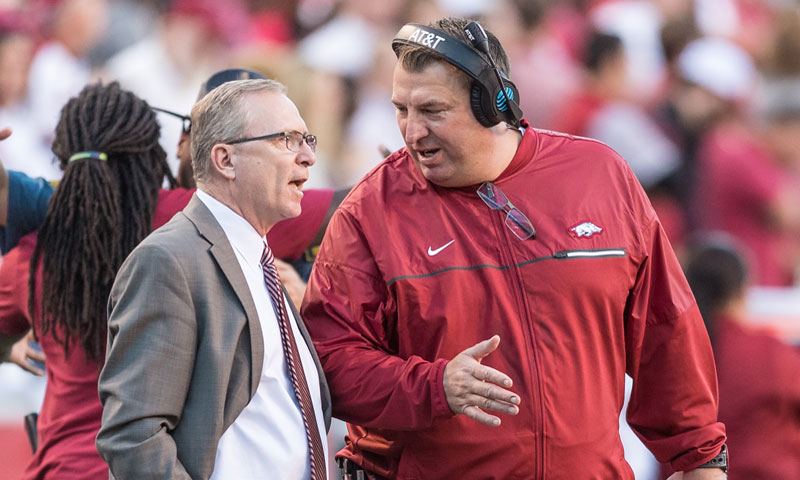 FAYETTEVILLE - Most everyone knew the TCU Horned Frogs are quicker, faster and more experienced than the Arkansas Razorbacks.
Turns out they are stronger and tougher and better than Arkansas at Arkansas' game. Embarrassingly better.
Coach Gary Patterson's now 2-0 Horned Frogs thumped Arkansas 28-7 in a Big 12 vs. SEC non-conference clash before a sellout (but not filled) 73,668 at Reynolds Razorback Stadium.
Patterson's Horned Frogs displayed their customary accelerated uptempo offense early and closed by playing the smashmouth ball-control that's supposed to be the trademark of Arkansas fifth-year Coach Bret Bielema.
The now 1-1 Razorbacks have an open date before opening their SEC campaign Sept. 23 against Texas A&M at the Dallas Cowboys' AT&T Stadium.
Running down the play-clock in the fourth quarter, the Horned Frogs were the true hogs of the ball Saturday. They  possessed it 33:52 to Arkansas' 26:08 outrushing the Razorbacks 195-121 and out-passing them 166-138.
The yardage wasn't that much different, but third-down conversions (10 of 14 for TCU to Arkansas' 4 of 14) were pivotal.
So was the red zone, a Razorback woe last season vexing them again Saturday. Twice TCU denied the Hogs with nothing in the red zone as Arkansas place-kicker Cole Hedlund missed PAT type fourth-and-goal chip shots of 23 and 20 yards after Arkansas' lone touchdown tied it 7-7 in the first quarter.
Highly recruited out of Argyle, Texas, Hedlund has lost his kicking job during the past two seasons.
"The two missed  field goals were just embarrassing," Bielema said postgame. "We'll go for it every time or we have to find a new kicker. I'm done with this."
Missing the field goals deflated momentum, Bielema said, but so did other things.
"Every time it seemed momentum was going to swing our way we'd shoot ourselves in the foot," Bielema said, first giving TCU due credit before describing his own team's woes.
Other than Arkansas' TD drive that featured the line opening enough holes for running back David Williams, 10 carries for 65 yards, mostly on that one series. Senior quarterback Austin Allen (nine for 23 for 138 yards and sacked three times) found receiver Jonathan Nance open for 49-yard TD pass.
Nance was open because the Horned Frogs bit on fake sweep to Williams. The Razorbacks couldn't get their ground game going against a quick and surprisingly physical TCU defense.
Otherwise Arkansas didn't have much run complementing pass or vice-versa. One of their bigger plays was one they don't prefer, Allen scrambling 20 yards and taking a hard hit for a first down.
"We couldn't consistently do anything on the ground and that really affected our play-action passing game and ability to find some receivers downfield," Bielema said.  "I think we physically have to strain a lot harder. They have a lot smaller players that we wanted to lean on and put some weight on them to turn it into our type of game."
Defensively, the Razorbacks secured turnovers on Ramirez's interception and a fumble recovery by backup end Briston Guidry. They hung tough for three and a half quarters of a 14-7 game, Bielema said.
But the defense's last eight minutes with TCU tallying two TDs, reminded him of the 2016 season closing second fizzles in the 28-24 and 35-24 losses at Missouri and to Virginia Tech after Arkansas led, 24-7 and 24-0 at half.
"Obviously defensively we played our tails for three and a half quarters and then everybody gets their daubers down and feeling sorry for themselves," Bielema said.  "Those last two scores were just embarrassing."
He was ready for the bye week back to the grindstone.

"We'll take a self-inventory," Bielema said. "Offensively we have to figure out what we can do better. Because what we did, didn't work. I think the biggest thing is we have to be the most improved football team in the country from this next week until we play A&M, a team that's very similar to the one we just played."
TCU, playing SMU next Saturday, left Fayetteville casting aside its Spread formation finesse image as the team that sufficiently ran it down Arkansas' throat.
TCU running backs Darius Anderson (106 years and a TD on 15 carries), Kyle Hicks (45 yards and TD on 12 carries), Sewo Olonuila (two TDs on two carries), and quarterback Kenny Hill (35 yards on nine carries plus 166 passing yards on 21 of 31) paced the Horned Frogs' attack at Arkansas.
"I told you guys in the off-season we had to get back to being physical," Patterson said of coming off an unaccustomed 6-7 2016 campaign following an 11-2  mark for 2015. "I thought we started going in that direction. On defense, we've practiced physically (showing in 63-0 and 28-7 scores over Jackson State and Arkansas)."
The Hogs, 49-7 winners over outmanned Florida A&M, weren't so second-game happy.
"It's disappointing," Arkansas senior center and captain Frank Ragnow said. "I felt like our defense played pretty danged well, but I felt as a team we didn't finish. To not be able to establish drives and run the ball, it's very disappointing."
Defensive captain Ramirez was equally distressed.
"I feel like they out-willed us," Ramirez said. "I don't want to point fingers, it's a team game, but we didn't get the job done."